MainStage is currently one of the easiest ways to use a MIDI controller when playing live. One of the main drawbacks of MainStage is that it is Apple only. This means, if you have a PC/laptop, you will not be able to use MainStage.
In this article, we are going to breakdown the best alternatives for MainStage for both Windows & MAC users.
It is important to note that MainStage is simply a host for your plugins and effects. It is not a full DAW and it is built with the sole purpose of allowing keyboardists to have full control of their sounds.
MainStage uses Audio Units for their format, whereas Ableton Live can use both VSTs and Audio Units.
Before we get into our favorite MainStage alternatives, let's take a look at some recommended requirements for your PC/MAC.
Looking for a quick answer? My favorite alternative is currently Ableton Live and I use it in my touring rig.
Ableton Live 11
Ableton Live is my go-to DAW for live music. If you have strong desire to gig or play live, I would recommend Ableton Live.
View Price At Sweetwater
We earn a commission if you make a purchase, at no additional cost to you.
Can You Download MainStage On Windows/PC?
Legally speaking, no, you cannot. MainStage is built for Apple only and is not compatible with Windows.
With this being said, there are people who go to some extreme lengths to download Mainstage for Windows.
The only way to actually do this would be to use an emulator or simulator that tricks your PC into thinking you're using an Apple product.
The downside to this is that you can download bad programs that are malicious and can damage your PC.
This is why we recommend just going with an alternative to MainStage, rather than going through a hassle and potentially damaging your PC.
Requirements
The system requirements will change depending on which alternative you choose. With this being said, here's a quick list of things I would recommend for your devices.
We are giving these recommendations as playing live will typically require a PC or macBook that can handle intense performances.
The last thing you want to do is to have your system crashing on you during performances.
Minimum of 8 GB of ram
SSD
Minimum of 5 GB disk space
MIDI Controller (In-depth guide on some really great controllers)
*Note: When performing live with MainStage or one of these alternatives, always be sure to point a fan at your pc or laptop. This will prevent it from overheating and crashing mid-performance.
Now that you have an idea of equipment that you will likely need, let's take a look at some alternatives.
MainStage Alternatives
Here a quick list of some programs you can use to replace MainStage. Some of these are Windows only and will be marked as that.
1)* Ableton Live – Best Product For Performing Live
Ableton Live 11
Ableton Live is my go-to DAW for live music. If you have strong desire to gig or play live, I would recommend Ableton Live.
View Price At Sweetwater
We earn a commission if you make a purchase, at no additional cost to you.
Ableton Live is a full DAW, which makes it different than MainStage. Ableton Live gives you the ability to do everything that MainStage does, while also providing you with an incredible DAW.
To put it in simple terms, Ableton can do more than MainStage does, including giving you the ability to record your own music and even run more complex tracks with your live performances.
Over the last few years, Ableton has become the industry standard as well when it comes to playing music live, whether your a keyboardist, a DJ or simply a musician running some backtracks.
Ableton gets our pick as the best alternative to MainStage and we believe that you will definitely find what you need with it. There are also some incredible tutorials you can watch on Youtube which show you exactly how to use it.
The only downside of Ableton is that it is expensive.
Should you choose Ableton, you can check out our guide on the best MIDI controllers for Ableton. These are all choices that work flawlessly with Ableton.
2) Gig Performer (Best Mainstage Alternative For Windows And MAC)
What I Like
Gig Performer doesn't feel clunky or cluttered
Allows you to experiment
If you can envision your setup, you can create it in Gig Performer
I wasn't able to get it to crash one time – using heavy plugins
Incredible community
Frequently updated
Created by an accomplished musician/designed with professional musicians in mind
If you're looking solely for a product alternative to Mainstage, look no further than Gig Performer. After watching a few videos on Youtube, I was able to start to configure my rack and build setlists quickly.
The user interface of Gig Performer is beautiful and not cluttered at all, which paves the path for experimentation and allows you to learn quickly.
Outside of Ableton Live, you're not going to find other plugin hosts that can produce what Gig Performer does.
For those who have elaborate setups with memory-intensive plugins such as Kontakt, Gig Performer is a must to try out.
Another selling point for this product is its community. From Youtube videos to a great forum support system, you will always be able to find answers to any problems you may encounter.
3) Cantabile Windows/MAC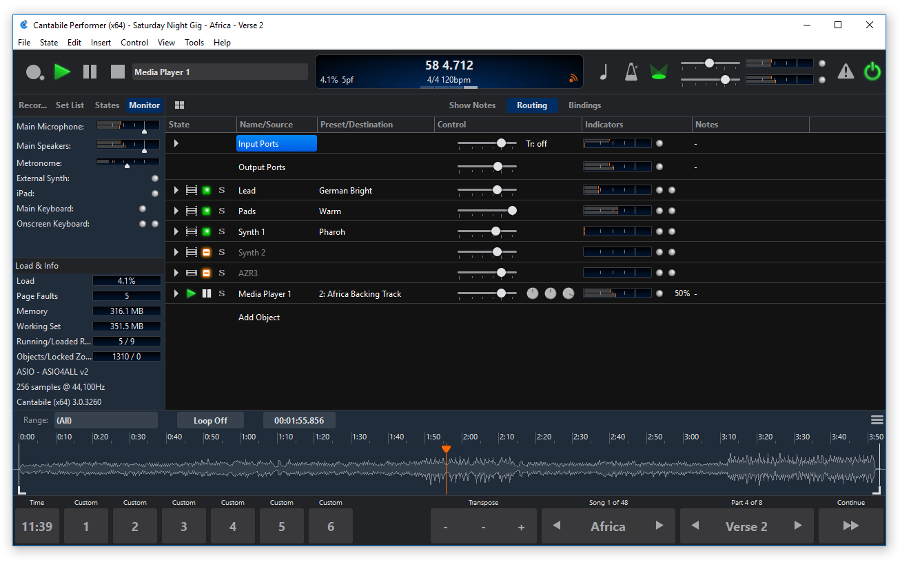 Cantabile is the Windows equivalent of MainStage. It is essentially the same type of product that allows you to get the most out of your keyboards.
One thing to quickly point out is that Cantabile has a free version that isn't super limited. This is great as you can get a good feel for what you can do.
You can find tutorials on Youtube for Cantabile as well should you go this route. If you're someone who owns a laptop and not a MAC, this could be a perfect pick.
While Cantabile is cheaper than Ableton, it is also a little bit more money than MainStage.
With this being said, you're investing in something that is making you money, should be getting paid to play shows.
I recommend checking out some Youtube videos of Cantabile before deciding to purchase it to make sure it's exactly what you're looking for.
4) Camelot (Windows/MAC)
Camelot makes a great alternative to MainStage as it is a live performance app. Camelot currently supports a ton of different keyboards, however, the downside is that there is also a lot that it doesn't support.
For example, Camelot doesn't currently support the Nord Stage 3, which is one of the most popular keyboards for gigging.
Camelot thrives when it comes to stability. You can use this with any apple device as well as Windows/androids. Whichever device you are using, you will notice that it is super stable and you likely won't have problems with it crashing.
5) GarageBand (Mac Only)
While GarageBand is more of a full-on DAW than just a hosting platform, I still feel like it's a great alternative.
MainStage built for live performance whereas GarageBand is mainly for composing. With this being said, you could find some workarounds with GarageBand to still perform live.
The one downside is that GarageBand is that it is for Apple only, so should you be looking for Windows options, this wouldn't be for you.
GarageBand is a fairly easy program to use and it comes for free with every iOS device. There are also many great resources available on Youtube.
Should you be curious, we recently published an article that breaks down some great Garageband alternative options.
Wrapping Up
We have provided you with 4 great alternatives to MainStage. I believe all three of these work well and if I were deciding, I would recommend Ableton.
Ableton has become the king of live music for a reason and it is the DAW that I use as well when playing live.
Should you not have the budget, we would recommend going with Cantabile as there is a free version you can test out.