I've had the pleasure of playing some of the best piano VST plugins that currently exist. Because of this, I decided to create this guide in order to give you a complete understanding of piano plugins.
I am of the opinion that a well-done piano VST can compete with real pianos both live and on recordings. With this being said, no VST or digital piano can compare to the feel of playing a real piano. The dynamics and feeling that you can express on an acoustic piano is unparalleled in my opinion.
Best Piano VSTs Comparison Table
Below is a quick comparison of the best piano VSTs currently available on the market. To come to this conclusion, I reviewed every product and spent 21 days writing the most in-depth review that I possibly could. On top of this, I've used these on major label productions in two of my bands albums.
It is important to note that with the advancement of piano VSTS, we are now able to access incredible sounds from our keyboards or digital pianos. For example, you can transform your keyboard into a Rhodes or an old-school organ by simply connecting with your computer or Macbook. Here's a look at some incredible Rhodes VSTs.
---
Before I dive deep into the review, I want to introduce to you what I believe is the best online piano lessons course available. You can try it out for a free 30 day trial through my link below.
I currently own a Roland FA 08, a Novation Launchkey 61, an Akai MPK Mini MK2, a Yamaha P45, and Micro Korg, and a Prophet 12- all of these being able to capture the same sounds using VSTS. To me, this is incredible, and while this has some downsides, the number of upsides are far greater in my opinion.
The Best Piano VSTs – Budget & Expensive
The following are my top picks. These all have their purposes and they all sound a little bit different. I hope you enjoy the list!
Addictive Keys By XLN Audio – Best Budget Piano VST
Best Budget Option
I wanted to start with a solid, yet affordable option right off of the bat. The chances are that you are most likely looking for something that sounds great, yet isn't going to destroy your bank. The Addictive Keys Steinway is just that.
This is the best sounding budget piano VST option that is currently available. The Addictive Keys Steinway is sampled after the Steinway D Grand piano and this is a heavily sought after piano.
More than 10 different Steinway Grand pianos were tested before choosing the winner to sample. The one chosen was crystal clear and it had a perfectly balanced resonance.
One thing that advanced pianists may not love is that you can't do half-pedaling with this VST.
What I Like
First off, I think most of the presets are pretty great and to my liking. You will have pedal noise, EQ, reverb, sustain, softness, different mic placements, and built-in convolution and algorithmic reverb. I really dig the reverb with this piano as I feel like it sounds like you're playing in a church with super high ceilings.
You don't need a super-fast computer to run this plugin and that's a huge plus. I've seen people talking about this plugin saying that they're running it on computers from 10 years ago.
There are 6 different mic placements that allow for a different taste with each placement. You can adjust it from closer to more ambient, depending on what you're liking is.
The mics used in recording this are all extremely expensive mics that are perfect for the job. Addictive Keys used mostly Neumann mics and these are basically the most renowned mics in the game.
Requirements: This VST requires Mac OS X 10.9 or later or Windows 7, 8, or 10 with at least 2GB of RAM. One thing to note is it doesn't require a sampler such a Kontakt as it can be used as a standalone.
Overall
The Addictive Keys Studio Grand doesn't offer a ton of different presets, but each one of them sounds better than what you would get from the default DAW patches. Because of its overall sound, I believe that this is the best piano VST for those on a budget.
To me, this the option for producers looking to upgrade from not so good patches to something that sounds pretty great without breaking the bank.
Note: If you purchase a Focusrite interface, you will receive this for free. This is a nice win as you will get an upgrade in possibly your audio interface as well as your piano VSTS.
EZKeys – Best Piano VST For Songwriters
Best For Songwriters
The EZKeys Grand piano is an option that works well for both beginners and advanced players. They used sampling for this VST and overall the sounds are pretty great.
One of the best things about the EZKeys grand piano is that it is not CPU intensive at all. You don't need a very fast computer and you only need 500MB of RAM due to them using loss-less compression.
The library with this VST is not huge, coming in at 13 sounds total. My personal favorite is just the standard preset that it launches with.
What I Like
This VST really aims towards the songwriter and producer. They have taken the "songwriting made easy" approach and I believe it actually works pretty well. If you're someone who has a musical ear but doesn't really understand music theory yet, you could excel with EZKeys.
EZKeys also comes with an extensive MIDI library played by a professional pianist. You can drop and drag the MIDI into your songs for fast and easy composition.
The piano used for the sampling is the Steinway Model D. You will notice that this is an extremely popular piano to sample due to how well it plays and sounds.
Overall
I would say that the sounds are good with EZKeys, however, they are personally not my favorite. This is something that sounds better than your default stock pianos and offers some great songwriting features.
If you're someone who wants to dive into songwriting, this is a great option for you.
Note: This is a VSTi and also can be used as a MIDI executable file.
If you don't have a DAW that you are using, you can use this as a standalone.
Requirements:
1.5 GB of free hard disk space
Windows 7 and up, Pentium 4 or Athlon processor with 2 GB RAM
Mac OS 10.6 and up, Intel-based Mac with 2 GB RAM
Keyscape By Spectrasonics – Most Diverse Piano Library
Biggest Selection
Keyscape is easily the most diverse piano library that is currently available, and it's massive both in CPU and samples. The LA Custom C7 is out of this world and the electric pianos are authentic and punchy.
Spectrasonics also makes Omnisphere, which is a super popular library for synths. The Keyscape library is easily one of the biggest coming in with over 500 sounds & 36 instrument models. You can run Keyscape in the Spectrasonics player and also integrate it with Omnisphere.
Note: Keyscape is pretty CPU intensive, so you will want to make sure you have a nice computer or MacBook if you're planning on getting Keyscape.
Requirements: Keyscape requires 77 GB of storage space with at minimum a 2.4GHz Intel dual-core processor and at least 8GB of RAM.
For Macbooks, you will need Mac X 10.10 or higher and for PC you will need Windows 7 or better.
The library is compatible with both Mac X 10.10 or higher and Windows 7 or higher.
I would personally to use an i7 and 16GB of RAM for Keyscape. I know a lot of producers who use an external SSD as it makes heavy programs run faster.
What I Like
My personal favorite sound from Keyscape is the LA Custom 7 Stage preset. You can adjust the character of the piano as well as the pedal noise. These are two features that I think add a lot of realness to the piano VSTS.
The dark character is my favorite as I always lean towards darker sounding pianos. For some reason, they have much more emotion in them to me.
Note: This preset is embedded with Renner hammers using wicker felt. This is pretty unique and it leads to a great tone.
The bass notes from Keyscape in general cut through nicely and you can hear the tones surprisingly well. I've noticed with a lot of piano VSTS that the low end is sub-par and this is not the case with Keyscape.
As I mentioned above, you can play around with the pedal noise and mechanical noises in order to dive deeper into the realm of organic. Keyscape also features overtones when you hold out a note just like a real piano would.
The samples are all recorded clean with no stage noise in order to allow you to tweak them more to your liking. I personally prefer this as you can mess around with effects more.
Another thing that I really like is the ability to edit the mic placements for different parts of songs. For example, if you're doing a solo you can use the closer mics and if you're looking for texture, you can use the ambient mics. It all depends on the song and style.
With Keyscape you can create hybrid duo patches in order to spice your mixes up. What this means is that you can blend your piano with another VSTi in order to create a unique patch.
For example, you can take a C7 piano and then pair it with a harpsichord in order to blend them together. I actually use this technique when I play live in order to create unique sounds.
Overall
The presets sound fantastic right off the bat. You won't need to rely on editing or effects to make them sound nice.
While the electric pianos steal a lot of the thunder with Keyscape, I still really love the grand and upright pianos. Yes, the price is high, but you are also getting a massive library that brings a ton of different options for your songs.
Note: Half and quarter-pedaling are not supported by Keyscape. This is pretty common in VSTS as this is truly difficult to capture.
A funny story I was just having with a beginner keyboardist was that they just purchased this VST and they were using their old Casio keyboard with it. They are absolutely blown away by Keyscape and piano plugins in general, as am I.
In my opinion, this a top-notch option and the two negative things are that it's expensive and that it takes up a lot of storage space.
Garritan CFX – Incredible Yamaha CFX 9 Samples
Garritan CFX
This plugin has an incredble CFX 9 grand piano sample that keeps you entertained. You are able to tweak presets quickly and efficiently to your liking, making this a great choice.
View Price At Sweetwater
View Price At Guitar Center
We earn a commission if you make a purchase, at no additional cost to you.
I want to be very honest with this review. I am really not a huge fan of Garritan products. With this being said, the Garritan CFX samples are pretty fantastic.
The Yamaha CFX9 is sampled beautifully and it was recorded at the ever-famous Abbey Road recording Studios.
This is powered by the Aria player sampler, so you don't need to purchase an additional sampler.
Microphone selections for the Garritan CFX samples are key as they used the industry kings, the Neumann M49, KM 184, AKG C12, and D19 mics.
Should you want to learn more about microphones, you can check out our article that breaks down the best microphones for recording pianos here.
What I Like
First off, I love the library presets. When I sit down to write music, I want to be inspired by presets. A lot of times, composers can be influenced by a particular sound and that sound ends up guiding the song. Garritan CFX completely delivers here with some amazing presets.
You can easily tweak the reverb and pedal noise for particular patches to your liking. I am a big fan of using reverb on pianos myself. I will say, a lot of people don't like to use too much reverb as they think it takes away from the brightness. I love using the piano as a haunting instrument, rather than an in your face rock piano.
Check out my favorite classical songs for beginners to learn here.
The Garritan library offers 20 samples per velocity and the CFX also comes with its own convolution reverb.
Overall
While there are many things that I love with this plugin, it is very CPU intensive. You will need 8GB of RAM, a multi-core processor and 133 GB of free storage space.
If you're composing classical music or film scores, the Garritan piano plugin will shine. The organics of the Abbey Road Studios shine and they can make your recordings feel super authentic.
Requirements: Garritan requires MAC OS 10.10-10.14 & Windows 7
Overall, I think the Garritan is easily one of the best options to go with. The one negative thing is that it requires a ton of space and RAM.
RavensCroft275 – Low CPU & Beautiful Options
Ravenscroft 275
With over 17,000 samples used to create Ravenscroft, I am confident you will like this VST. The best part of this plugin is that you can choose four different mic placements for different dynamics.
View Price At Guitar Center
We earn a commission if you make a purchase, at no additional cost to you.
Ravenscroft was creating using almost 17,000 samples of the model 275 titanium concert grand piano. This VST is 100% sampled and it uses no modeling or synthesis.
This piano sounds quite nice overall with a wide variety of styles.
4 microphone placements are available for your own tweaking. ( close, player, room, and side). VI Labs made the Ravenscroft275 sample very CPU friendly even though it's sample-based.
With this VST you can use muted strikes, which will add a nice and punchy percussive element to your tracks.
Pedal noises and silent strikes are also included with this piano VST. This is when a key is pressed, but not actually hammering the strings. In total, there are 19 total velocity layers.
Control every component of the sound including sampled Key and Pedal noises, Silent Strikes as well as control of the dynamics along with pedal assignments and polyphony.
If you don't have a sample player, fear not, this comes with the UVI Workstation 3. In order to use it, you will need V3.0 or later. This is provided with every library purchased through VI Labs.
What I Like
The pianos are multi-dimensional, which means, this will help it so your instrument doesn't get buried in the mix. This helps you keep a more clean mix and avoids muddying up your mixes.
The bass notes are crisp, clear, and heavy. I really think this VST shines in this department. You won't find your low-end muddying up your mixes.
22 different convolution reverbs are included with this piano VST. I highly advise you to experiment with each one, as you may prefer different ones for different songs. This also makes it so you don't have to rely on your reverb plugins.
Dongles are not required and you can use this with up to 3 different PCS or Macbooks.
Requirements: You need 6GB of free disc space to install this library as it is 5.32 GB. Notice how you need more available disc space, this is common amongst plugins as they want to make sure that you have enough space.
Minimum of 4 GB of RAM to run Ravenscroft. You will need MAC OS 10.7 or later and Windows 7 or later.
I recommend having at least 8 GB of RAM, preferably 16 GB of RAM as you're going to want to be downloading other VSTS as well.
The more RAM that you can get, the better. This just allows you to expand into a massive sample library, which is important if you're serious about becoming a music producer.
Overall
The Ravenscroft 275 is hands down one of the better sounding piano VSTs available. You are given all of the essentials for dynamics as well as some great piano samples that I think are fantastic.
Remember, preference is everything with piano plugins. If you end up loving an option that is only $25, the more power to you. Don't let anyone convince you that certain sounds that you really dig are actually bad. Please yourself when it comes to your sounds, after all, they are yours.
PianoTeq 7 – Best Modeled Piano Plugin
Best Modeled Piano VST
Pianoteq 7
Pianoteq is one of the most popular options on this list. In terms of sound, it is easily one of the best on the market. It also uses modeling vs sampling, which is something that producers either swear by or oppose.
View Price At Sweetwater
We earn a commission if you make a purchase, at no additional cost to you.
PianoTeq7 has been creating some massive waves in the keyboard community. This is currently a lot of people's favorite plugin for pianos. While I think it does a lot of things extremely well, I still always leans towards sample pianos over modeled.
With this being said, this is probably the most popular plugin available currently. I highly recommend that you watch tutorials on it and listen to the sounds. Chances are, you could completely fall in love with Pianoteq 7.
If you're ever looking for a laugh or just looking to learn, check out some piano forums and read the arguments about Pianoteq 7 versus the rest of the competition.
Pianoteq 7 requires a soundcard that supports ASIO drivers. This shouldn't be a problem as most PC's support this.
Pianoteq 7 is a modeled piano that has the ability to provide you with incredibly real subtleties organic elements that sample pianos struggle with. With this being said, it will definitely come down to preference as some people just always prefers samples to models.
What I Like
You can dive insanely deep into the sounds with this plugin. Steinway & Sons have actually approved the sounds of the Pianoteq 7 Steinway D and Steinway B.
You can easily run this VST with most laptops and this was part of Pianoteq's plan from the beginning. They wanted to create a plugin that wasn't insanely CPU intensive.
Pianoteq 7 offers 3 different versions; Stage, Standard, and Pro. If you go with the standard or pro, you get the following extra features:
Model Tweaks
In-Depth Tuning
Microphone Settings
Additional reverb impulses
Note-Note Editing
I really like how dedicated and loyal the users of Pianoteq 6 are. Every time I'm reading about this plugin, I see people arguing over how good it is. In my opinion, this is easily the best-modeled piano and I don't think anyone would argue against that.
Pianoteq uses all 127 layers, as opposed to samples which usually offer 16.
Quarter-pedaling and half-pedaling are both offered with the Pianoteq plugin. These are advanced techniques that most piano VSTs aren't capable of doing. You can also turn the sustain pedal on or off from the interface.
While you can turn off the pedals, I prefer to leave them on as it makes for a more organic and real experience and sound.
Like many of the other options, you can Pianoteq with all of the major DAWS.
All MIDI controllers should work with Pianoteq.
Overall
Although this option is far down the list, I still think it's incredible. You can tweak all of the parameters per note and this is one of the only plugins in which you can do so.
Pianoteq requires little RAM and it also only requires 256MB of storage. This is one of the selling points for this plugin. You can use this as a standalone or use it with your favorite DAWS.
Pianoteq requires Mac OS X 10.7 or later and Windows 7 or later. It also doesn't require iLok or a USB dongle.
Overall, this should be one of your top picks. I think Pianoteq6 is only going grow in popularity and I look forward to seeing where it is down the road from here.
East-West Gold – One Of My Personal Favorites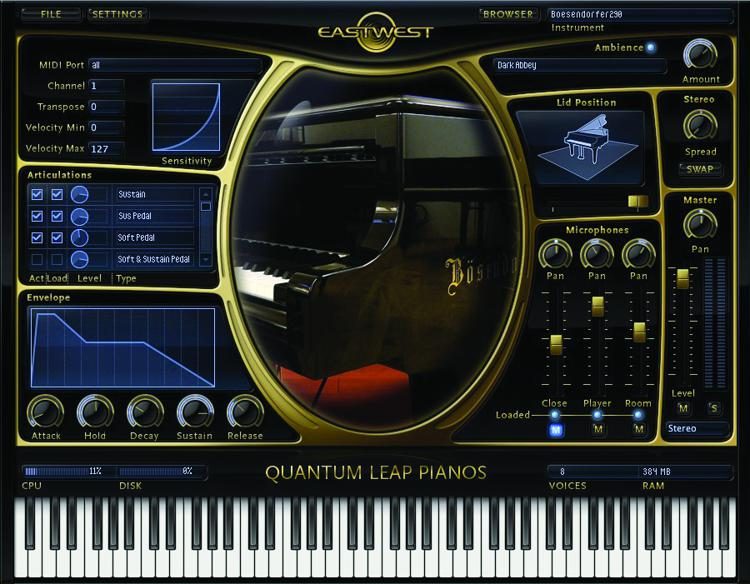 I was fortunate enough to use this VST live for about 3 years of touring. I personally am in love with the piano sounds. This is a sampled piano of the popular Bösendorfer' Imperial 290 and it sounds so beautiful.
The one thing that I do not like with the East-West pianos is that they are quite demanding. You also will need an iLok account in order to use this. This can get a little bit annoying as you will have to make sure your license doesn't expire for iLok.
You will also need 18GB of drive space open in order to install. This is a pretty good amount of space and I will say that this greatly slowed my Macbook down when running our live sets.
What I Like
I personally am in love with the sounds as I've used them for so long. They sound very realistic and I don't think anyone would argue against that. Their fault is that they are CPU intensive.
When I couldn't use this VST, the other pianos I had pretty much like toys compared to it.
Overall
Overall, if you have a fast PC or Macbook, this is a great option. It's moderately expensive, but you will definitely use this for the end of your producing days as they sound beautiful.
Note: East-West pianos have always sounded rather dark to me. To me, this is a big plus as I really enjoy dark and ambient sounding pianos.
What Do You Need To Use Piano VSTS?
You will need to first acquire VSTS, which is exactly why you're here. You will then need the following:
Note: Some of these VSTS have standalone software, in which you don't need to use a DAW. However, if you wish to record, you will need a DAW. Some of these options are also Kontakt exclusive, meaning they can only run in Kontakt. The free version also can only run for 15 minutes before it turns off. Another thing to mention is VSTS often require the up to date version of Kontakt.
DAW (This will be your home base)
A Keyboard with MIDI capability ( If you wish to play, rather than just use your computer keys or write the notes in)
Speakers or headphones
Computer or Macbook
What Are VST Plugins?
VST stands for "Virtual Studio Technology" and this refers to virtual instruments or effects that are located within whichever DAW you are running or your PC or Macbook.
Now, this might sound confusing if you're new so let's dive in a little bit more. We learned above that VSTS are used by loading up your DAW and going into VSTS.
For example, if I load up my DAW of choice (Ableton Live) I will then click on plugins – VSTS – Local. I will then be able to load up any of the plugins that I have installed.
Some people will refer to VSTS as sample libraries. The reason I say libraries is because samples could simply be a pack of audio files and not VSTS.
Here's a list of some great sample libraries that are currently used all over music production today.
UVI Instruments
IK Multimedia
To connect to a sample library, you will need to have a sampler. The most popular samplers are Kontakt6, TAL Sampler, and Play.
The most popular one is hands down Kontakt, however, it's quite expensive to run the full version.
If you open up the Kontakt player in your DAW, a window will pop up that allows you to pick between different samples. If your keyboard is connected, you will notice that the sounds will be whatever instrument you have loaded up.
Note: The instruments are sampled true to their range, so if you pick a harmonica and try to play really low on your keyboard, it won't play as its range doesn't go that low.
You will also notice that the keyboard inside of the Kontakt player will sometimes light up, displaying to you what notes you can press for the samples you have selected.
Samples are created from audio engineers who spend hours to days with the sampling process, trying to nail down the dynamics with every single instrument.
For example, if someone is trying to sample a piano, they are going to have the pianist press down the same note hundreds of times at different velocities and different lengths. This allows the sample to capture as much realism as it possibly can.
As mentioned above, some samplers are standalone, meaning, they don't need a DAW. However, if you're trying to record or edit, you will need a DAW.
DAW stands for "Digital Audio Workstation" and this is essentially your recording studio.
I recently put together an article on my favorite free DAWS and you can view that here. Aside from the free DAWS, here are some of the most popular DAWS available.
Logic – Here is a detailed guide on the best Logic alternatives for windows should you be interested.
Pro Tools
Cubase
FL Studio
If you connect your MIDI keyboard or digital piano to your laptop or PC and you play sampled sounds, you will be sending the note values via MIDI.
MIDI stands for musical instrument digital interface. This is the language that allows instruments, computers, and other hardware to communicate. For example, if I am trying to record a piano piece into my DAW, the MIDI note values will be captured to a grid.
From there you can change the notes in any way you wish as well as quantize them. Quantize essentially means to make what you played sound perfect.
This is a huge reason why so many bands sound perfect on all of their recordings. You can quantize MIDI with a couple clicks of your mouse, resulting in perfect sounding music.
This is an extremely powerful language that has been used by so many popular bands, including Rush. Rush was one of the first bands to really take advantage of MIDI. Rush only had 3 members in the band, yet, through MIDI, they were able to play and sound much bigger live.
Using a piano VST is not the same as using a digital piano. This is because you are using a sampled or modeled sound.
---
Sampling VS Modeling Piano VSTS
Sampling vs physical modeling has been at the forefront of so many forum discussions. The fact of the matter is, one isn't better than the other. In my opinion, this is a personal preference. I personally prefer samples myself, however, some people prefer physical modeling.
In my opinion, a lot of physically modeled pianos sound plastic and cheap. With that being said, one of the most popular options, and one that we will get into is Pianoteq. This is a physically modeled piano and it is one of the more popular piano VSTS available.
The difference between sampled and modeled is that sampled sounds are audio recorded with mics in different environments, while modeled are merely an imitation of an instrument through synthesis.
There are more sampled pianos than modeled libraries available as it's easier for engineers to sample than to model.
The big plus to modeled sounds is that they generally take up a lot less CPU & storage than samples do. Samples are often CPU intensive and they can severely slow your computer down.
For this reason, I highly recommend that you have a moderately new PC or laptop to handle the latest piano VSTS.
The main reason that I prefer samples to models is that I can surf through my libraries and find a sampled sound much easier than I can find a modeled one that I enjoy.
Samples play far more real than models do in my opinion. When I'm playing quietly, the piano sounds gentle and delicate, whereas, when I'm playing forte, it sounds aggressive and grittier.
While I prefer sampled pianos, I have heard and played some pretty atrocious samples. Sampling comes down to the engineers, the room that they are capturing, the mics, the placement of the mics, quality of the pianos.
The more experience you have at sampling, the better the samples will end up turning out.
I recently stumbled upon this and thought it was brilliant. A sample is going to give you all of the cracks and little subtleties in a brick whereas a physically modeled brick is just going to resemble it as best as it can.
Now, if you have a lot of experience, you may completely disagree with me and absolutely love physically modeled pianos. That is totally your opinion and there will be a ton of people who agree with you and a ton who disagree.
This is honestly something I wouldn't even pay attention to at first. Decide which sounds you like more because of your ears, not because of what you have been told. Maybe you love some sampled piano VSTS and also love some physically modeled options as well.
---
Why Use Piano VST Plugins?
For the first few years of playing in a band, I had no idea what VSTS were. I used the synthesized sounds on my keyboards and my stock pianos.
It wasn't until about 2013 when I learned about piano VSTS in my first recording studio experience.
Our producer started showing us VSTS and my mind was completely blown. Piano VSTS can sound out of this world. You can take a cheap keyboard and make it sound like a Mason & Hamlin or a Steinway & Sons through the use of piano plugins.
Note: You don't need a MIDI keyboard to use VSTS. For example, I run my Roland FA 08 as a MIDI controller by plugging it in and accessing VSTS with my laptop. To do this, you will just need a USB cable. For an easy guide to connecting your laptop and keyboard, click here.
I personally believe that piano VSTS sound much better than digital pianos or keyboards. If you run your keyboard through a DAW such as Ableton Live for when you gig, you can create a set that allows you to access your favorite sounds.
This is a time-consuming feat, but once you watch enough Youtube videos, it will be well worth it.
---
Advantages Of Piano VSTs Over Keyboards Internal Sounds
Advantages
Unlimited amount of different sounds and effects that you can play with
Ability to change instruments at the click of a mouse
Learn how to write and compose songs using different instruments
Far more advantages for performing live
Disadvantages
Can be limiting to only use VSTS and technology for composing
My personal opinion is that using piano VSTS is a far better route than using a digital piano. While there are going to be some people who may disagree, I personally just love finding and playing new VSTS and I believe they sound better and better in time.
The one reason why I don't love the idea of everything being VST based is that there are a lot of modern composers now who never learn the basics of playing instruments. Now, I'm certainly not knocking on them, but I do think that it can be limiting as not all bands want to do everything on a computer.
To Sum It Up
Keyboard patches are often times limiting to what you hear is what you get. VSTS offer the ability to adjust attack, decay, sustain, release, reverb, tone, mic positioning, and other parameters. If you're someone who wants to really dive deep into the sound, beating a VST will be hard to do in my opinion.
---
How To Choose The Best Piano VSTS?
There are a few things that can truly help you out when deciding which to choose. My personal opinion is that you should browse and listen to different brands of pianos.
You may find that you like Roland's or that you like Yamaha's or maybe even Baldwins. Either way, you will be able to find meticulous sampling behind any of these sampled pianos.
Another thing that you can do is figure out what it is that you like in a piano. Do you like warm sounding pianos or do you prefer bright? I mentioned earlier, but for some reason, I just really love warm and dark sounding pianos. They seem to have an element of emotion to them in my opinion.
If you're looking for certain pianos, you can also find honky tony pianos or super verbed out pianos. Verbed out, simply means reverb-heavy pianos. If you're unsure of what reverb means, you can read more here.
When you decide on a piano VST, you can often search through different presets before then tweaking it to your liking. I strongly advise you to search through each preset. You never know which you will end up liking the most.
---
Does More Size (GB) Mean It's Better
Absolutely not. If the library is massive, this is in a way an indication of how well the pianos were recorded and processed. What this means in simpler terms is that in order to truly sample a piano in the best way, the engineer should be hitting each note hundreds of times and different velocities.
What this leads to is the pianos sounding far more expressive and realistic than a piano that is not as meticulously recorded.
The final size of the library will mainly come down to the format and audio compression. When you read about the sampling process for each piano VST, you will want to look for lossless audio compression. This is most common amongst the higher-end sample libraries. What this does is preserves the exact copy of the original audio.
If you ever listen to a song on the radio, you will probably notice that the audio quality is completely different than your CD. This is because of the type of compression that is used.
One of the more popular piano VSTS is the Garritan CFX Concert Grand. It comes in less than 20GB, but once you install and decompress it to PCM it requires more than 100GB of space. For this reason, I recommend that you find one piano VST that you really love and just keep that installed. You can always reinstall as you go as well.
If you're truly concerned with space, you could look at the Addictive Keys as it requires less than 6GB of space because it uses lossless compression.
With all of this storage talk, I strongly you advise you to keep it in mind, however, let your ear guide you to where you go. One thing to note is that you will want to have a fast PC or Macbook in order to run some of these nicer piano plugins.
---
My Personal Experience With Piano VSTS
I've spent the last 6 years playing in a touring band, Vinyl Theatre and over these years, I've had the privilege to test out and get to know these VSTS. I am of the opinion that piano plugins sound better than digital pianos and that they are much better for live performance.
I can't tell you how many bands I've toured with that I've seen using VSTS over their own keyboards stock sounds. MIDI controllers have completely changed the game for touring keyboardists and they've allowed them to do more.
You can read more about some of my favorite guitar VSTs here. These are all options that you can play on your keyboard, similar to a piano plugin, only guitars.
I will say that we have stumbled across some expensive options that we just didn't really like at all. We've also stumbled across incredible cheap options as well. This is all possible from just experimentation. Always be sure to experiment and search the market for the newest and best thing.
Before diving into the list, I want to be clear here; I'm not listing in order as I feel like a few of these are pretty equal and it comes down to your own preference. Let's dive in below.
---
Conclusion
When it comes to piano VSTS, there are so many great options currently. That's a plus as there are other instruments that don't have near as many options for VSTS.
Note: If you can't afford some of these piano VST plugins, you can download view my list of the best free piano VSTs here.
I hope this sheds some light on which route to go when it comes to piano plugins. If you are using other VSTS or have any experience with these or simply think some of these aren't to your liking, let me know, I would love to discuss!