Disclaimer: Links throughout the article may be affiliated. If you click and make a purchase, I get a small commission. As an Amazon Associate, I earn from qualifying purchases.
After 6 years of touring and playing live with Ableton Live night after night, I figured it was time to put together this article. There are MIDI controllers built specifically for Ableton and we are going to highlight the best options.
Ableton is a very special DAW that is used by not only producers but also touring musicians. I would say that this is actually the most popular DAW for live music today.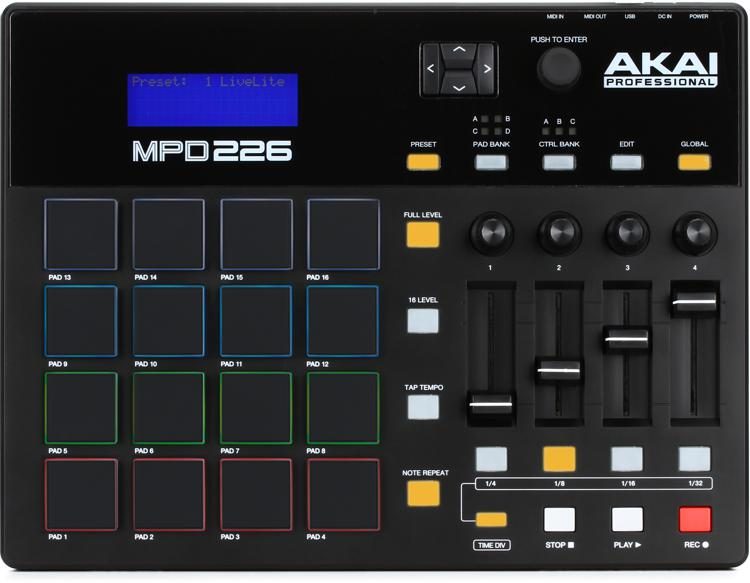 There a couple of different types of controllers to pick from.
There are MIDI pad controllers, which are more so meant for triggering beats & samples, and then there are MIDI keyboards.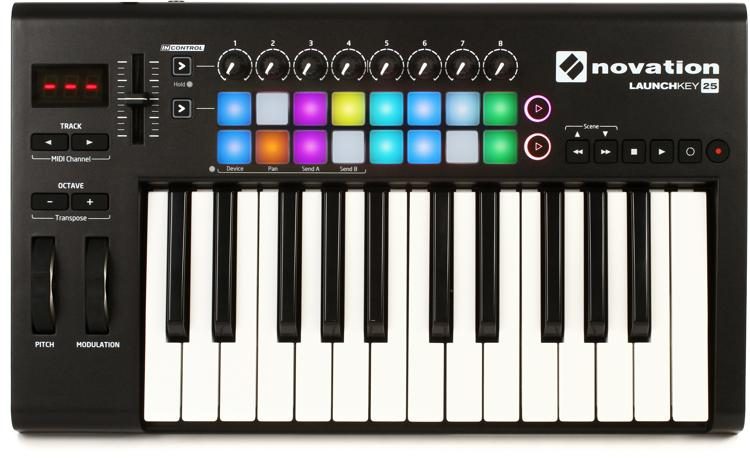 Some MIDI keyboards have pads a keyboard and pads.
It's common to see pad controllers for hip hop as a lot of the beats are made by samples and playing various types of drum beats.
Which type you choose is solely dependent on what your needs and experience are.
Notice that the keyboard above has both keys & pads. This is a versatile option as it allows you to play melodies easier than the pad controller above.
When looking at controllers, the one thing can change quickly is the price. There are a number of good options as you go up in price, however, only a few solid options in the lower price range.
IMAGE
PRODUCT
DETAILS

Editor's Pick

Ableton Push 2

64 Pads
Built Specifically For Ableton
Includes Ableton Live 10
Easy To Use

Keyboardist Pick

Novation Launchkey MK III 61

Best MIDI Controller On Market
Built-In Sequencer
16 Pads
Incredible Integration With Ableton
Pads Are Color-Coded To Ableton

Alternative

Novation Launch Pad Mini

Inexpensive
Built For Ableton
64 Pads
Extremely Portable

Budget

Novation Launchkey Mini MK3

25 Mini Keys
Specifically Mapped For Ableton
Weighs 1.2 lbs
Fits In A Backpack
Great For Beats
Best Ableton Live MIDI Controllers
Ableton Push 2 – Top-Notch Pad Option
Have you ever watched musicians looping and creating beats on Instagram or Youtube? This controller is often used as it works flawlessly with Ableton & it is also super easy to chop and sample parts on.
The Ableton Push 2 is built specifically for Ableton Live and it is a fantastic option. This is a pad-based controller that has 64 pressure & velocity-sensitive pads that are high-quality.
One of my favorite features of the Push 2 is that you can lay down a part, whether it be a keyboard or drum part and you can quantize directly from the Push 2.
This keyboard controller is great for hip hop as well as for EDM. If you're looking to do a different style of music such as indie rock, it could still work quite well.
I find this to be neat as it just makes it so you don't have to go to your DAW and quantize it yourself.
I've played on a bunch of cheaper pads that just don't feel as good as these pads do.
The workflow integration is top-notch and it is a rather easy controller to use. The Push 2 comes with Ableton Live 10 Intro, which is the beginner version of Ableton 10.
Whether you're making beats in your bedroom or you're playing live, the Push 2 will cover all of your needs.
This video below breaks down the simplicity of this controller.
Pros
64 pressure & velocity-sensitive pads
Comes with Ableton Live 10 Intro
Flawless integration with Ableton
Great for looping and writing beats
Cons
Novation SL MK III 61

The Novation SL MK III is one of the premier keyboard controllers currently available. This thing is built specifically for Ableton Live and it has transport controls built-in to increase your workflow.
The SL MK III comes with either 49 or 61 keys. Whichever you choose comes down to exactly what you're looking for out of it.
If you're looking at 49 key MIDI controllers, I highly recommend checking out this list above.
If you're someone who has a background in keyboards and understands how to use the 61 keys, then it might be worth getting over the 49. Novation improved from its previous controller as they added aftertouch.
The key-beds are the same other than one has 49 and the other has 61.
One of the main selling points about this controller is that it has an on-board sequencer.
The SL MK III has MIDI in/out and out 2/thru. It can be used to control your favorite modules or synths.
Novation Launchkey Mini MK 3 – Budget Pick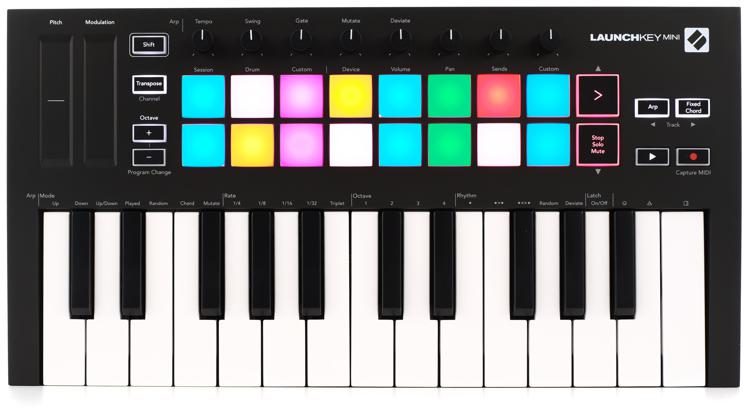 The Launchkey Mini MK3 is one of Novations latest options. This controller is great for beginners and is especially great for Ableton users. The color-coded pads are specifically made for Ableton and they make your life a lot easier.
You have an impressive 16 pads and 8 encoders as well as a MIDI out. For a mini MIDI controller, this is pretty surprising.
The Launchkey Mini MK3 is equipped with Ableton Live Lite 10, which is the free version of the DAW that you can only access via certain products that you purchase.
One of the reasons why I really like this controller is that it is cheap and extremely portable. I brought one of these on tour with me and I was easily able to tuck it underneath the van seats without worrying about it.
You can check out my complete guide to the best mini MIDI controllers available. You will find this on that list as well as some of my other favorites.
If you are using a different DAW than Ableton, check out my favorite MIDI controllers for Logic Pro here.
Native Instruments Maschine MK 3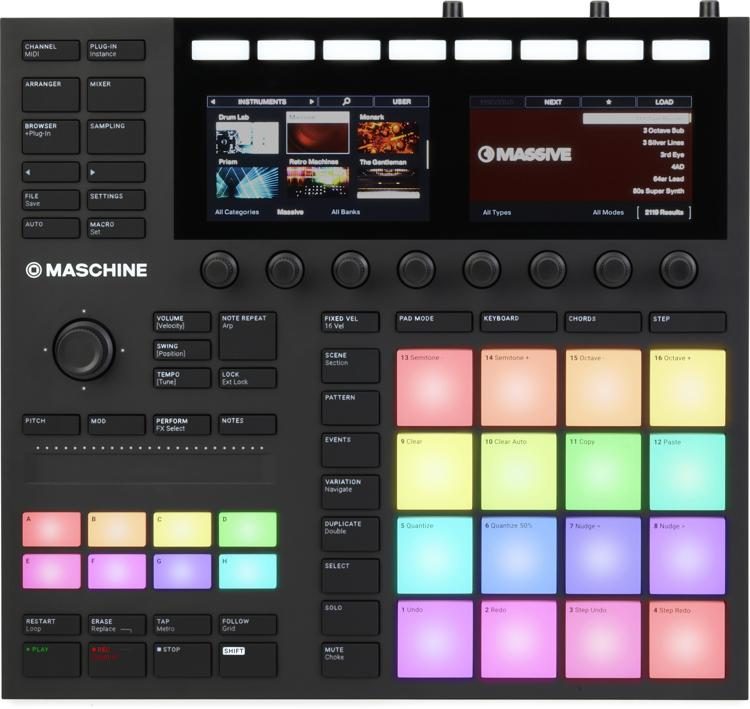 Native Instruments is no stranger to music production. The Maschine MK 3 is a great pad controller that works exceptionally well with Ableton Live. Although it's not built specifically for Ableton, it still works seamlessly.
The pads are top-notch and seriously some of the better ones that I have played on to date.
One of the coolest features with the Maschine MK 3 is that it also functions as an interface. This is a feature that the Ableton Push 2 missed out on and it is often talked about by producers.
The Maschine MK 3 has a function called "lock." This is a great feature as it allows you to take a snapshot of the current settings that you have.
Novation Launchpad Mini mk3 – Budget Pad Option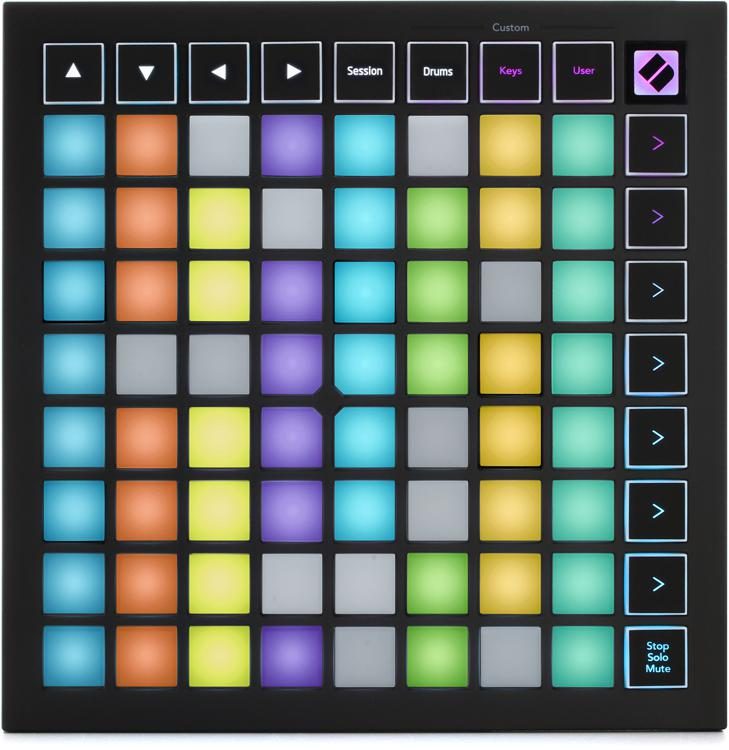 The Novation Launchpad Mini MK3 is very similar to the Launchkey. You have the same functionality, yet you have 64 back-lit drum pads.
This is a mini controller, so it is definitely built a little bit cheaper than other options. However, you're paying far less and still getting a similar product.
Portability is key with this option as it is extremely lightweight and it can fit into a backpack.
Novation packed the classic 8×8 grid into a mini option that works seamlessly with Ableton. This can be used for the studio, for live music or even for travel sessions in which you want to write while traveling.
Why Use An Ableton Live Controller?
Not all MIDI controllers are compatible with every DAW. Even though Ableton is one of the most popular options, not all controllers work flawlessly with it.
The list of controllers above are all options that are very user-friendly towards Ableton users, with most of them being built specifically for Ableton.
Conclusion
Choosing between different controllers can be confusing, especially if you don't have much experience. I hope that you fond this list helpful and I also hope that it helped you pick the right controller for Ableton.
While Ableton Live is my favorite DAW for live music, FL Studio is a great DAW as well for studio purposes. You can check out my picks for the best MIDI keyboards for FL Studio here.