In a time where live bands are trying to get creative and figure out the most exciting things to do on stage for the fans to watch, the keytar is sure to make a comeback.
Today we are going to be having an in-depth look at the best keytars currently on the market, both wired and wireless.
Best Keytars – A Quick Glance
What Is A Keytar?
Keytars are electronic keyboards that are made to look like guitars and they are worn with a strap. They are laid out with the controls on the neck of the instrument for simplicity. It was invented in the 1980s and it is an instrument that is starting to resurface with electronic music.
I have been touring for the last 5 years and we recently added a keytar to our set and I am very pleased with the crowd's reaction. I really like being able to move around the stage and perform as if I were the guitarist for a few songs.
They may not sound like the coolest instrument, but with the introduction to wireless, MIDI keytars essentially allow the keyboardist to fly around the stage and entertain. Keyboardists are typically put to the back of the stage with a few different keyboards and keyboard stands so it is cool to see keyboardists mobile.
Brief Intro
For musicians who are looking to switch things up and move around, this instrument makes this possible. Most of them come with 37 full-size velocity-sensitive keys.
The full-size keys definitely come in handy when playing chords and difficult leads. I believe that we are going to start seeing a heavy dose of keytars in the coming years.
If you find that 37 key keyboards are something you enjoy, check out my list of the best 37 key MIDI keyboards. I spent a ton of time compiling this list and I think you'll enjoy.
They can also be MIDI controllers and come with drum pads on them. These are essential for musicians who want to trigger additional parts or sounds from their instrument.
For the average keyboardist, deciding on the right product is going to probably come down to, which ones look the coolest, and which can do the most for the lowest price. You will notice that most keytars are now MIDI controllers. This means the musician can directly control external sounds.
A good thing about each product that we're going to be taking a look at is they aren't going to be crazy expensive. With MIDI controllers becoming the industry standard, it comes as no surprise that MIDI has made its way into keytars.
Something to keep in mind is that many older models have been discontinued and that will also make them cost more money than they normally would. To address these points, we put together a list that will explain all of this for each instrument.
Let's Take A Look At Our Favorite Keytars Below:
---
Alesis has knocked it out of the park with the Vortex 2. The Vortex 2 is a new and improved version of the Vortex. They focused on improving the durability so that musicians can rest easy knowing that their instrument is safe on the road.
This has an incredible wireless range and this was the first thing that I tested when playing it. You can take it up to 400 feet away from your laptop and still have a perfect connection.
The Vortex 2 has much better wireless technology than the original Vortex. This is one of the features that Alesis greatly improved on and this is also the most important feature, as it is wireless.
One of the nice things is that the display is located right above the key-bed so that the musician can see what octave they are on and also what synth they are on.
Something that jumps out is the new and improved modulation wheel on the neck of it. I noticed that the original Vortex had really good battery life and I rarely needed to change the batteries on it. I play about 25 shows before changing them out and the shows are about 60 minutes.
Solos
If you're a keyboardist who is looking to do solos, the Vortex 2 has an accelerometer that allows you to do bends that sound like a guitar bend.
There's also a mode that you can enable and disable that allows you to get the bend sound by simply angling the keytar upwards.
I disabled this feature so I didn't have to worry about it automatically bending the notes while I was playing parts of a song.
This has a sustain button on its neck that allows you to play chords and sustain them. The sustain also works if you're using arpeggiators, which allows you to hold out arpeggiated notes.
---
What Kind Of Software Does the Vortex 2 Come With?
It comes with 2 virtual instrument plug-ins and the DAW Ableton Live Lite including Hybrid 3 and Loom 2. Alesis has been making solid MIDI controllers for the last few years now and the MIDI sync ability of the Vortex and the Vortex 2 is second to none.
The keytar works really well with the DAW Ableton Live and this is probably the most popular DAW there is right now for live music.
If you can't afford a DAW currently, there some free DAWs that are really good. Some free DAWs for music production have just as much control as paid ones.
---
Using The Vortex 2 Live
It is built for live music. I spent over a year playing the original Vortex at live shows and it changed the way I perform as a musician. I think the big question most people have is, is the Bluetooth wireless reliable?
The answer is yes. I rarely had problems with the connection and if I did it was because I was extremely far away from the dongle.
Alesis did say that the technology of the Bluetooth is just better now than it was when they released the Vortex. This will make it so it is that much more reliable for live music. I'm a huge fan of Bluetooth technology. I put together a guide to the best wireless MIDI controllers that I can't get enough of.
Features You Can Use While Playing Live
A feature that you can take advantage of is splitting the instrument so it has a different sound on each octave. You can do this by going into your DAW and putting two different patches together.
You then will use your keytar to go up and down by hitting the octave button. This makes the keyboard more dynamic because you can then use more sounds live per song.
You can assign your trigger pads to samples, sounds, and even tracks. If you're going to be using this instrument live, you might as well take advantage of everything it can do. Be sure to spend the time figuring out how to use all the features before you play live.
What Are The Requirements?
You will need to have an available USB 1.1 port on your laptop or PC. This is where you will put the dongle. If you are using a MAC we recommend using an I5 or I7 processor for speed.
You will need 5GB of storage for the download. To authorize it you will also need the internet.
I use this keytar on my MacBook from 2013 and it works perfectly fine. Just make sure you don't overload your computer with a bunch of stuff you don't need, especially if you're playing live shows.
Let's take a look at some of the specs below:
37 velocity-sensitive keys with aftertouch
Eight RGB back-lit velocity-sensitive trigger pads enable you to create beats/ trigger clips
Eight back-lit faders for controlling volumes or other instrument parameters
Embedded MIDI-assignable tilt sensor performance control with on/off button
Thumb-controlled volume slider and reversible pitch-bend wheel on neck
MIDI-assignable touch-strip, zone, sustain, and octave-control buttons on the neck
Included USB dongle creates a wireless connection to any Mac or PC
USB and MIDI jacks for use with any synth, sound module, or other MIDI hardware or software
Battery-powered for use with MIDI modules and hardware synths (4 AA batteries included)
Guitar strap pegs
Overall
Overall, this is the most affordable option that still allows you to do everything you would want to do.
---
Roland Ax-Edge
The latest instrument from Roland and hands down Roland's best keytar. I am very impressed with this instrument and something to note is that it also has Bluetooth MIDI capability that lasts up to 4 hours on rechargeable batteries.
The quick thing to note with this is that it has great internal sounds and it can also be used for external sounds as well.
I always rant about the internal sounds on these types of instruments for not being very good, but this is a pleasant surprise.
I recently reviewed Roland Ax-Edge in full detail, check out the link above to read more about it.
Overall
Most people would claim this as the best keytar available. I wouldn't really be able to argue against this, other than the fact that it's more expensive than the Vortex 2.
---
Yamaha SHS 500 Sonogenic
The Yamaha SHS 500 Sonogenic is a different type of instrument.
It allows musicians to play without knowing how to play. My opinion on this product is that Yamaha made more of a toy or instrument geared towards beginners. I don't think that's a bad thing, but I know many musicians are upset that they didn't make a more professional product.
The feature Yamaha designed for beginners is called Jam Mode. This mode allows you to hook up to your laptop and play literally any song that you want. You also don't need to know how to play as it plays for you.
Because of the song mode feature, the Yamaha SHS 500 gets my pick for the best keytar for kids easily.
Check out my full product review of the SHS 500 here.
Alesis Vortex Wireless Controller – Discontinued
All of the pads on the Vortex can be assigned to do different things through MIDI. I find the key-bed on the Vortex is pretty durable and having a MIDI controller with full-size keys feels good when playing leads. I still use this in my band when performing live.
All of the keys are velocity-sensitive, so if you're looking to get some dynamics out of a part, it won't be a problem. If you are a fan of software synths and have a laptop, this is a great keytar for sale. The Vortex comes with a guitar strap that it pretty durable and it's also adjustable.
The guitar strap on the Vortex broke after about a year of live shows. It's not the best strap in the world, but you can also always purchase a new guitar strap that is adjustable for your instrument.
It has octave buttons on its neck that allow the musician to put multiple synths on it. If you're in a band or you're an artist that doesn't have a bass player, you can sample a bass guitar or find some cool bass synths and also play the bass.
Let's take a look below at some of the specs:
37 velocity-sensitive keys
Eight velocity-sensitive drum pads/sample triggers enable you to create beats or trigger clips
An accelerometer that is MIDI-assignable(this is for if you want to do a solo and want to do a bend that sounds like a guitar bend)
Battery-powered for use with MIDI modules and hardware synths (batteries included)
USB and traditional MIDI jacks for use with virtually any synth, sound module, or other MIDI hardware or software
Sustain and octave control buttons on the neck
Overall
The original Vortex is still a good choice, however, it's been discontinued. Because the price is similar to its successor; the Vortex 2, I would recommend that over this.
Behringer MS-101 Monophonic Keytar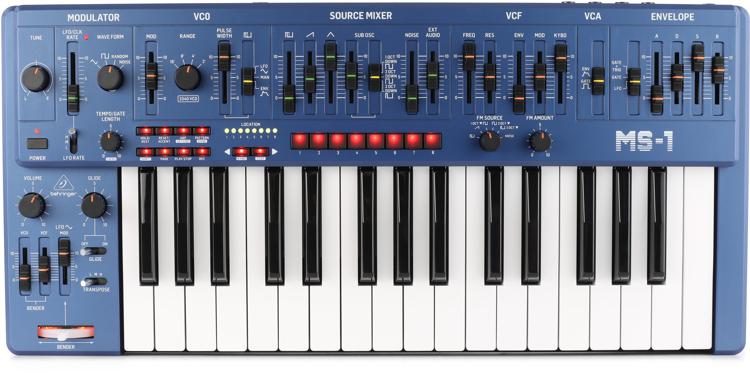 This is the clone remake of the iconic Roland SH-101 and it is creating some major waves in the community.
The sounds are top-notch and it is analog. The fact that it is analog is what makes it truly a one-of-a-kind instrument today.
This keytar is truly monophonic and it is easily the best keytar when it comes to being monophonic. The stock sounds are surprisingly crispy and believable as well.
Read my full review on the Behringer MS-101 here.
Overall
Overall, I am very high on this synth and I think that it's going to do some serious damage. You can use it as a MIDI controller, but you can also create some serious vintage tones with it.
---
Yamaha Vocaloid Keyboard VKB-100
The Yamaha Vocaloid is a keyboard that has us extremely excited. The Yamaha Vocaloid was released in the winter of 2017 as a Japanese release only, however, we are hopeful that this release goes worldwide as some of the features on this are crazy cool. Though it's only been released in Japan, you can still get it through Amazon.
This keyboard is unique because it is the first of its kind being a Vocaloid keytar. Yamaha pioneered this technology and they are starting to develop it more and more.
What we really like about this instrument is that it is the only instrument of its kind and to get the sounds it can produce you need to own this instrument.
What Is A Vocaloid?
The Yamaha Vocaloid is a keytar that you can sing into as well as play it manually. A Vocaloid is a synthesis in which the musician programs the melody and or the lyrics into the instrument and then you can edit the way it sounds.
It can add vibrato as well as change the dynamics of a voice. If you're big into electronic music, this instrument gives you something that most musicians don't currently have.
---
Korg RK-100S
With Korg, you know you're getting a good product and this instrument is no different. However, it is quite dated now.
This keyboard is going to be a bit more expensive than the Alesis vortex because it has been discontinued. The Korg RK-100 comes with 200 different synth sounds, but keep in mind with keytars, you're typically not going to get your favorite sound out of them.
An option to run this as a MIDI controller is there, however when you break it down and see that you can run the Vortex, which is much less money, as a wireless controller, you can't really beat that.
Korg put together a really nice keyboard, however, it just took the introduction of MIDI to give the keytars life again.
This model has MIDI, it just isn't up to date with today's MIDI controllers and there's no way to upgrade the MIDI on this instrument.
Let's take a look at some of the specs below:
Two ribbon controllers, one short and one running the length of the key-bed
A 37-note slim keyboard that's lightweight and easy to play
Two hundred analog-modeled programs are built-in
MIDI output jack lets you perform using an external sound module
Body with a beautifully lustrous finish in your choice of three colors
---
Roland AX-Synth
Roland has been experimenting with keytars for the last 40 years now. The problem again with this one, is it is discontinued. This doesn't mean you can't purchase them, it just means you're going to be paying more money for one. This is also a reason that this instrument is far down on our list.
The AX is going to be quite a bit heavier than the Alesis Vortex and if you are playing a lot of shows, a lighter instrument would definitely be the route to go.
It has the classic Roland D-beam built-in that allows the musician to hold their hand over the D beam and get crazy sounds. The display for the AX is located on the side so when you're playing you can see exactly what synth you are on and what octave you are on.
Below are some of the specs:
Built-in sound engine with voices from Roland's latest synthesizers
Ribbon controller, D Beam, modulation bar, knobs, and easy-to-see display for stage
USB MIDI for easy connection to PC
Dedicated V-LINK button for video/visual control
Innovative bender mode for expressive solos
---
Roland Lucina AX-09 – Vintage Keytar

The Roland Lucina AX-09 is very dated in its sounds unless you are interested in vintage instruments. I personally don't think this thing sounds very good at all as I find it a bit cheesy sounding.
---
My Tips For Keytar Players
Learn To Play Standing Up
Get comfortable playing standing up. This sounds like a no-brainer, but a lot of keyboardists aren't used to play standing up since they typically sit down. Practice your songs or whatever songs you might be playing standing up. Get in the habit of playing the songs while moving around.
Once you are comfortable playing standing up, you should incorporate moving around and getting a style. The whole point of being a keytar player is so that you have the ability to move around and perform the way you want to. Simply playing this instrument and not taking advantage of it would be silly.
Watch Other Musicians To Get Inspired
My favorite musician who plays this instrument is without a doubt Matt Bellamy of Muse. The way they incorporate this instrument is like no other band. I believe his incredible background from classical music greatly helps his playing and song-writing.
When I started playing the keytar I started watching videos to see how he moved and see what kind of parts he would play. This helped me greatly and I believe it will help you as well.
Find The Right Sounds
There are many different options with this instrument and it is important that you are taking advantage of your instrument fully. If you have a MIDI controller keytar, then you have way more options and ability. You can basically use and sound that you could possibly want.
Bass parts always work great on this instrument just because it kind of resembles a guitar. You also can cover the root notes a lot easier than trying to play guitar chords.
Finding good bass sounds is also easier than finding sounds that resemble guitars.
Use It To Write New Ideas
For inspiration, you can use your instrument to come up with new songs. If I hit a dead-end I will sometimes play around and come up with riffs that I end up really liking. Everyone likes to a change of pace so I recommend finding it here when it comes to writing.
Riffs are probably the biggest reason why I use this instrument. I can use it to write bass riffs or even riffs that would be played by guitar or keyboard. It's kind of a fun way to try something new and out of the box.
Put In The Time
Practice. Try to spend part of your time that you would practice piano practicing the keytar. Learn the ins and outs of it and what works and what doesn't. Certain things just don't work on the keytar as it's a little different than a piano.
Don't just try and play it like a piano because you haven't had the time to practice on it. You can learn super expressive solos on it if you put the time in. This is where you can sound like a guitar player shredding your favorite solos or solos you even wrote.
History
The keytar was invented in the 1970s and when it was first made for commercial purposes it was extremely heavy. The first name this instrument went by was the "syntar." The Moog Liberation was the first one made for the public and it came out in 1980 and it was created by Steve Masakowski.
It was created in hopes of giving keyboardists the freedom that a guitar player has. The problem in the beginning with this, was they were so heavy, that keyboardists didn't want to wear them for full shows.
As music technology has advanced, these instruments have as well. The biggest advancement for these is their ability to be used as MIDI controllers.
---
Famous Musicians Who Play The Keytar
Herbie Hancock was one of the first musicians to play this instrument professionally. To this day he still plays it live from time to time. Roland has been developing them for Lady Gaga to play and she has been playing them for several years as well.
The instrument that Lady Gaga has made famous is the Roland Ax-synth. Another musician who uses this instrument is Tyler Joseph from twenty one pilots.
My personal favorite player is Matt Bellamy of Muse. He does some incredibly cool solos and improvisation live with his keyboard. If you are a musician who wants to use the instrument as an improvisational instrument, I highly recommend watching some live videos of Muse for Matt's solos.
---
Things To Consider:
Does It Have Internal Sounds?
Not all are going to have internal sounds and some of the newest keytars are solely MIDI controllers. This means you will need a computer or laptop to make sounds. The plus to this is the musician can access any possible sound they will want.
If it has MIDI, you can find some incredible soft synths including some great electric guitar VSTs.
There is no limit to the sound you can get out of your instrument if you use it as a MIDI controller as there are so many different VST programs with thousands of sounds.
Weight:
The weight has dramatically changed over the years for the better. They were originally an extremely heavy instrument because the hardware weighed so much. They are generally going to be under 10 pounds now and if you're a musician who wants to shred around on stage, look for a lighter instrument.
Price:
The price can vary significantly depending on how new the keytar is. Newer ones aren't crazy expensive, but if you're looking for a vintage instrument, you're going to spend a lot more money since some of the models have been discontinued.
Pads, Mod-wheels, Aftertouch, Pitch-bend:
Some come with pads that can be programmable as triggers for live performances. Pitch-bend is also a really cool feature as it allows you to bend the note by tilting the keyboard upwards.
Is Your Keytar A MIDI Controller As Well?
I love using the Vortex wireless 2 because I can trigger so many crazy sounds for live shows on it by using the pads.
Wired Or Wireless?
Most are wired, but with the technology of Bluetooth, some are wireless. Wireless keytars are actually very reliable, as the Bluetooth technology has gotten better over the years.
---
Straps
With the Alesis Vortex, the strap was the only thing that wasn't high-quality. I ended up ripping through the strap in the first couple of months. As a replacement, I purchased one for my keyboard and it was inexpensive. You don't need a crazy expensive strap since the newer models are typically really light.
---
How Do Wireless Keytars Transmit MIDI Data?
The Alesis Vortex 2 transmits MIDI data through a USB wireless receiver which plugs into your computer or laptop allowing your keyboard to transmit MIDI data to the dongle. One thing I recommend is purchasing a few of the dongles since they are cheap and easy to lose. The USB dongles do feel a bit on the cheaper side, so it also makes me feel more comfortable.
---
Are Keytars Hard To Play?
Keytars are not incredibly difficult to play, especially if you have a background with piano. I picked it up rather quickly as I've played piano for so many years. Personally, I think it's a great instrument to jump into.
---
The Homemade Keytar
If you are on the crafty side and not looking to spend a ton of money, you can attempt to create a DIY keytar. We found this post interesting since you can literally take a MIDI controller and put it on a piece of wood essentially. This won't be the most aesthetically pleasing, but it can work.
---
Protecting Your Keytar
I recommend getting a case that will be on the cheaper side. Anything that offers solid protection will do.
---
How Are The Keytars Ranked Compared To On Other Websites?
I have played these keytars and I currently play one in a touring band. This is an area that I have been studying and perfecting for many years now.
---
The 80's Keytars
The keytar gets tied so closely to the 80's and this turns off a lot of musicians who are looking to play this instrument. It's tied so closely to the '80s because that's when musicians started using them in concert. When people think of this instrument they are surely thinking of an 80's synth pop or rock band.
I believe that this instrument will become an instrument that is popular again just because frees musicians up so much more than a normal keyboard would.
The versatility in these instruments is also pretty awesome seeing how you can program samples or sounds to the control buttons. I think in the next few years we will no longer associate it with strictly the 80's as it is going to make its impact on modern music again.
With keyboards heading down the MIDI controller road, them going full MIDI is only going to help bring them to the forefront in the keyboard world.
---
Advantages And Drawbacks
The drawback is that the internal sounds built-in are typically not the best sounds. It also used to be extremely heavy and that was a pretty big drawback.
The biggest advantage is that a keytar allows you to move around. Having mobility for a live show is so important to putting on a great show for the fans.
Another advantage of using one is that newer instruments are mostly MIDI controllers as well. This is what is going to give your keyboard unlimited sounds and completely wipe out the fact that the internal sounds aren't the greatest.
---
Using A Laptop
Using a laptop with your keytar is simple. You simply take the dongle that the wireless instrument comes with and you plug it into your USB port. You need a 1.1 USB port for this to work. Your wireless keytar will come with software that you initially download to your laptop.
When using a laptop live with any MIDI keyboard, it is smart that your laptop is used specifically for that purpose, especially if you're doing substantial touring.
You don't want to bog your laptop down with anything it doesn't need for live music. When I started touring I had used a laptop that I had everything else on and once I reformatted it and wiped it clean, it ran so much better.
Laptops that are full to their memory are much more common in having problems and crashing during your set.
---
How Common Are They In Music?
They aren't really common nowadays, but with electronic music being so relevant right now, they are starting to become more popular. I think the fact that Alesis made the wireless MIDI keytar, it's going to bring a lot of musicians into this world. It will be fun to see how popular they are in a few years.
---
Is It A Hard Transition To Play Keytar From Piano?
Not at all. I thought it was actually a lot easier than expected. If you are comfortable playing piano, then playing this instrument should come naturally for you. It might be a little weird to get used to standing, but once you do it a few times it will feel natural.
---
Octave Buttons
Having octave buttons on your instrument is essential because it allows you to quickly jump up or down an octave. If your keyboard has the option to split your keyboard, you can assign a certain sound to a certain octave for more sounds. Switching patches can be frustrating, so the octave buttons really come in handy.
---
Is It Possible To Cover Bass Guitar On The Keytar
Yes, it is possible for parts. You can find some extremely real-sounding bass plug-ins and tweak the sound to your liking. Playing bass sounds is also a lot of fun, but it will take time to get comfortable with it. You can also cover sub drops or anything else in the low-end.
If you would like to read about the best bass guitar VSTs available, you can here.
You can cover the bass while at the same time cover the leads by switching octaves. The split feature is really a cool feature on all MIDI keyboards in general for this reason.
---
Vintage VS Modern
Are the old vintage keytars from the 1980's better than the newer keyboards? No, I don't believe they are. They are better in the sense of just being vintage. Some musicians are all about older keyboards and the same goes for this instrument.
Modern instruments like the Alesis Vortex 2, can be used as MIDI controllers and access unlimited sounds. This alone makes today's products to me so much better. Some of the vintage ones sounds are very out-dated and just don't sound the greatest as well.
---
Conclusion
I hope you enjoyed this article breaking down the best keytars currently available.
My current favorite keytars are the Vortex 2 and the Roland Ax-Edge.
The reason for this is, they are up to date with the latest trends in MIDI, so that when you get it out of the box, it will already be ready to sync to your computer and used as a MIDI controller.