The Yamaha PSS-F30 is set to make a run at the top children's keyboards. Over the years, we've seen the Casio SA-76 & Casio SA-77 pretty much control the market with these types of keyboards.
I believe that this is why Yamaha has launched the PSS-F30. Yamaha sees a golden opportunity to get in and win the market with their own portable keyboard.
With this being said, did Yamaha do a great job with the PSS-F30?
I believe that they did, and I actually think that this makes for a great option for keyboardists who want a cheap portable option to play with when traveling.
Let's get into the review below to see my full thoughts.
Yamaha PSS-F30 Overview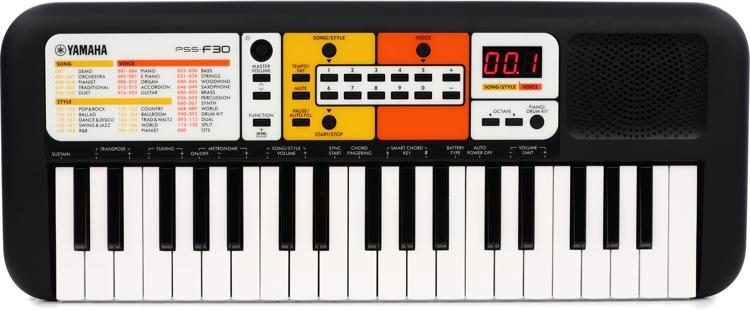 The first thing that I noticed with the PSS-F30 is that it has a really colorful and appealing look. I believe this makes it one of the best pianos for kids.
Not only is it colorful with shades of yellow and orange, but it also has a nice LCD screen that shows you which patches you're currently on. From a navigational perspective, Yamaha has done a fantastic job at making this very accessible to children.
Keys
With 37 miniature keys, the F30 allows for ultimate portability, while still giving your child a decent number of keys to engage with.
The keys themselves are exactly what you'd expect in a keyboard for this price and aimed towards children, not amazing.
With smaller options like this, the keys are never going to be great. With that being said, that's not the purpose of the PSS-F30, the purpose is to simply give kids a fun keyboard to play with and engage with early.
Portability
Portability was definitely taken into account with the PSS-F30. It is extremely light and it can fit in most backpacks. If you're looking to just have a nice little option that has a speaker, this is great as you can power it with batteries.
Speaker
The PSS-F30 has a smaller speaker built-in and it also has a headphone jack. This means that you can plug in a set of headphones and have your child practice that way if they need to keep the noise down.
Although, I can't find the specs on it, I will say that it compares well in sound with the SA-77. I was surprised by this seeing how it's only one speaker, vs the two on the SA-77.
Like most keyboards in this price range, the speaker isn't going to blow you away. However, it is pretty cool that it has a headphone jack. With a decent set of headphones, you can really crank it.
Sounds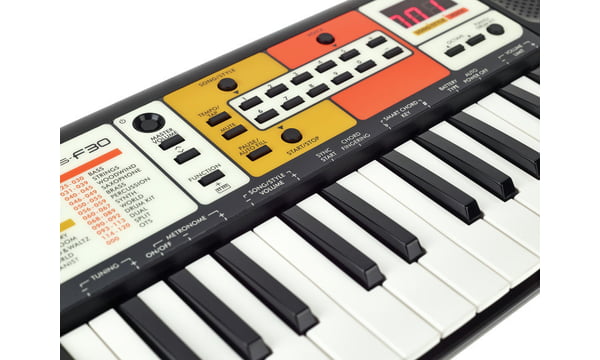 There is a large onboard bank of presets and songs to pick from. With 120 presets and over 30 songs, the F30 is built to entertain. One thing I always liked to do when I was younger was to play with an accompaniment and you can do this with 113 options.
One of the selling points is the headphones jack as a lot of parents don't always want to listen to loud noise after a long day at work. You can use the headphones and have your child still play away at night.
Smart Chord
This allows your child to play full chords which consist of 3 notes, all by hitting just one note. I think this is helpful for kids to start to get the hang of it.
If they have an instructor or if they use a service like Flowkey, they can really start to learn the importance of their chords early on. Check out more about Flowkey here.
Chords are sometimes hard to grasp for kids, especially with their left hands. This is because they require you to use more than one finger at a time.
The Smart Chord feature of the PSS-F30 is designed to really encourage kids to start learning how to play chords.
Compared To The Casio SA 77
The Casio SA 77 falls short to the Yamaha PSS-F30 in my opinion. While the sounds are pretty comparable throughout, the Yamaha has more sounds and more features for a similar price.
I do believe that both of these options will work, but it is totally your call for which you would decide to go with. I don't believe that you will notice too much of a difference overall though.
Battery Powered
The capability of powering keyboards with batteries is a dream for those who travel frequently for work. This is why these mini keyboards work so well for even professionals.
I have written some of my favorite ideas and songs from using cheap little keyboards. It all comes down to adapting to the instrument you're using and the PSS-F30 is the perfect type of instrument for doing so.
Alt J is famous for using cheap keyboards and vintage keyboards in their recordings. I think this is something that really makes them sound unique and it often leads me to check out their music.
Overall
Overall, I really would recommend this for your kids and even for yourselves if you travel often. You get a solid number of presets and a headphones jack for an extremely low price.
Again, great job by Yamaha with the PSS-F30 in my opinion. It's not a game changer, but it's perfect for what it's made for.