A metronome is an ever-popular tool in the music world and for good reason: it's effective. The Soundbrenner Pulse vibrating metronome is the first of its kind as it is built like a watch and you wear it around your wrist.
Most of the best metronomes make sound and are set up so you can set it down on your piano or on a desk near you. This metronome is the most portable and convenient in the sense that you can bring it with you wherever you go.
Pros
Easy to use
A completely new way of practicing for drummers
Tons of different time signatures to use
The interface is easy to navigate
Comes with 2 sweat-proof straps for wrist and leg
Sleek look similar to an Apple Watch
Awesome customization options
Cons
Vibrations may be weird at first (takes time to get used to it)
Relatively expensive
---
Soundbrenner Pulse Vibrating Metronome review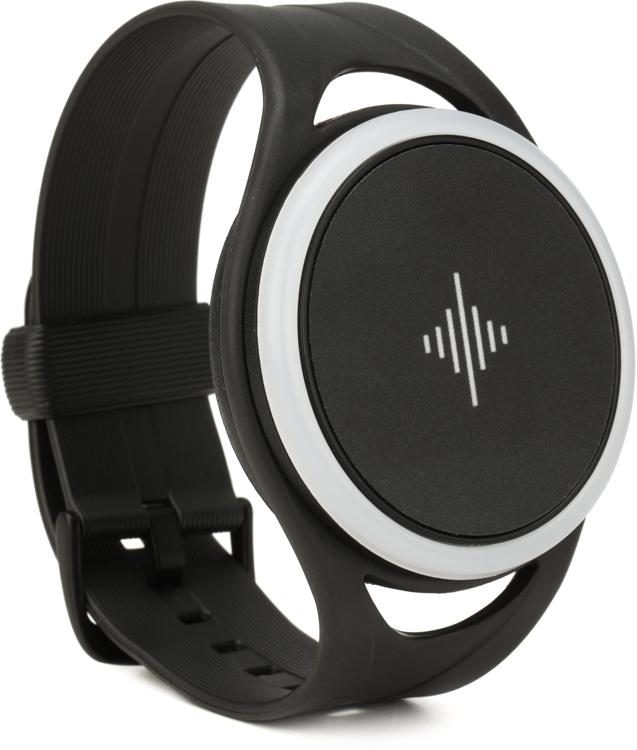 The Soundbrenner Pulse was designed to give musicians the freedom to literally "feel the beat" rather than hear it. With this metronome, you can put it on an lose yourself in whatever song you're playing and just go off of the vibrations it sends to you. This metronome has many musicians intrigued just because of its versatility.
To start the metronome, you simply tap it twice and it will start up for you. To increase the tempo you will turn it down, and to decrease you will turn it the other way.
---
What Does The Soundbrenner Pulse Offer That Other Metronomes Don't?
It offers the musician the freedom of being trapped into playing to a click track. You can use this metronome for live or studio purposes. This is the alternative to your standard metronome that you can see or hear. There are apps out there that vibrate, but none of the apps are in the same league as this portable metronome.
This is 7x more powerful than any of the metronome apps you can download on your smartphone. Also, you wear this metronome and don't have to worry about putting it in your pocket or holding on to it.
---
Tap Tempo
To start a tap tempo, you will have to tap it 3 times for it to adjust to the tempo. Tap tempo is very helpful if you're not aware of the BPM that you're playing at. This will automatically adjust once you tap it 3 times on beat.
You might not always nail this on your first attempt. I had trouble a couple of times nailing it right on the beat. I will say that I usually am able to line it up, but there will be times where you miss the beat and you're just barely off.
---
Multiplayer Capability
You can link up to 5 different devices so you could technically have your entire band play to a click track without needing in-ear monitors.
This Bluetooth metronome can receive MIDI from any major DAW and it is built to do just that. It has full metronome control meaning that you can pause and start the metronome easily.
---
What's In The Box?
Motor: 7G ERM motor
Weight: 1 Pound
Tempo Range: 30 BPM-300 BPM
Charger: Magnetic charging station and USB cable included
How Does It Sync? Syncs tempos to multiple devices via Bluetooth
Power Source: Rechargeable USB battery
---
Why Choose This Portable Metronome Over Other Metronomes
If you are a musician who has used normal metronomes for many years like myself, a change of pace is nice. I know that I get sick of hearing an annoying beeping sounding every time I want to practice a new piece or improvise. This metronome goes off of solely feel and the appearance of it is actually pretty neat as well. You can wear it on your wrist or your ankle depending on your preference.
---
Is This A Gimmick Item?
No, I believe that this is a very nice piece of equipment and it is not gimmicky in any sense. As I mentioned, there are metronome apps that vibrate, but none of them have the intricate functionality and power that this metronome has.
---
What Types Of Musicians Should Try The Pulse?
Personally, I am a keyboardist and I would recommend it for keyboardists, even though I've seen it marketed as the ultimate drummer's metronome. This is a good thing in my opinion as all this means is that it is versatile.
I would rather have something that can be used for all instruments, rather than just one.
In short, I would recommend this for:
Drummers
Pianists
Guitarists
I don't think there's really an order, aside from drumming be first.
---
Wearing The Pulse
You can wear it a few different ways. There's a big strap that allows you to wear it around your chest in a way of your liking. I will say that if you're a drummer, I'm not sure how much you will like wearing it around your chest. It's kind of an odd placement if you like to move around while you drum.
Time Signature
You can pick a ton of different time signatures with the Pulse. If you're into math rock or complex time signatures, you will really like this part of the app.
---
Live Set Mode
If you're a musician who doesn't want to do the classic click track in your ears, you can enter the live set mode and go this route. I personally think this is a great feature and something that puts this metronome on another level than others.
---
Overall Thoughts On The Soundbrenner Pulse
In my opinion, this is a fantastic metronome and it competes with everything else on the market. I like this more than most just because it gives you something that the other metronomes can't give you. I can definitely see these becoming quite popular especially for touring musicians who are sick of playing to a click track.
When you have in-ear monitors in, using a click is just one more thing you need to focus on and it takes away from another instrument you could be hearing.
Note: When playing fills and you may find yourself losing the beat. You will want to adjust the intensity to the highest level most likely.
---
What I didn't Like
I didn't like wearing this at first. The main reason being that I had trouble getting used to this vibrating on my wrist at 150 bpm. It feels awkward, especially if you're playing the piano.
You will want to play with it and find out exactly where you want to wear it.
The strap takes a little bit of messing with to get it into a position that you want it in. I think this could've been designed to be more flexible so you can adjust and fasten it.
---
Conclusion
We hope you found our review on the Soundbrenner Pulse in-depth. If you like what you read, leave us a comment and let us know below. Before going, here is a final breakdown of the Pulse.