Ever wanted to sit down and make a song in a few minutes and move on to the next song or idea? The Roli Songmaker Kit is great for doing just that. However, the real question is, how practical is this instrument on the big stage compared to other MIDI controllers and other instruments that do similar?
Roli came out with the Seaboard Rise MIDI controller not too long ago and this controller has had the community talking. Let's take a look where we think this sits as an instrument.
The Roli Songmaker Kit is an advanced MIDI controller that was created to give the musician a new experience with creating music.
---
Roli Songmaker Kit Review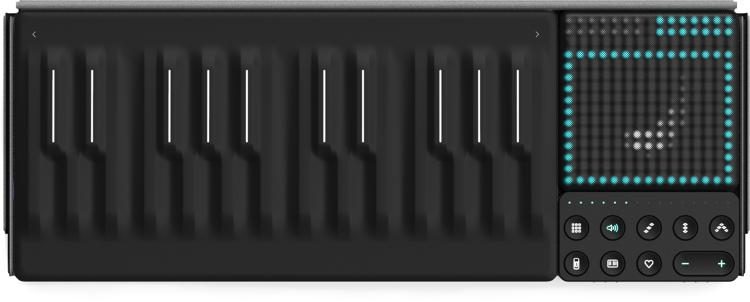 This was built to give musicians the freedom of being able to create where ever they are and whenever they want. The accessibility is great with this instrument and it is fairly easy to use as well.
If you watch musicians use this instrument on youtube, you can clearly see the power that this instrument possesses, however how are the sounds and MIDI functionality?
Unique Design
When you're picking out an instrument that is also a MIDI controller you want to make sure it works well with the major DAW's. There is nothing more frustrating than an expensive piece of gear that doesn't work properly.
What is crazy cool about this instrument is that it is completely different in the sense of the keys.
When I saw this in the guitar center, I immediately was drawn to it and I ended up spending a couple of hours playing on it because it was new and exciting.
Having something new and exciting for a musician is always important because you never know what the music producer is going to think when they first see and play on something like this. As a musician, I am always drawn towards new technology and newer features.
---
Using The Loop Block On The Roli Songmaker Kit
The loop block allows the musician to fully take control and launch tracks and even record. You can connect this via Bluetooth or physically as well.
I like that there are multiple ways to play this keyboard and that is one of the more fun things about it. This keyboard is meant to take people away from the classic way of creating music and it is meant to offer something different and fun to dive into.
---
Roli Songmaker Kit Vs Roli Seaboard Rise
When comparing these two instruments to me this comes down to functionality with the DAW's. The Songmaker Kit has some functionality problems with certain DAW's and because of that, I would pick the Seaboard Rise over it. I know a lot of musicians like the Rise because it works very well with Ableton. The Songmaker doesn't play as well with Ableton as the programming gets a little bit more tricky.
---
What Types Of Musicians Would Like The Roli Songmaker Kit?
I would say casual musicians who are looking to experiment with music in their free time would find themselves having a lot of fun with this instrument. I don't think this is a gimmick instrument, I just don't know if I would put it up against some of the high-end MIDI controllers on the market today.
---
What's In The Box?
Type Of Instrument: Seaboard Block with Lightpad M, Loop Block
Bluetooth: Yes
Keys: 24 Key-waves
Software Bundled: Noise, Equator, Strobe 2 Player, Ableton Live Lite, Traktion Waveform, Blocks Dashboard, Max MSP
Hardware Requirements For MAC: Intel Dual Core i5 2.5GHz or higher, 8GB RAM recommended
Hardware Requirements For PC: Intel Dual Core i5 2.5GHz or higher, 8GB RAM recommended
MIDI In/Out: USB/Bluetooth
Power Supply: USB bus power/ battery
Weight: 2 pounds
---
Personal Background With Keyboards And Controllers?
I come from a piano background where I have played and studied music for 20 years now. In the last 5 years of my life, I have been playing in a touring band that is signed to a major record label.
When I review products I do it try and inform musicians on what I have tried and what has worked for me. When I started touring I didn't have anywhere to look at unbiased reviews so that is exactly what you get from my reviews.
---
Thoughts On Equator
Equator is a VST that is included in the kit. This VST is designed by Roli and it is my favorite VST they include with their product. While it is pretty easy to use, I don't think it compares with the bigger VST's out there right now.
This doesn't mean it's bad, it's just not my taste as I don't find the sounds and experience of creating synthesis to be as exciting on this VST. With this being said, it is still a nice VST to have included with your product for free as it it normally rather expensive.
What I did like with this VST is that it comes with 3 different oscillators. I think this is rather easy to use and kind of similar to Sylenth when it comes to modifying synthesizers. In the end, you want something that gives you control and this does do that pretty nicely.
System Requirements
OS X 10.10+ / Windows 7, 8 and 10.
Intel Dual Core i5 2.5GHz or faster recommended for optimal performance
4 GB RAM minimum / 8 GB RAM recommended.
---
Overall Thoughts On The Roli Songmaker Kit
My overall thoughts on this keyboard is that I think it is good, but it's not the greatest controller because of some of its DAW compatibility problems.
When I compare this to other MIDI controllers in its price range it I'm not sure it fully matches up. MIDI functionality is so important with MIDI controllers and while I think it's a fun purchase, I'm not sure it's a needed purchase.
Like I said, you can use this MIDI controller just like musicians would use any MIDI controller, I just don't think as effectively. I would recommend you check out the Seaboard Rise as its MIDI functionality is solid.