Rocket Piano is brought to you with a claim that it will give you more out of piano lessons in 10 minutes, than you can by spending hours a day on your own.
This is a bold statement, but learning to play online is becoming more & more popular over the years.
Rocket Piano
Rocket Piano is a course that is built for beginners to advanced. It offers you with everything you need to get started playing piano and is a solid course.
Get Rocket Piano Today
We earn a commission if you make a purchase, at no additional cost to you.
The purpose of this article is take a deep look at the ins & outs of the Rocket Piano course. After reading this, you will have a better understanding of if Rocket Piano is right for you.
This program takes a little bit of a different approach as it brings to you traditional lessons that you follow along with online.
Where Rocket Piano is a little bit different than other online piano lessons such as Flowkey or Skoove is that they also provide you lesson books & additional software.
Before we get into the review, Rocket Piano offers free lessons before you purchase their course. This will allow you to kind of test the waters before you commit to the course.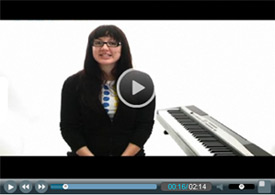 To get access to the free lessons, all that you will need to provide is an email address that's valid & your name.
Pros
Material for beginners, intermediate, & advanced players
Instant download
Affordable
Free month of songpond
Provides you with piano books
Fun & easy approach
Learn at your own pace
Great music theory lessons
Provides you with knowledge about the history of the piano
Includes a metronome
Cons
You're not graded on your progress
You don't have a ton of songs to pick from to learn
Rocket Piano Overview
Rocket Piano was created by Ruth Searle, a piano instructor who has 15 years of experience.
She is an accomplished pianist who specializes in classical music, but she also has experience in jazz, rock, pop, blues & gospel. Her goal for this course was to create a program that allows beginners to learn in a fun & easy way.
Rocket Piano is meant to help you develop skills, even as an advanced or intermediate player. This is unlike some of the other courses which mainly account for beginners.
When you purchase Rocket Piano, you will receive a box like this one above. You can also opt to purchase the material online, in which you will have all of the files downloaded to your PC.
Beginners Book
Intermediate Book
Advanced Book
Jazz Book
Gospel Book
Jam tracks & quizzes
Rocket Piano metronome
Jayda Musica Pro Chordinator
Advanced Learning Techniques
Perfect Your Pitch
I'm impressed that you are given so many learning materials, but this is where Rocket Piano differs from other methods of learning.
You will follow along in your books and be given the option to watch & listen to an instructor walk you through the lesson that they want to get across.
Rocket Piano offers an 8-week money-back guarantee that I think is a very good offer. This allows you to return your purchase if you are not happy with your lessons or simply don't have the time.
Purchasing Rocket Piano
When you purchase Rocket Piano you are given the option to receive the material or to simply download it online.
I would recommend that you download the program online as I feel like it is much easier than dealing with physical products. With this being said, some people prefer to have all of the material as physical copies.
Either way, you get the same exact course material.
The Curriculum For Rocket Piano
This course follows the, "go at your own speed" philosophy. You are given all of the material when you purchase it & you are free to to move at whatever speed feels best for you.
With this being said, there are a total of 5 books that you will download. With each book, there will also be audio files that you will listen to. These explain particular parts of the books that are important.
Beginners Book
The beginner's book for Rocket Piano is aimed towards very basic concepts of beginner piano lessons. This book goes into great detail about the history of the piano, the keys, and the notes, where to place your hands, the importance of piano scales, & how to play different chords/arppegios.
There are also songs in this book that you won't find in any other course as they are original pieces for Rocket Piano.
What's great about this book is that you are also learning the basic fundamentals of playing the piano early on. This is important for growth at later stages of your musical journey.
Intermediate Book
This book picks up a notch and progresses you to the next level. The music theory continues with this book as you will start to learn about the different key signatures and time signatures.
These are two extremely important concepts in music theory & they will stick with you for the rest of your journey.
This book also dives into a little bit more advanced chords on the piano. These chords will help you when you get to the jazz portion of Rocket Piano.
Advanced Book
The advanced curriculum is where this program is a little bit more in-depth than some of the other lessons you can take. This book teaches you important details for songwriting & sight-reading.
For example, there's a section that covers changing the key of songs & understanding how to do so.
This is important if you ever want to write your own music or learn to how to improvise properly.
Jazz Book
This book serves as a basic introduction to the complexities of jazz piano. Playing jazz is one of the most difficult things to do as a pianist as there is a ton of music theory you will need to learn to have an idea of what you're doing.
I would highly recommend slowly diving into this book over time.
Gospel & Spiritual Hymns Book
Gospel music is similar to jazz piano in a way. This book will teach you the basics of using the pentatonic scale & the blues scale. This will be important if you ever want to play the piano in church.
Once you start to learn these basics concepts, you will feel much more comfortable playing with your local church.
Do I Recommend Rocket Piano?
Yes, I do recommend it. Learning to play the piano on your own is always going to be a little bit more difficult than having an instructor. With this being said, I do think that this course lays out the basics in an easy way for beginners to understand.
If you're someone who likes to take a "list and play" approach, you may like the Flowkey course a little bit more. This course grades your performances and allows you to pick from hundreds of your favorite songs to learn.