If you own a piano or a keyboard, then you know first hand that you will want to keep them clean and looking nice. Not only can dust affect how pianos look, it can also affect the way the play.
I have seen so many pianos over the years that are just covered in dust and just not properly maintained. Pianos are a lot like cars and if you keep them clean, it's easier to keep them clean and a good piano polish will do the trick.
You don't want to let them get super dirty and then try to deal with the consequences. This leads to more and more problems, just like a car.
Not to mention, no one wants to look at a piano or keyboard that has stains or is dirty to the touch or the eye.
You don't need to purchase a cleaner for your piano or keyboard, as you can easily clean your pianos for the most part without them. However, if you want to keep your piano looking swell, we will provide options.
Pro Tip – Not All pianos are finished the same, some are gloss and some have a matte finish.
What Not To Do When Cleaning Your Piano
Do not use a traditional cleaner for wood. Every time I have done this it has left my piano oily and I think it also removes the stains over time. Make sure that you read the cleaners before you apply as some of the piano polishes are meant for certain finishes.
Be sure to never place glass or liquids on top of your piano as they can stain your wood or polish of it. Also, it's just not wise to place anything on top of it as it could spill onto your key-bed.
Note: If you own cats, you may want to check out this article in which I talk about how to protect your pianos from cats. There are some great tips that I have from real experience.
---
Cleaning Your Piano Keys
Cleaning your keys is a simple procedure, but it's also something that you don't want to mess up. If you're someone who cleans their keys regularly, you can usually get away with a damp paper towel or cloth.
From here it's pretty self-explanatory as you just want to scrub the keys until they appear and feel clean. The main thing here is to make sure the cloth or paper towel is damp and not soaking wet as you don't want water on your piano keys or keyboard.
The good thing with cleaning your piano is that it doesn't matter of heavy your piano weighs. You can usually clean underneath them without having to move them.
Cleaning Your Keyboard Keys While On Tour
The best way to do this is to clean them often and to clean them thoroughly. When you're gigging often, you will most likely be sweating on your keys, to reduce the yellowing of your keys and potential internal damage, you will want to clean your keys. The best way to do this is to use 90% isopropyl alcohol solution on a paper towel or cloth.
Make sure that it is damp and not soaking wet, this solution dries very fast and it will clean the stink and dirty right off of your keys. Make sure you don't use too much of the solution when you do this, only enough to clean the keys. You will notice that your keys will dry very fast after cleaning them.
Best Polish And Cleaners For Pianos
Below are my favorite picks for cleaning your instruments. I hope you enjoy my picks and come to a good selection.
Cory Ultimate Piano Care Kit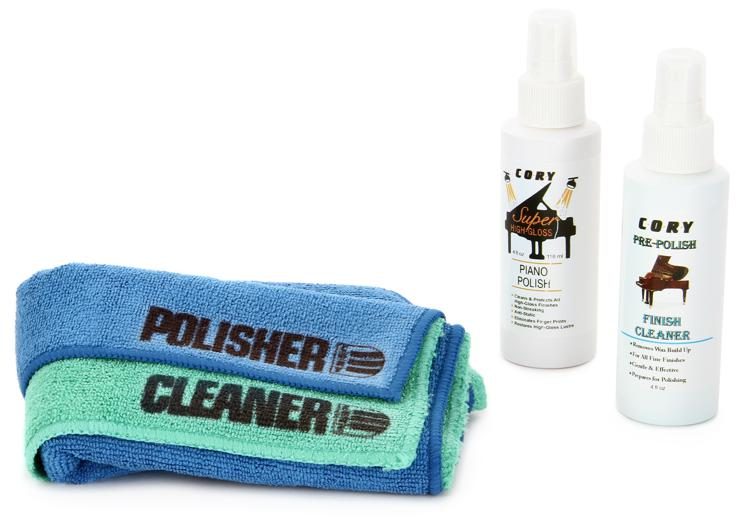 This piano care kit is our favorite on the market if you are looking to have your instrument looking brand new.
The product comes in a small plastic clamshell and it also has 2 cloths in there for your use. What I like the most about this product is it leaves a nice stain while not feeling oily to the touch. The key cleaner works really well and doesn't leave the keys feeling sticky or like there's residue on them.
Overall Thoughts On The Cory Ultimate
If you have the budget, we recommend this one to be used as well as just doing simple dusting with a dry and safe cloth.
Music Nomad Piano All In One For Gloss
You will want to use this product on gloss pianos only. Also, do not apply this to your keys as it will ruin them. Music Nomad makes a key cleaner that you can use with this polish. They all make a polish for matte finish pianos.
If you are looking for polish for other instruments, check out the best guitar polish for musicians. These are specifically built for guitars and I have listed the ones I have tried out personally.
Mr. Siga Microfiber Cloth
This is not a piano care kit, however, I use these on my pianos and keyboards and I really enjoy these. They are very soft and don't scratch your piano when you're using them to clean. They also come in a pack of 24 which makes it so you don't have to constantly order cloths.
My Background
I have played in a touring band that is heavily synthesizer-based for the last 5 years and I have played piano for 20 years.
I have spent the last few years reviewing products and providing musicians with knowledge while I'm on the road. I use polish fairly often to clean my keyboards and get them to where I like them to be.
Conclusion
The main thing to take away here is to make sure you take proper care of your instrument as much as you can. The more you keep up with the maintenance, the better it will play and look over time. Be sure to apply the correct polish on your instrument and be sure to not over apply.
I use isopropyl alcohol for my keyboard keys and I'm always happy with results as I am a touring musician who needs to clean on the go.