The Korg Minilogue XD took the synth market by storm over the last year. This was a synthesizer that was highly awaited, and it did not disappoint.
Today, we are going to be diving deep into the ins and outs of the Korg Minilogue XD in this review and I hope you find it as exciting as I do.
My opinion is that the Korg Minilogue XD is a great 4 voice analog/digital synthesizer. I believe this is going to be a very popular instrument for the next couple of years. Korg basically combined all of the popular features from their Monologue, Prologue, and Minilogue into one synth. Continue reading on to see my full thoughts on this keyboard.
Korg Minilogue XD Review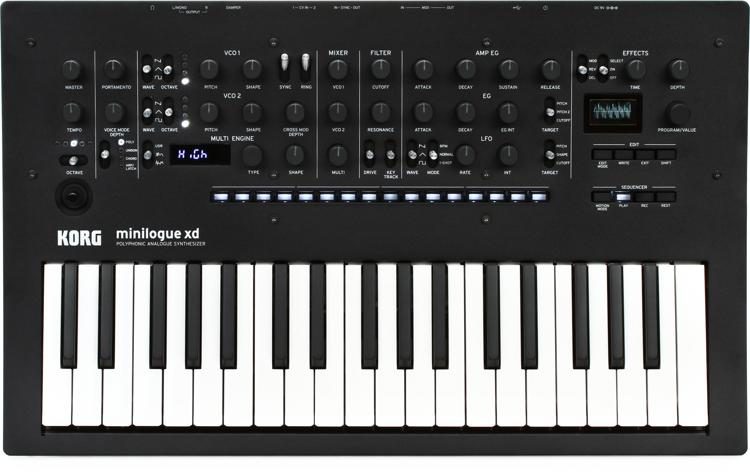 This is easily one of the best analog/digital synths available near this price range. I simply don't think much is really close to it for its price. You can view my list for the top synthesizers near $500.
Check out this video below as I think it shows off what this keyboard can do.
Minilogue Similarities
They kept the Minilogue voice structure of having 4 voices. Now, some people are going to be wishing they went to more voices, but I think they intentionally kept this to 4. They aren't looking to compete against their other products, rather just compete and destroy the other synths of its kind.
The same arpeggiator, only now it comes with the latch function, which I know people will definitely appreciate.
Monologue Similarities
They took the motion step sequencer from the Monologue and I think this was a great move. Korg used the Monologues re-voiced filter and also took the ability of being able to overdrive your signal into a filter.
Prologue Similarities
We get the digital multi-engine, which provides the third oscillator per voice, and stereo effects. The combination of all of these synths is what makes the Minilogue XD a great piece of equipment to add to your studio or live setup.
Sounds
The Minilogue XD comes with 200 presets and it can have up to 500 sounds saved at a time. The synth is stereo and it also has stereo effects. This is a big plus as it makes a huge difference in sounds when the synth itself is stereo.
One problem with the original Minilogue is that the delay sound is a bit noisy. A lot of musicians complained about this because as soon as you went for the delay you would hear a "hiss." The XD has this problem fixed as there isn't any "hissing" when using the delays. This was something to note as I know people were worried about this from its predecessor.
This synth is definitely going to be added to the list of my favorite synths for live performance. Check out my favorites for touring musicians here.
Joystick & Oscillator View
There's a joystick on the XD that gives the musician 360-degree control over pitch bending and modulation. Another feature that is unique is that it has a really in-depth oscillator view. You can see the exact waveshapes and it is pretty trippy to be able to see this.
Being able to see exactly what your waveforms are doing will give you an idea of where you want to go with each sound. It also acts as a good reference point as you can see a visual of what you are actually creating, pretty cool, right?
Design
I think that this looks way cooler than the previous Minilogue. It is a sleek, glossy black exterior that weighs less than 6 pounds. The LED pads also look pretty slick. Honestly, the design is a huge win for Korg in my opinion. I get that looks aren't everything, but the layout is also great and it very light-weight for a synth of its kind.
Everything is exactly where you would expect and want to see it for a synth.
Have you checked out the Dave Smith Sequential Prophet X yet? Read about it in this review that I wrote here.
Concerns
I think the only concern people are going to really have is within the keys. The keys are still tiny and there are definitely people out there who do not like this one bit. I come from a piano background and I don't mind synthesizer keys. I look at it as almost a different instrument, I never expect to have a synth feel like a piano.
Smaller keys can be a pain, yes. But I don't believe it really limits you if you practice enough with it.
The arpeggiator now has a latch function, but you still can't program it to exactly what you like. I think this is a bigger deal than the small keys. I still don't think this is a make or break kind of deal though.
Overall
You can clearly tell that I'm excited about this synth and that I think it's next level. Do I think it's the most groundbreaking instrument out right now? No, but I do believe it has great use at an extremely affordable price for gear junkies and synth lovers.
For its price range, I have to say it's hard to argue for a different hardware synth over this one. It simply has too many quality features and sounds available that others don't.
What are your thoughts on the Korg Minilogue XD? Let me know in the comments section anything that I might have missed!