I decided to try out the Korg EK-50 61 key arranger a couple a months ago and I am really happy that I did. This is an arranger keyboard that is on the more affordable side for musicians looking to not break the bank.
Korg is known for having some incredible workstation keyboards so it is nice to see them put an entry-level product out that is quality. This is an arranger so keep in mind that with one press of a button you can be playing with a full backing track.
It is my opinion that the Korg EK-50 is actually a pretty solid keyboard that is loaded with quality sounding patches. I was expecting it to not be great since its price is so little, but it was a nice surprise. Now, this is not perfect obviously, and I will point out the things I'm not crazy about below, but I will also highlight some nice features Korg gives you.
Korg EK-50 Review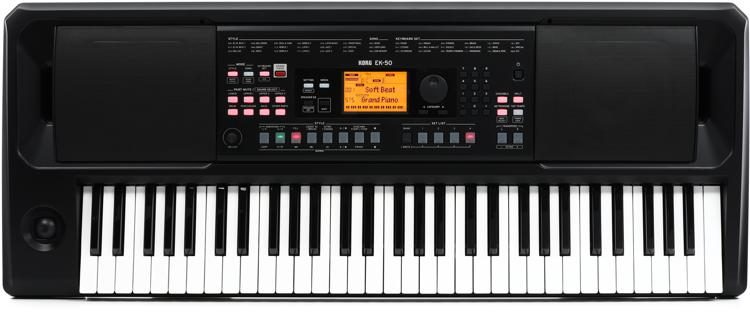 Quality Of The Sounds
I have personally always been a fan of Korg products as I feel like they are usually good quality instruments. The quality of the sounds on the EK-50 is something that I think is one of the better parts of the instrument. They nailed the sounds and it doesn't sound cheap as you might think it would because of its price.
There are 702 different sounds with each one having its own purpose. There is also the classic split keyboard function that allows you to play with one sound with your right hand and another on the left. This is a pretty common feature now amongst keyboards as it is quite useful for musicians.
Keys
The keys are pretty standard, however, I did like the touch control feature. You can manually set the sensitivity of the keys so that they feel like weighted keys. This is something that not every keyboard has and I think we will see more of this in the future.
Speakers
There are built-in speakers that allow you to play wherever you are. The speakers themselves are pretty nice for an instrument of its size. Smaller keyboards are typically going to have smaller speakers since you don't really need it to be extremely loud.
Song Mode
This feature is one of the coolest features on this product as it allows you to track a song directly into it. You can also record performances into this keyboard of your favorite songs. This works well if you are learning a classical or jazz piece and you want to judge yourself on your performance. Record it, then listen back and see where you can get better in your performance skills.
Using a flash drive you can take your songs and put them onto your computers as an mp3 file.
Layout
The layout is very straight-forward on this product as it is really an easy keyboard to use. The LCD screen is a great size and it is easy to navigate to whatever you are needing. I like the speaker size and I like the appearance of them overall on the keyboard.
Are you looking for a bench to use with your keyboard? I recently reviewed my favorite benches with storage compartments and I think you'll enjoy this read.
Specs
Keys: 61 velocity-sensitive, touch control keys
Sound Generator: Stereo PCM sound generator
Polyphony: 64 different voices
Sounds: 702 sounds and 41 different drum-sets
Keyboard Sets: More than 170 sets
Styles: More than 280 presets
Music Styles: 64 different styles
Demos: 18 different songs
Sequencer: Yes
Metronome: Yes
Headphones Jack: Yes
Sustain Pedal Input: Yes
Speakers: 8 types of different EQ's
MIDI: Yes
Power: Comes with power supply, can also run on batteries for 7 hours
Overall
My overall thoughts on the Korg EK-50 are that it is an entry-level keyboard that is good for beginners or maybe musicians new to gigging. If you can't afford a better setup, you can use this to play local shows with as it has some good accompaniment options.
If you are looking at keyboards similar to this, I would strongly suggest that you check out the Casio CT-X700 review that I recently did. I thought this was a great option for aspiring pianists.
The keys are pretty down the middle for a keyboard of its kind. 61 key keyboards don't typically have the nicest keys as they're never weighted, so this shouldn't come as a surprise. I will say that I believe that keyboards have gotten better quality synth-action keys over the years.
The main purpose of this instrument is to allow you to play with a full band by using the accompaniment mode. If this is something that you enjoy doing or think would be fun, then this would be a smart choice for you.
Conclusion
I hope you found this review helpful as this is something I would recommend if you are a beginner. If you have experience with this keyboard or others similar, let us know below in the comment section!