Ever wondered how so many jazz pianists get so good at improvisation on the spot? Well, a big part of their development comes from their introduction to fake books for piano.
In this article, we are going to talk about the best piano fake books for each genre of music. These books will greatly help students grasp concepts of piano improvisation & their understanding of chords.
There are fake books for basically all styles of music, however, you will see them a lot for jazz music, gospel music, and pop music.
Before we lay out our favorite piano fake books, let's grasp a brief understanding of what exactly they are.
What Is A Fake Book?
A fake book for piano is a book of melodies essentially. For example, say you want a classic rock piano fake book. You will open the book to find the treble clef only with the lead melody. On top of the melody, there will be chords placed without the notes.
For example, above the treble clef, you will see chords such as, "EM7, AM, BM7." These are the chords suggest for the melody. How you voice the chords and how you harmonize is totally up to you.
See this excerpt below:
You would go about playing this, just like any other piece of material. You simply will play the chords when you land on them. The best part of fake books is that they give you the ultimate freedom for your own interpretation of your favorite songs.
These are different than standard piano books that you would typically use in the sense that it's essentially your song to rewrite with the melody staying the same.
If you are someone who is interested in easy pop songs, fake books will be perfect for you to expand your knowledge and learn your favorites.
Best Piano Fake Books
Here are the top picks for fake books. I currently own all 5 of these books & believe they are great picks for different genres.
1) Classic Rock Piano Fake Book – Hal Leonard
My all-time favorite fake book is this one by Hal Leonard. It's a great book if you're into classic rock music. The songs range from bands such as The Beatles to classic rock bands from the 80s and 90s.
There are 250 classics in this book and it is laid out in an easy way to understand for beginners.
One of the more memorable times for learning from fake books was when I learned a Poison song. I remember thinking when I was younger, this is so cool to learn in a way like this.
2) Ultimate Fake Book – Hal Leonard
This fake book is designed for beginners to intermediate players. There are over 1200 songs in this book that range and cover pretty much all genres of music.
The songs range from Moon River, to modern classics.
If you're looking for a massive library of songs you can play on a whim, this is a perfect buy.
The one downside to this book for some is that the print might be a little small if you have trouble reading smaller print.
For me, this isn't a problem, but some students have noted the print is a little too small for their liking.
3) The Real Book – Best For Jazz & Blues
The Real Book 6th edition is an incredible book compiling over 400 classic jazz and blues standards.
This book is perfect for those who are gigging musicians and have to learn songs quickly.
The songs in this book are a little bit more difficult than most rock or classic rock piano fake books. With this being said, I highly recommend dabbling with some blues or jazz at some point in your journey to learning the piano.
4) Coffeehouse Companion – Modern Pop Songs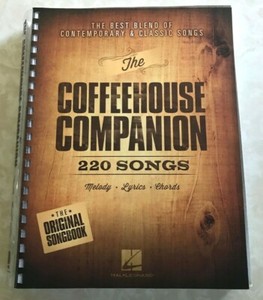 The Coffeehouse Companion fake book is a great book for those looking to play in small cafes or coffee shops.
You can expect pop classics ranging from the 90s to more modern.
This book has exactly the songs that I expected it would have and they were extremely easy to learn on the spot.
Meet Virginia is the one song in this book that I distinctly remember learning just because that song totally reminds me of a coffee house.
5) The Big Black Piano Book – All Genres
The Big Black Piano Bookn encompasses every genre imaginable. You will find gospel classics, rock classics, pop classics, jazz classics, and even some classical songs.
There are 276 songs in this book and they range from beginners to advanced players.
I would recommend this book for those who like a wide variety of music. You will be able to find a little bit of everything in this book and it has a lot of great reviews.
Wrapping Up
I hope you enjoyed this list of 5 classic fake books for piano. If you found this helpful, let me know in the comments below!