If you are a decorated pianist, chances are that at one point you wonder about cruise ship pianists. While there are some great benefits to becoming a cruise ship pianist, there are also some things you will want to consider before setting sail.
While I have spent the better part of 5 years touring the country in a rock band, my knowledge wasn't up to par with cruise ships. In order to conduct the research, I took to talking to a good friend of mine who actually did a couple of cruise ship tours as a musician.
Let's take a look at the considerations for musicians wanting to hop aboard cruise ships to play the piano.
1) Experience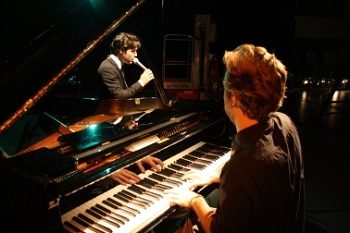 Most pianists who play on cruise ships have a lot of experience when it comes to sight-reading, gigging & working with other musicians. Every cruise ship job will entail different performances depending on which position you are in.
The more comfortable you are learning new songs daily and performing them, the better you will do. I've seen some ships looking for jazz pianists and others looking for musicians to play classical piano pieces. It varies and you may want to be well versed in both aspects.
If you're someone who doesn't have a ton of experience playing the piano, you would not be quite ready for cruise ships as a lot of these positions are filled by very skilled players.
2) Space
If you're not someone who does well in tight-quarters, becoming a cruise ship pianist might not be for you. Your cabins are often extremely small and there's not much room inside of them.
You are often paired with roommates, (usually one or two), and it's all random for who you get paired with.
My friend said that he was lucky enough to get paired with 2 roommates that he got along with really well. Remember, the cruise ship industry can be harsh and is not for everyone.
There will constantly be new staff arriving and current staff members leaving.
Think of it similar to a dorm situation, only much smaller and more cramped.
3) Auditions/Positions For Pianists
Auditions for cruise ship positions can be stressful. Most of the are done online and you will be asked to perform different types of music on the spot.
You will get clear instructions as to what you're expected to be able to do for your audition. There are often a ton of musicians applying for these positions, so be sure that you're properly prepared.
Pianists can target different types of positions on the ships including the following:
Playing keys in a party band
Playing in the piano bar
Orchestral
Jazz quartets
For those of you who into jazz or gospel music, I highly recommend you reading our article on the best keyboards for worship.
Pay For Cruise Ship Pianists
One of the big pluses for playing on a cruise ship is the fact that you don't have to worry about paying rent for months at a time.
Here's a breakdown of the pay that you can expect while playing the piano.
The following are based on monthly pay unless specified otherwise.
Solo Piano Bar $3,000-$4,500 (Includes your own cabin)
Keyboardist in a band $2,200-$3,000
Jazz Quartets $2,400,$3,500
Duos ($2,400,$3,500)
5) Must Be Able To Adapt
Working as a pianist on a cruise ship means that you should be ready and willing to adapt to whatever you are asked to. Work can often become very stressful and you may be asked to learn different songs than you were prepared for on very short notice.
Dealing with tourists on the ship can also become stressful for some. You should be ready to communicate with tourists who are often drinking from the second they arrive on the boat.
It will not always be a bad time, but as you know, too much alcohol can result in annoying interactions.
On top of this, cruise ship pianists & musicians in general are not allowed to drink. You must keep your blood alcohol level under a certain amount at all times.
There are random tests and people are often fired for not following the rules.
As some musicians take to a beer after a performance to help with stress, you can't really do that in this case. Be prepared to find other ways such as meditation to help with stress throughout the day.
Summary
To summarize this article, I would recommend those to become pianists on cruise ships if they are able to adapt and roll with the punches easily.
I would also recommend that you are someone who has patience & good people skills.
A cruise ship job is perfect for those who are fine with being gone for months at a time.
In closing, if you're a pianist who has always wanted to travel, it could definitely be worth giving it a shot. You could create life-lasting memories that you will be proud of for the rest of your life.