Having a synth that is designated for pads can be a must depending on what kind of music you're making. Some synthesizers are just known for having classic sounding pads that musicians try to emulate over and over. Keep in mind that these are hardware synths and not VST's or modules.
It is my opinion that there are many great sounding synths for pads that are both analog and digital. While I will agree that a nice warm sounding analog synth sounds great for pads, there are some great sounding digital synths for pads as well. I am going to highlight my favorite synths that allow for beautiful sounding pads.
Quick Look At My Top Picks
IMAGE
PRODUCT
DETAILS

Editors Pick

Novation Summit

Analog Filters
Digital Oscillators
Amazing For 80s Sounds

Runner Up

Korg Minilogue XD

500 Presets
Fat Pads
Analog
Best Synthesizer Near Its Price

Budget Pick

Behringer VC 340

Analog
Beautiful String Patches
37 Full-Sized Keys
Vocoder
What's The Difference Between Analog & Digital For Pads
This is a hard subject to understand unless you're in the world of sound design. To me, I say to focus on synthesizers that give you control and sounds that you really love. With this being said, there are people who will refuse to play on digital synths because they think they sound harsher than analog synths.
Analog Synthesizers
An analog synthesizer is made up of sound-generating circuitry and modulators. This is what leads to a warmer sound that you will hear from a lot of music experts. However, I think with some of the super powerful digital synths, there's not a huge difference and in some cases, the digital synths provide you with more control and features because they're cheaper to manufacture.
I recently did a review on an amazing keyboard called the Behringer VC-340 and I think you will really enjoy it.
The main problem with some analog synths is they're super pricey. I am going to try to point you towards options that are great but won't break your bank completely.
Digital Synthesizer
In the 1980s bands started using digital synths. In the early 2000s, a band called The Killers made an already popular digital synth even more popular. This synth is called the MicroKorg. If you listen to "Hot Fuss,' pretty much 90 percent of the sounds came from this synth.
Check out this review on the Komplete Kontrol A49. This is an affordable controller option.
To me, that whole album sounded warm and beautiful and it was done on a digital synth. This is why I say to just focus on synths that you think sound nice. A way to do this for synth pads is to find bands that use a lot of warm pads and find out what synths they're using. This is exactly what I did when doing my research years ago.
Best Synthesizers For Beautiful Pads
I am going to lay out some of my favorites here and just list whether they're analog or digital.
My personal opinion is that you shouldn't judge off of whether or not it's analog or digital. I recommend playing and hearing them before judging them.
These aren't in a specific order as I think it's truly impossible to order some of these synths.
Dave Smith Instruments Prophet 12 – Overall Best
I actually own this synthesizer and I have played on it for the last 3 years. The Prophet 12 is revered in the synth world and is known for having beautiful pads and sequencers.
This synth is a hybrid synth as it as analog filters with digital oscillators. I personally can't tell the difference when performing live between the digital oscillators and the old school analog.
I think you could really only tell the difference in a studio. However, the Prophet has digital oscillators because people believe they are more powerful and precise. I would recommend this synth for live and studio use as I believe it is one of the best out there for pads. It has 61 keys and the number of effects and features are truly insane.
Roland
(JD-XI)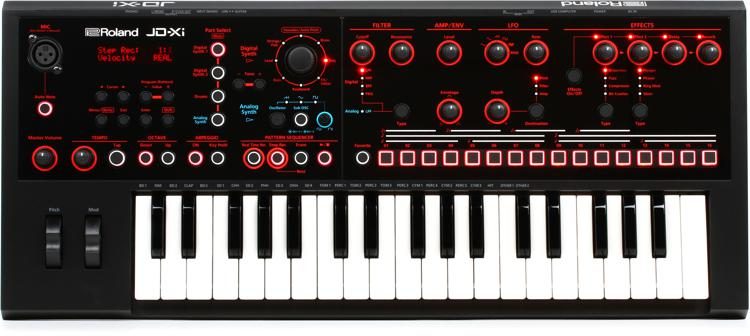 Roland is known for having great pads on all of their products. I had the pleasure of playing one of their staple synths called the "Parapohonic" and I was blown away by how pretty the sounds were. You couldn't go crazy with tweaking the sounds, but we really didn't need to as it sounded amazing.
What I like about the JD-XI is that it is a synth similar to Korg's ever-popular MicroKorg, only it, in my opinion, is better. I just personally think it sounds better overall.
If you like Roland keyboards, check out my review here on all of my favorites.
Korg Minilogue XD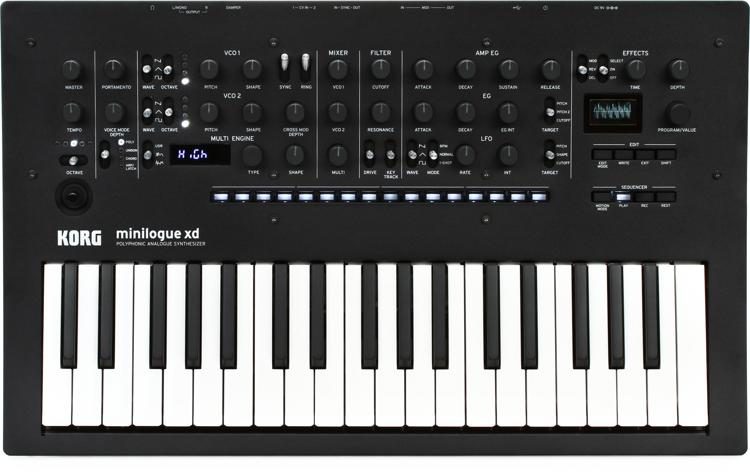 The Korg Minilogue XD is a great polysynth. I love how warm this synth sounds in the pads and I am blown away by how much this synth packs for such a cheap price. The layout is truly easy to use and it is perfect for beginner synth players because of this.
I also believe this synth will please and advanced player as is really a great product for a relatively cheap price. To find an analog synth for this price is not an easy thing to do and Korg really made a great product here with the Minilogue.
Conclusion
As more synths come out, I will be updating this post and providing fresh content with my favorite synths for straight-up pads and pad morphing. If you found this helpful, let us know in the comment section below.