Roland has been making some of the best digital pianos & keyboards for the last 45 years. In this article we're going to be taking a look at what makes Roland so good, as well as which ones are the best.
I use two Roland keyboards when I perform live, the FA 08 as a MIDI controller, and the Gaia.
Quick Glances At Our Top Picks
IMAGE
PRODUCT
DETAILS
CHECK PRICE 

Great Key-Action
Great For Producing Beats
Functions As A Great MIDI Controller

88 Weighted Keys
Best Beginners Digital Piano
Bluetooth

61 Keys
Portable
Great To Learn On & For Kids

37 Keys
Great For Making Beats
Analog Synth Engine
Roland Keyboard Reviews
WIthout further ado, let's jump into my top choices.

Roland FA-08 – Best Overall Workstation For Live Music
Amazing Budget Choice
Roland FA 08
The FA 08 is my touring keyboard that I also run as a MIDI controller. This is a great option as it doesn't overheat like other keyboards I have had. It is also far cheaper than other options.
View Price At Sweetwater
We earn a commission if you make a purchase, at no additional cost to you.
The FA-08 is a workstation that you will be able to use for the rest of your life. This has a key bed that feels like you're playing a real piano. I own the FA 08 and pretty much play it every day.
You can read my full review on the FA 08 in this article I wrote here.

This keyboard only weighs 35 pounds, which is crazy because the Fantom G8 weighed 74 pounds and was a little more difficult to tour with because of the weight. If you are going to be touring, the Fantom FA-08 is the is a perfect choice.

What they do so well is they make their workstations be MIDI compatible. Being MIDI-compatible means that if you are looking to hook up to your laptop and record and explore more sounds, you can do so very easily and also do so with the luxury of an amazing keyboard bed.

The FA-08 is an extremely powerful, light-weight studio and MIDI controller all in one. The FA-08 is their answer to MIDI controllers and also is the upgrade to the Fantom G series.
Different Models Of The FA 08
Roland made this product line available in three different models. If the price for the FA-08 is a little too pricey or too big for what you're looking for, the FA-07 and the FA-06 are alternative options and are the same product, just with different key beds and fewer keys. The Fantom FA-07 is 76 keys and the FA-06 is 61 keys.
They have done a very good job at making products that stand the test of time and the Fantom series is a tremendous example of this.
This is definitely an investment and the price tag also reflects that. However, when compared to others that you can find for around the price, this workstation gives you so much more for the price.
Some of the top end MIDI instruments now are upwards of $1,000 and they only work when plugged into a laptop.
Features
Ivory feel weighted key bed
A sampler that features 16 assignable pads
Six assignable sound modify modifying knobs that also work with MIDI
Microphone and guitar mic jacks built-in for performing or recording
USB ports that allow for MIDI use with a laptop
Comes with over 2,000 unique sounds that can be altered and shaped with the assignable sound knobs
Extremely lightweight allows for a great touring product
Home screen that is very user-friendly and lit up
Juno DS-88
The Juno DS-88 is for the touring musician, as well as for the classical piano player looking for an affordable, yet a quality product that you can use at all levels.
Its key bed is the same as the Fantom Series and this is something that makes this instrument special. It is a lightweight keyboard, making it extremely easy to tour with.
The Juno DS-88 will give you very realistic sounding pianos and organs and the ability to bend them to your liking. The Juno series began in the 1970s and they have given us a keyboard now that lives up to the hype that the original Juno's did.
This comes equipped with over 1200 different patches, with each patch being unique.
The Juno DS-88 is also a MIDI controller, which makes it also very appealing to touring musicians who may want an affordable keyboard that has a really nice key-bed.
Pros
Easy to manipulate sounds
Sampler
8 pads that can be used for triggers and for running MIDI
MIDI capability
Weighted keys
Over 1,200 preset patches
Roland Gaia SH-01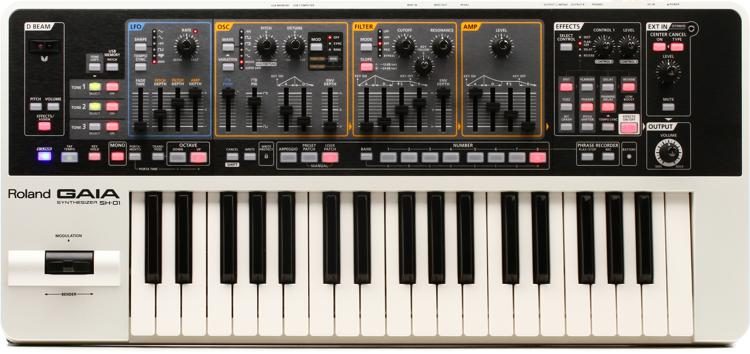 The Gaia is a synthesizer that is good as an introduction to synthesizers. It comes with a built-in easy to use arpeggiator and it has the capability to produce very large and rich sounding pads and basses.
With only 37 full-size keys, this synthesizer is extremely portable and I think it gives you more bang for your buck than say a Micro Korg. This is one of those products that you hear a patch and instantly want to write a song based around that specific sound.
I've used the Gaia on a ton of songs for Vinyl Theatre in the early days and it was my trusty go-to for many years.
If you like keyboards with 37 keys, you can view some of my favorite 37 key MIDI controllers in this article.
This device only weighs 10 pounds so it makes for an easy to travel with a synthesizer. They made this product to compete with some of the portable synths out there on the market and I think this synthesizer outshines most of them around its price.
This synthesizer can also be used as a MIDI controller
You're starting to see this more and more with newer products and this is something they are doing extremely well. With three oscillators, resonant filters, and 9 envelope generators, it's like owning three different synthesizers in one.
The price of this synthesizer is something that is extremely affordable, especially for a synth like this that will last you throughout your musical journey.
Comparing the Gaia to what other companies are putting out, the Gaia definitely gives you the most bang for the buck. Let's take a look at some of the specs and things that make the Gaia a great buy.
Features
37 full-size keys
Three oscillators
MIDI-capable
$600 makes for an affordable synthesizer
64-voice polyphony for a massive sound
Layer up to 5 simultaneous effects including flanger, delay, reverb, and low boost
Roland GO61K
The Go was designed to be a travel-friendly keyboard for musicians who are on the go. This is packed with over
500 sounds for maximum creativity.
A cool feature with the Go is that it's Bluetooth ready so you can connect it to a speaker.
This is portable and it is going to be on the cheaper end and we recommend this for kids, beginners or a musician who is looking for a cheaper instrument to take with them while they travel.
In addition to the Roland GO61, there is also the Roland Go:88. Check out my review here.
---
Roland VR-09 V-Combo Organ
Best Budget Electric Organ Under $1,000
Roland V Combo
The Roland V combo is a great option for keyboardists on a budget who need a little bit more than just organ sounds. In terms of organs, I believe they sound great and match-up well vs the competition.
View Price At Sweetwater
View Price At Guitar Center
We earn a commission if you make a purchase, at no additional cost to you.
The VR-09 is a powerful electric piano that comes loaded with very organic sounding patches including piano, organ, and basses. This is a very powerful instrument that comes with 9 sliders for tone and effect shaping.
I would recommend this to players who are experienced and love rich sounding pads and organs. You can't really go wrong with something like this and it is very sought after.
---
Roland F-140R Digital Piano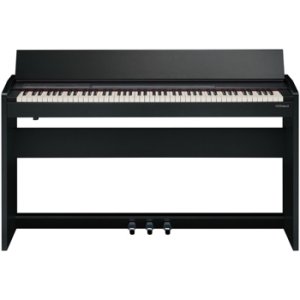 The F-140R is a digital piano that doesn't come with a ton of features, but it comes with 305 different organic sounds, as well as a fantastic key bed.
One of thing we talk about with this company often is their ability to make a key bed that feels like a real piano and this is definitely a digital piano that feels real.
Overall
When it comes to high-quality, the FP-140R is a no-brainer to me. I think very highly of this digital piano and I think advanced players would love it.
---
Roland SYSTEM-8 Plug-Out Synthesizer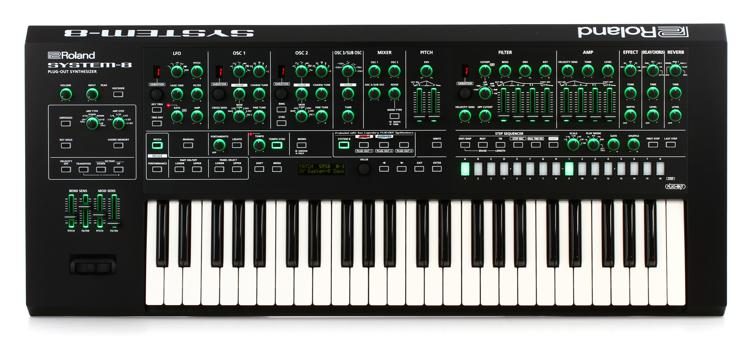 The System-8 is an extremely unique synthesizer because it gives you access to all of the classic synthesizers.
It is an analog synthesizer that delivers some really lush sounding pads that they are known for, and it also comes with a built-in arpeggiator as well as a vocoder.
Overall
The Roland System-8 is definitely worth checking out. A lot of people who own this keyboard swear by it. Overall, I think it's a solid product.
---
Roland JD-Xi
Classic Synth
The JD-XI is a great synthesizer for hip-hop production.
This synthesizer is often compared to the Micro Korg and I think this synthesizer is a much more powerful instrument than the Micro Korg XL.
If you're a fan of the Micro Korg, you will surely like this synthesizer as it gives you more freedom and sound tweaking ability.
The JD-XI is a digital crossover synthesizer that has an analog engine, but digital oscillators. It comes with a built-in vocoder that has some really in-depth effects.
The JD-XI comes with drum samples that are really good for hip-hop production and it has some crazy sounding 808 samples as well. This synthesizer is also very light compared to other synthesizers.
If you're looking to record, the JD-XI comes with MIDI so you can plug directly into a laptop or computer to record or write. The sequencer in the synthesizer is very powerful and is also easy to use.
Overall
I believe the JDXI is a massively underrated synthesizer. If you dig the Micro Korg, you should give this a try as well.
---
Roland FP-30X
Best Option Under $1,000
Roland FP-30 X
The FP-30X is the new improved version of one of my favorite mid-level digital pianos, the FP-30. Built with a solid key-bed and impressive piano sounds, the FP-30X provides pianists with everything they need for an affordable price.
View Price At Sweetwater
View Price At Guitar Center
We earn a commission if you make a purchase, at no additional cost to you.
My opinion is that the FP-30X is affordable and it is also quality. I've played on this digital piano before and when I did I was blown away.
The action and feel of the keys feel perfect to me.
The FP-30X is the rival to the ever-popular Yamaha P-115. I think that the FP-30X keyboard just feels and sounds much better and it is in a similar price range. I think this product is unique in the sense that it also has Bluetooth connection abilities in case you want to use it as MIDI.
This keyboard is becoming popular and I think Bluetooth is going to be really popular in the next few years with digital pianos and in the keyboard world in general.
This digital piano comes with a headphone jack for players that need to keep the noise down at times. I personally have always liked digital pianos with headphone jacks just for times when I was practicing a piece over and over and didn't want everyone to hear my mistakes.
Let's look at some of the specs below.
Roland's supernatural piano engine
Onboard stereo amp and speakers
Strings, organs, drum sounds
USB to the device memory slot
Record ideas using the USB slot
Dual and split modes
Headphone jack
Compact and very light
Roland FP-30X Thoughts
If you're in the market for a high-level digital piano, I recommend the FP-30. I even think the FP-10 is a good choice, however, if you can afford it, you can't go wrong with the upgrade.
Roland Ax-Edge
This could be the best keytar on the market right now. It has a ton of features that its predecessors never had.
The internal sounds blow all other internal sounds out of the water in my opinion.
Its functionality is also just supreme in every single way. The Ax-Edge can do everything that you will want it to be able to do and it comes loaded with internal patches.
This instrument is loaded with great presets and it can also be used as a MIDI controller.
Check out our product review here for more on the Ax-Edge.
Overall
I believe that if you are a fan of keytars, you will really enjoy the Ax-Edge. Personally, I think it's probably the best available as well.
How Important Is A Headphone Jack For My Keyboard?
This depends on your situation and what you're looking to do. Some musicians initially hate using headphones with their keyboard, but then as soon as they try it, they love it.
If you're looking to practice without people hearing you, get yourself a decent pair of headphones and plug into the jack on the back of your instrument. I really like the sound that my instrument produces through my headphones and I think more people would like it if they tried it.
What Should You Look For?
Synthesizer, Keyboard Or Digital Piano?
If you're a beginner and you're looking at keyboards it is important to know just what kind you would like to purchase. These keyboards can do many different things and it is going to depend on what the user is looking to get out of them.

A synthesizer is going to give the musician all sorts of different sounds and it is the route that many musicians who are looking to play in bands go because of this. If you're looking for a keyboard that is portable and cheap, then you will also have some options.
A digital piano is going to be more pricey, but if you're looking for an instrument for your kid to begin piano lessons on, Roland makes high-quality digital pianos.
Amount Of Keys:
The amount of keys on your keyboard is important because having fewer keys can limit pianists. Most synthesizers are going to come with fewer keys, but this is because you don't typically need as many keys for synthesizers.
Musicians playing classical piano or jazz are going to want something that has 88 weighted keys.
Price:
How much are you looking to spend? You can end up spending a lot of money and it's important to know your price limit. This comes down to knowing who you're buying for.
If you're buying for your kid and it's their first time, you can get a cheaper product or digital piano to test the waters. This company is going to give you more life than a cheaper brand like Williams.
MIDI Capable?
Do you want it to be MIDI capable? This means, do you want it to have the ability to plug into your laptop and access hundreds of new sounds?
Weighted Keys:
If you're playing classical or jazz piano you will definitely at some point want weighted keys. I learned the first few years of being a pianist on a cheap Casio keyboard, and as soon as I upgraded to a digital piano my finger dexterity increased ten-fold.
Weight:
The weight of a keyboard can be important seeing how the workstations used to be very heavy. The new workstations are about 30 pounds less than what they used to be. I believe this is because touring musicians can't stand touring with 75-pound products.
Let's get into the reviews below.
Note: Roland just announced their latest workstation, the Fantom. Check out my review for it above.
---
Roland Vs Korg
Should you buy a Roland or a Korg? This is a tough question and it is going to be a preference in some regards. Roland is more well known than Korg I would say for synthesizers.
Yes, Korg has made some amazing synthesizers in the day, but going back into the '80s, Roland's synthesizers have been iconic and used all over popular music and film scores.
As far as digital pianos and workstations go, Korg does make some very high-end products, as well as Roland.
I have always liked both of these brands, but I have always been partial to the Fantom Ivory feel piano keys on their products. The key-bed on the Fantom series feels like real ivory piano keys and to me that can't really be beaten.
---
For Kids And Beginners
I like the Go-61. This is cheap, yet it has a lot of features. Keep in mind, if you buy a keyboard for your kid, the key-bed will not be weighted keys.
Now, everyone is different, but if it's your kids' first instrument, this isn't a bad thing. Digital pianos and acoustic pianos can cost a lot, so it is very wise to try and find a good in-between before going all out on a purchase.
---
What Kind Of Roland Keyboard Is Best For Me?
This depends on exactly what you're looking to do with your keyboards. For musicians who are looking to learn classical and or jazz piano, we recommend a digital piano.
If you're a musician who is just starting out, we recommend a cheaper keyboard to test the waters. For musicians who are looking to play in bands and play gigs, a synthesizer is going to be a great start.
The Go also has some crazy features since it was built for traveling musicians who are looking to use a MIDI controller and make music with.
---
Their Key-Beds
They have outstanding keyboard beds in general. I have found that their key beds don't feel as plastic heavy as some of the other products out there. In terms of realism, their keys feel about as close to ivory as you can get.
The key-action is also going to be very important when playing a keyboard. The good thing is that a Roland keyboard has incredible action. It is almost like playing a grand piano with the way the keys spring back to your fingers.
Do I Need A Sustain Pedal?
Yes, in almost every way. Sustaining notes is very important when playing the piano and it will help you in the long run if you have one.
If you are buying a synthesizer you can get away with not using a sustain pedal though. For keyboards and digital pianos, I recommend a sustain pedal even if it's on the cheaper end. A cheaper sustain pedal will last you a while as long as you're not standing and going crazy on top of it.
You don't need a sustain pedal as a lot of the sustain pedals today are universal. Roland does make a triple pedal that has sustain, the sostenuto, and the soft pedal.
This unit is much more expensive than a universal pedal, however, it is quality if you want your keyboard or digital piano to have the same pedals on an acoustic piano. Many people really enjoy this, but this is not something that you need by any means.
Holding Value
Roland keyboards really hold their value well. Some of the vintage synthesizers are still very expensive and they aren't really coming down in price. I've had Roland products for 10 years and looked back to see that they weren't too far of what the retail was when I originally purchased them.
Roland Synthesizers And Their Beautiful Pads
The sound of their pads and strings are second to none in my honest opinion.  I recently played on a Paraphonic from the 1980s in the studio and I immediately wanted to purchase it. These keyboards sound extremely warm and wide. Pretty much every sound on the Paraphonic had me wanting to hear more and write more.
They have always been known for having warm sounding pads and this is mainly because they're analog keyboards. Some pads by other brands can be a little harsh in the high end and their pads have always just had that warm sound to them.
Roland History
Roland was founded in 1972 in Osaka by Ikutaro Kakehashi. The headquarters then moved in 2005 to Hamamatsu in Shizuoka Prefecture. Currently, Roland has factories in Taiwan, Japan, and the United States.
Conclusion
We hope this list provided you with the information about Roland keyboards that you were looking for. There are some vintage synthesizers that we didn't put on this list because they are no longer being manufactured.