When it comes to playing the piano, the mood and vibe have always been one of my favorite things. A piano lamp is one of the best things that you can have when it comes to setting the mood just right.
In this article, we are going to break down the best piano lamps for all types of pianos and rooms.
I've personally been playing the piano and using piano lamps for over 15 years and I love being able to turn the lights off in my room and to just dim my piano light.
I have the opinion that piano lamps are probably my favorite piano accessories that you can purchase. They're not only helpful with reading music, but they also just make your piano look cool if you have the right one.
What To Look For In A Lamp For Pianos
Looks & Colors: While this is totally a preference thing, I am very fond of black pianos with gold piano lamps. To me, gold and black are just two super cool colors together.
If you have a white piano, I would go with a black piano lamp as I feel like black and white look really good together as well.
If you have a brown piano, I would say a white piano lamp.
With this being said, this is all preference and what I personally enjoy the most.
Light: The brightness of the piano lamp is a key feature. Some of the more expensive lights are a little brighter and less harsh than others.
Price: The price of the lamp is important as I think I would rather sacrifice the lamp quality for a better piano.
Durability: Most options are quite durable. All of these options I've provided below are durable lamps.
Energy Efficiency: I tried to select options that required the least amount of energy. I think this very important in the world that we are living in today.
Best Piano Lamps For Acoustic & Digital Pianos
Cocoweb Gpled 22 inch
The Cocoweb Gpled 22 inch piano lamp is a powerhouse that is 80% more energy efficient than most other options.
This is fully adjustable and it works really well with different colored pianos as it is black and gold.
In over 50,000 hours of use, you will only have to replace the LED bulbs one time on average. This is a phenomenal stat that is a big selling point for this lamp.
The Cocoweb Gpled 22 is currently the best piano lamp available.
Pros
Great aesthetics
Lightweight
Portable
Energy efficient
Easy to use
Cons
Boston Harbor ATB-8004 Lamp – Best Budget
The Boston Harbor ATB-8004 is a great budget piano lamp that has a really elegant, silverish tone. This looks cool on black pianos as well as white.
This has a circular base rather than a mount-on approach. The one downside of these is that they can get knocked over if you hit it on accident. With this being said, I've used this and it's pretty sturdy and extremely durable.
One thing that is important to note with this lamp is that it puts off a little bit more heat than other lamps.
Pros
Lightweight
Inexpensive
Round a stable base
Adjustable
Cons
LED Piano Lamp
For those of you who really like the color gold, this is a great option. It has a circular sturdy base and it is also pretty tall. I like taller lamps as some of my books are tall.
Overall, this lamp is very bright and it suits my needs for reading sheet music. If it's not as bright as you would like it, there are 2 different options for brightness that you can try.
One of the big selling points with this lamp is that you don't need an outlet. You can power it via a USB cable or 3 double AAA batteries.
I personally really enjoy this lamp on top of black pianos as mentioned above. I just feel like the gold looks super cool on the black pianos.
Pros
Can be powered without an outlet
Sturdy and stable
Beautiful golden polish
Very heavy base
Cons
House of Troy Advent AP14-41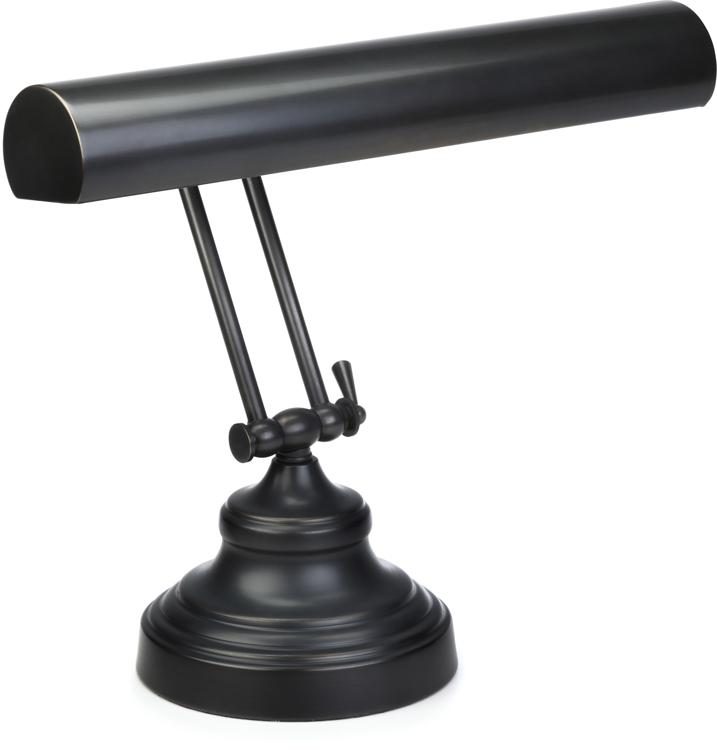 The House of Troy Advent AP14-41 is a great option for those who prefer the elegant brass look. This really gives me a feeling of nostalgia as the piano that I took lessons on some 15 years ago had a very similar lamp.
The lamp does everything that you would want it to do and it does them well. It shines pretty brightly and it is also pretty heavy. I prefer the heavier lamps as they feel like they're better quality overall.
The arms are both adjustable on this lamp and that makes it really handy for when you're working with different piano lesson books.
For those of you who have a long reach to an outlet, the Advent AP14-41 comes with a 9-foot power cord. This makes it very convenient even for those inconvenient situations.
Pros
Durable
Adjustable
9-foot cable
Has a very cool vintage look
Great lighting
Cons
Do You Absolutely Need A Piano Lamp?
The simple answer is absolutely not. With this being said, having one makes playing the piano a lot more convenient, especially when you have bad lighting.
If you're someone who is using sheet music frequently, then this is something that you will most likely want to purchase at some point. If you have a nice piano, then I think this is something that can only add value.
Conclusion
These are my current picks for the best piano lamps. I purposely put together a list that compiled old-school lamps with really cool modern ones as well.
Keep in mind that a lot of these options will come down to which color you prefer with your piano.
Are you using a different option? Let me know below!