Piano books are an important part of your child's learning curriculum. Having the right books that are entertaining and engaging for a kid can go a really long way.
Everyone knows that a kids attention span is limited when it comes to playing piano, so having a book that they like really helps. The best piano books for a kids are going to be books that have fun songs that they truly enjoy.
Quick Look At My Favorites
It is my opinion that piano books for kids should be engaging and have a good selection of songs that they enjoy. Don't settle for a book that has old songs that they just don't know or like.
I think this is actually an important part to get your child hooked on piano early. Don't bore them with a classic boring song choice books, there's already enough out there.
You can easily find fun songs, and then find a separate book that has good technique drills.
How To Find The Right Books For A Child
Find Piano Books That Are Interactive
Finding piano books that are interactive is key. A lot of the good books for kids have fun and engaging pictures in them to keep them entertained. Yes, I get it, it shouldn't need pictures, however, the goal here is to really lock your kid into lessons at an early age and have them enjoy it.
When looking for piano books for a 4 or 5-year-old try to look at it as if you're the child. What is fun and exciting and what seems to be songs that your child will enjoy.
Are you looking for piano books for adults? Check out these great options here.
Supplement Songbooks With Lesson Books
Since you are looking for songbooks that are entertaining, you will want to try and also find lesson books that are fun engaging but have the technique drills in them. There are a lot of books that your child will write in and fill out. These usually have drills to get them used to reading music.
I think a good strategy for this is to bring your child with you to or have them look online with you to pick out books. Show them the books, and see if they seem to be interested in the books you're looking at.
Why Lesson Books For Kids Are Important
Lesson books are seriously one of the most vital things in the very beginning. I believe that once they know basic fundamentals and how to read music, the lesson books aren't as important then. Once your child learns fundamentals, having a good teacher goes a long way for their musical journey.
A lot of lesson books progress perfectly for your child. I remember playing as a child and looking forward to advancing further and further into a particular series. My teacher was smart and would always tell me to keep finishing lessons so I can move on.
Because I was a kid, I loved hearing this because it made me feel like I was accomplishing something. Kids want to feel like they're getting better and progressing. If they don't feel this, they can easily lose focus and give up.
Best Piano Books For Kids 5 & Under
Alfred's Basic Piano Prep Course Lesson Book Level A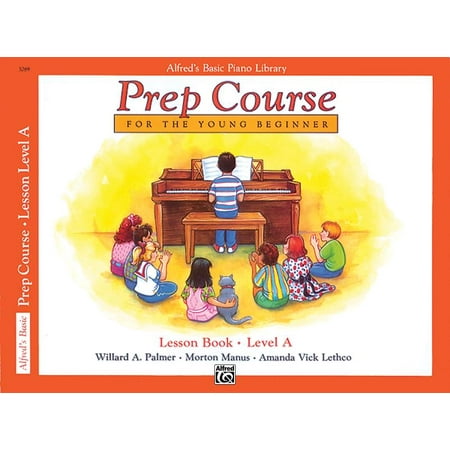 Alfred's is probably the most popular name in children's piano books and for good reason, they're informative and fun. I do think there are other books that might be more fun, but the technique is good in their books. The piano prep book is not really a songbook, it is more of a lesson book that teaches important dynamics.
This book, in particular, is easily one of the most popular books that teachers have kids purchase and learn from. Alfred's has a way of breaking things down in a fun and engaging way for kids and in a way where they're still learning.
The reason why teachers like the book so much is it gives a good guideline of what they should be teaching your child. This is also what tells me how vital these books are for kids at a young age.
Check out my favorite kids piano here.
Piano Book for Kids 5 & Up
This book by Damon Ferrante is a book that engages kids early and has some fun songs in it as well. The piano books for kids by Ferrante book series is a little bit newer than some, but it is still quality. A lot of parents seem to like this book because their children have fun while learning from it.
Something with this book is that it is mostly just treble clef. Some books will be structured like this at first as it's easier to learn with one hand before adding both clefs in there.
Easy Keyboard and Piano Pieces
I like this book for kids as it loaded with 30 songs to learn. The music is really broken down and easy to read for children. A big thing that most parents say about this book is how many songs there are for such a cheap price. You get a lot for your money with this book.
Are you looking for a new piano bench? Check out my favorites here. These are truly some awesome benches with storage compartments.
Youtube
There are some really great videos that you can follow along with on Youtube that will really help in your child's progress. Here is one I recommend below.
Conclusion
There are a lot of things that go into picking out the right books. I tried to highlight a few of my favorite books for songs and lessons. All of these books are good choices and will have your kids engaged in the piano at an early age.
If you like this list or think I need to add a different book, let me know in the comments below!