Disclaimer: Links throughout the article may be affiliated. If you click and make a purchase, I get a small commission. As an Amazon Associate, I earn from qualifying purchases.
🎹 Don't miss Sweetwater's Prime Time sales event on digital pianos and MIDI controllers! Now through October 16!
Today we are going to be taking an in-depth look at the best mini MIDI controllers currently available.
I have the opinion mini MIDI keyboards are great for producers to have. Their lightweight and ease of use make them appropriate for many different occasions.
Best Mini MIDI Controllers – A Quick Glance
IMAGE
PRODUCT
DETAILS

Editor's Pick

Novation Mini MK3

16 Pads
8 Knobs
Great With All DAWs & Standalone

Alternative

Akai LPD 218 Mini

48 Assignable Pads
Bundled Software
Great For Making Beats

Budget

Akai MPK Mini MK2

8 Pads
8 Faders
Pitch-bender
Bundled Software
The # of Keys on Mini MIDI Controllers Vary from 25 to 32 keys. The keys are smaller than normal keyboards to make them perfect for on the go producing. These are the instruments that are perfect for iPhones and iPads or other tablets.
What Is A Mini MIDI Keyboard Controller?
MIDI stands for Musical Instrument Digital Interface, and it is a technology that enables musicians to launch and play sounds from their computers or laptops. The technology for MIDI has been around for 30 years and it is becoming more and more popular with the advancements in technology.

With the increase of music producers, there is an increase in small MIDI controllers. These allow you to control unlimited sounds from your laptop and PC by connecting using a USB cable for ultimate convenience.

They are easy to use and they are the most portable keyboard on the market. These are built to be keyboards for music production on the go. Below is a picture of what set up can look like.
Mini MIDI keyboard controllers are not going to have internal sounds. This means you will need a laptop or PC to connect them to via a USB cable. When you do this, you are giving yourself access to unlimited possibilities with music production and sounds.

Something unique is the introduction to wireless MIDI keyboards. We talk about these below as well.
---
Why Would Someone Be Interested In Mini MIDI Keyboards?
Mini MIDI keyboards are not just for touring musicians, they can also be used in the studio and even for live shows. These are very affordable and they serve a variety of purposes.
If you're someone who doesn't really play the piano, a small controller would be a smart purchase seeing how the keys are smaller. Something many people refer to these instruments to is as a keyboard beat maker. This is because they are used by so many music producers to make beats.
If you're someone who is going off to college, it would also be a wise purchase. It is crazy how powerful, yet portable these are. Just in the last couple of years, the advancement has been pretty remarkable in the MIDI controller realm and the MPK mini and the Novation LaunchKey mini are two of the best purchases you can make.
The best keyboard for making beats is going to be a device that has drum pads as well as control parameters. You can read more about making beats at the link above where I break down my favorite products for beats.
---
What's The Difference Between Mini MIDI Controllers And Normal MIDI Controllers?
The biggest difference between Mini keyboards and normal MIDI controllers is weight and the number of keys. Mini keyboards are built to be extremely portable while still being as durable as they can be.
Compact keyboards typically come with 25, 32 or 37 keys and the keys are smaller than a normal controller. With a small MIDI keyboard, the musician typically isn't looking for expressive playing so this isn't a problem.
Both Akai and LaunchKey are the standard and we think both of these products are quality. We are also going to highlight a few other compact instruments that we like as well. We hope that you find this review helpful and learn from this post.
---
Things To Consider When Buying
What Are You Going To Be Using Your Keyboard For?
If you are going to be using your instrument for beats or launching clips, you're going to want to buy one with pads. I recommend a one with pads and knobs because there's a lot more you can do with them to learn on.
What Kind Of Software Is Included?
Most of these come with software and it's important to know what kind of software they come with. We will highlight this for each of the products below.
Weight:
If you are looking into portable compact MIDI controllers you want to know how much each of them weighs in case you are looking to take it with you and set up make-shift studios on the go.
Keys:
Most of the products we're looking at are going to have synth-action keys. For players who don't play piano, this will probably be preferred since they're easier to press down. They also won't be as durable, but these aren't meant to be played super hard anyway.
Sustain Pedal Input:
If you are going to be wanting to sustain chords or singular notes, you will need a sustain pedal jack.
What Do I Need To Use It?
They are USB powered so you will need a USB cable and a laptop, MacBook or a tablet to plug it into. These keyboards don't typically have internal sounds so you will want to do research on what kind of virtual instruments you want to use through your computer.
---
My Favorite Mini MIDI Keyboard Controllers
This is Novations newest controller and it's one of my personal favorites. It comes with MIDI out, meaning that you can use it to control external synthesizers. I find this to be awesome as a lot of pro producers could take advantage of this.
The Mini MKIII is the perfect keyboard for beginners and it also works great for advanced players as well.
Overall Thoughts
The Novation Mini MK III is easily one of the best mini MIDI keyboards on the market. This thing is great all around, coming locked and loaded with 16 pads and the ability to control a hardware synthesizer.
The MPK mini 2 is one of the premier mini MIDI controllers on the market right now.
Akai has made a product that works out of the box immediately with any DAW that you want to use.
Akai knows how to make a reliable product that isn't going to have simple problems that other keyboards can have.
This is a great product for people who are on the go and have to set up makeshift studios. The Akai MPK mini 2 comes with eight velocity-sensitive drum pads and eight assignable Q-link knobs. I like that it is really easy to use which is why we think this is best for beginners.
Coming in at 1.63 pounds, the MPK mini 2 is perfect to fit in your backpack if you are looking to take it with you anywhere. It comes with VIP 3.0 and this software makes it easy to control your DAW.
If you are a fan of keyboards that come in different colors, this one is perfect because it comes in red, white or black.
Overall Thoughts
Although it's a couple of years old, it is still hands down one of the best options available.
Read my full review of this keyboard here.
Novation was the first controller company that I purchased from and in the last couple of years, they have come a long way.
When I had purchased a product from them, they were relatively new and there were still a lot of kinks to be worked out.
Most kinks have been worked out over the years, making Novation one of the better companies around right now.
With the Launchkey Mini MK2, you get sixteen velocity-sensitive pads that are multi-colored and eight knobs for navigation controls.
This comes with the Novation Bass Station and I think very highly of this VST. This is a total music producer keyboard as well seeing how it comes with really nice drum pads. With sixteen sensitive pads, this makes a great MIDI keyboard for hip-hop production.
If you're using Ableton as your DAW, this keyboard is perfect because it was basically made to work with it. It still works with other DAWs, but it has features that make it easier with Ableton.
Overall Thoughts
The Novation Launchkey Mini MK2 is a fantastic option for producers.

The Nektar SE25 is one of the newest mini controllers and I believe it's fantastic.
This controller is extremely affordable and it comes in at just .88 pounds.
You can read my full review on the Nektar SE25 here.
Overall Thoughts
My overall thoughts on the Nektar SE25 are that it's perfect for beginners. It doesn't have a ton of controls on it, so it can be limiting for those who are professionals.
6)

M-Audio Axiom AIR Mini 32
M-Audio has put together a great product with the Axiom Air Mini. It comes with 32 velocity-sensitive keys and VIP 3.0. This software is great because it gives musicians so much control with their keyboards.
The M-Audio Air Mini comes with three transport controls, 5 navigation buttons, and 8 pads for maximum control. There are dedicated pitch, modulation and sustain buttons on this device. This is unique because you typically don't see pitch and modulation controls being buttons, rather being wheels or strips.
Overall, this keyboard has 32 keys rather than 25, so that's a plus, however, I don't put this on the same level with Novation and Akai.
The Akai Professional LPK25 Wireless is the first wireless MIDI keyboard controller. This is a unique product as wireless is becoming very popular.
It is powered by 3 AA batteries for up to 12 hours or by a USB cable. The keys are velocity-sensitive and are synth-action.
This wireless keyboard controller comes with Bluetooth 4.0 connectivity and has a pairing button on the base of the instrument. The Akai Professional LPK25 comes with octave, and sustain buttons. It also has an arpeggiator, like most other products.
There aren't any pads or knobs on this wireless product, but if you're not looking to make beats or get crazy transport controls, you will be fine. Another plus on this keyboard is it extremely light coming in at .08 pounds.
Overall Thoughts
This is the best wireless controller currently on the market. It's not buggy and gets the job done perfectly.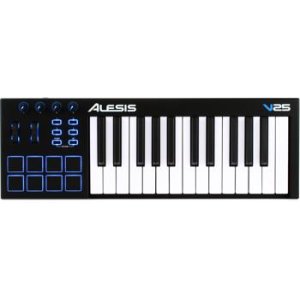 The Alesis V Mini is a pretty impressive instrument that is loaded with most of the features that you will need as a producer or musician.
It works well with all of the major DAW's and there has been a lot of praise behind it.
It comes with 25 velocity-sensitive keys that are synth-action.
I like that the Alesis V Mini also comes with 4 backlit velocity-sensitive drum pads and 4 backlit assignable knobs to control your DAW. It comes with octave, pitch bend, modulation, and sustain buttons.
The Alesis V Mini comes with Xpand2! which is a virtual instrument that gives you over 2,000 sounds right out of the box. This only weighs 1.1 pounds which makes it one of the lightest available.
Overall Thoughts
I believe this is a nice option, however, it's not my personal favorite.
9) Instruments Komplete Kontrol 32 Micro – View Price At Amazon

Native Instruments made a solid mini MIDI keyboard with the Kontrol 32 Micro.
It's not flashy, but it does everything you want it to do and more.
It is ultra-portable and light-weight and one of my favorite features it has is Smart Play.
I recently did a full review of the Kontrol 32 Micro here. Check out my thoughts.
Overall Thoughts
With the Kontrol 32, you are getting a great product, but it definitely has some limitations. Overall, still a great option.
The iRig MINI is made by Apple and it is unique in the sense that it works with basically any device. You can hook this device up to your iPhone, Android, tablet, and PC or Mac.
As far as being portable, this is probably the most portable controller on the market seeing how it only weighs .9 pounds. It comes with lightning, USB and micro-USB cables.
If you want something to use as your secondary controller for days when you might be on vacation, at school or just on the go, this is a great choice. This controller is definitely very basic as far as controls and what you can do with it.
Overall Thoughts
My overall thoughts are that the Irig is a great option for the price. I love how functional it is with tablets and cellphones. They also make this in the size of 37 keys.
The Amoon Worlde Panda is the in-between for mini controllers. Cheaper instruments typically don't come with pads, faders, and knobs, but this product does.
Overall, this Worlde Panda is okay. I wouldn't suggest it, but it also isn't the worst in the world either.
The keys on the Worlde Panda keyboard are velocity-sensitive and they might feel a little on the cheaper end. This device isn't going to give you as much creative control as the Launchkey or MPK.
This product comes with a USB cable for instant connectivity with your computer. A negative to this product is it doesn't come with any software out of the box. I've noticed many users are really liking how it works with FL Studio as the DAW. Take a look below for the features.
Overall Thoughts
I'm not the biggest fan of this product overall and I think there are better options available.
Pyle is a name that may not be as pronounced in the MIDI world. Built with 25 velocity-sensitive keys and 8 pads for beat-making and launching clips.
I am not a huge fan of this mini MIDI keyboard myself as the MIDI wasn't working great for me.
This comes with 16 knobs and it has good feedback from all major DAW's. One thing about this mini keyboard is it comes with pitch and modulation strips, rather than wheels.
This all comes down to preference on if you like strips or wheels more. If you don't have a preference, you won't notice much of a difference, however, I prefer the wheels.
The Pyle comes with a USB cable and some audio editing software. This is a little more durable than the Worlde Panda, which could come in handy if you are traveling frequently with it. Overall, I'm not huge on this keyboard by Pyle.
Overall Thoughts
This is not one of my favorite picks.
The Akai LPK 25 is the classic keyboard as it was one of the first compact controllers.
This doesn't come with as many bells and whistles as some of the other products mentioned, but for basic functions, it will get the job done.
It is extremely portable coming in at 1.4 pounds. Its keys are velocity-sensitive and it might feel a little bit on the cheaper side compared to the MPK series.
Overall, I think this is a bit dated and wouldn't recommend it anymore.
The Samson Graphite Mini is a MIDI keyboard that comes with a lot of features that some of the cheaper mini controllers don't include. It is on the cheaper side, however, it comes with velocity-sensitive trigger pads for beat making.
The Graphite Mini comes with 8 knobs and also transport controls for hands-on control with your DAW and VST's. You will find octave control, and sustain buttons. This instrument also comes with pitch bend and modulation strips for musicians.
Samson isn't a brand name that many people have heard of, however, there has been pretty good feedback on this product.
Overall Thoughts
There's good feedback on this product, but I personally think it's not a great keyboard.
---
Is A Mini MIDI Controller A Good Investment For A New Producer?
I would say absolutely. It allows you the freedom to play notes, play beats and control MIDI. This also makes it so you're not spending a fortune right off the bat.
If you like what your keyboard does for you, but feel a little limited and want to dive deeper, you can upgrade to a 49 key MIDI controller. If you're a producer who's on the go, check out our guide on the best Bluetooth MIDI controller.
---
Difference Between A Mini MIDI Keyboard And A Mini MIDI Pad
The difference between these controllers are MIDI keyboards have keys and MIDI pads don't come with keys. They come with only pads.
What I like about mini MIDI keyboards, is the good ones come with pads and more features than a MIDI pad will. Mini devices give the producer or musician a little more freedom with their music.
---
What Kind Of Keys Will My Mini Keyboard Controller have?
The keys on your instrument will be synth-action keys. These are cheaper feeling keys and they are not weighted. None of the keys will be weighted. This is because the keys are very small on these types of controllers.
The keys are so small that there would be no purpose of having weighted keys. Weighted keys would also increase the weight of the keyboards and the purpose of these is to be portable and light.
---
Do I Need Drum Pads?
No, you do not need drum pads. This all comes down to how often you think you will be using the drum pads. If you're a musician who wants to explore beat-making, then you will want them.
The pads can also be assigned samples as well. If you're playing a show and you need to trigger additional sounds, the pads really come in handy.
---
Is A Small MIDI Keyboard The Best For Live Music
No, I would say it's not. These can be handy and used in live music, but I wouldn't say they're the best. The reason being that you're limited to what you can play do live. I prefer using a larger keyboard so I can do more.
I don't think that they are necessarily bad for live music, just not as useful as they could be. Their purpose isn't really for live music though, it's more so for convenience for musicians who are traveling.
The keys are smaller on mini MIDI controllers so they can be a little bit more difficult to play and that's why I would recommend using a larger keyboard.
---
How Do I Use My Laptop With These?
It is actually very simple to use a laptop with your instrument. You simply will just use a USB cable and plug it into the USB port of your laptop. The good thing with modern keyboards is that you don't have to worry about downloading a ton of software to make it compatible.
The new mini instruments will automatically work with your laptop. This is the same thing for using your device with an I-pad or I-phone too. If you are going to play shows we recommend a laptop stand for keyboard players.
---
How Durable Are They?
As far as being as durable as a normal size keyboard, I don't think they are. They are extremely light in weight and everything is smaller on them.
As far as playing the keys, the keys will be durable, but I don't recommend hammering the keys like you're playing a real piano. You don't want to break a key because you're trying to play it too hard.
They do not typically have aftertouch and this is a feature that is important to some musicians. This is pressure-sensitivity for after your press the keys down.
It registers how hard you're holding the keys down and it can make your keyboard use vibrato or other effects. Aftertouch is something you don't need, but once you play a MIDI keyboard with aftertouch, you will want one with aftertouch.
---
Do Mini MIDI Keyboards Have Speakers?
Most of them do not have speakers. Akai now has one called the Mini Play and that is currently the only one available with a speaker. I don't personally think there's a ton of use in having a speaker, however, I don't hate the idea.
If you're using it and wanting to work where you don't have headphones or monitors, a mini speaker could be of use.
---
Conclusion
The best mini MIDI controller is the Novation Mini MK3 , but we know that any of these keyboards is great for its purpose. If you're picking solely on price, go with the Novation because it will typically be a little bit cheaper.
If portability is what you are looking for, I recommend checking out my favorite keyboard amps. These are great options for traveling.
If you enjoyed this article and found what you are looking for, let me know in the comments below!