FL Studio is one of the most popular DAWs when it comes to making hip hop and EDM. In the world of creating music, a MIDI controller can become your most essential tool.
Today we are going to be diving deep into the best MIDI keyboards for FL Studio. This includes both controllers and keyboards that are specifically built for FL Studio.
The reason that I put together this article is that some MIDI controllers work better with certain DAWs.
Note: I've read and looked at a lot of guides for MIDI controllers and I've noticed people are recommending options from 2012 that they have likely never played. Everything that I recommend is coming from my own professional experience.
Quick Look At My Top Picks
IMAGE
PRODUCT
DETAILS

Editors Pick

Akai Fire

Built For FL Studio
4X16 Matrix
All Controls Configured For FL Studio
Great For Hip Hop
Bundled Software
Inexpensive

Keyboardists

Nektar Panorama T4

49 Keys With Aftertouch
Bundled Software
8 Pads
Fully Functional With FL Studio

Budget Pick

Novation Launchkey Mini MK3

16 Pads
25 Mini Keys
Ultimate Portability
Weighs Less Than 1.5 Lbs
Easy To Use
Brief Background Of FL Studio
I remember a time when FL Studio was not on the same level as some of the mainstream DAWs, so it's crazy that it's made such a push forward and is now one of the powerhouses.
FL Studio was created by Image-Line and it was originally released back in 1998 under the name "Fruity Loops."
It was originally just a 4 channel drum app and in 2003 they made the transition to re-launching as a full DAW.
Before getting into our list, here is a list of additional guides that you might be very interested in:
What To Look For When Searching For A MIDI Keyboard For FL Studio
Price: Although the price is the most obvious, there a few things that get better as you go up in price range. Typically the keys & pads at the entry-level are going to feel a little bit cheap, however, if you're a beginner, this is totally okay.
Features: Different controllers come with a range of different features. Some will come with pitch-bend/mod wheels, whereas, some will come with drum pads or keyboards.
Plugins: Some MIDI controllers for FL Studio will actually come with some free software plugins. I recommend getting one that has some plugins included as your plugins will be your bread & butter.
Style Of Music: You will find drum pad controllers and keyboard controllers. Depending on your style of music you wish to create, you will want to pick. If you've never really played the piano and you more so are looking to make beats, a drum pad controller will suffice.
DAW Controls: Some controllers will give you transport controls(pause, stop, play, record), right on the controller itself. This is nice as it makes your workflow smooth.
Configuration: To save time, it is wise to grab a controller that is preconfigured with FL Studio so that you don't have to do it. This will also make it a lot easier when doing certain things on your controllers.
Best FL Studio MIDI Controllers
Over the years, I've come across pretty much every type of MIDI keyboard that you can. The following are picks that I find to work the best for FL Studio. Prior to the launch of this keyboard, the only dedicated controller was the Akai Fire for FL Studio.
From layout to the integration with FL Studio, Novation created a great product. You are able to full control your racks in FL Studio directly from your pads, allowing for ultimate productivity.
Novation FL Keys 37 – Best FL Studio MIDI Keyboard
Best FL Controller
The FL Keys 37 needs no introduction.
Akai Fire – Best Pad Option
Best FL Studio Controller For Beats
The Akai Fire is the only MIDI controller built specifically for FL Studio. Because of this, it gets my pick for the best pad option.
It looks a little bit more intimidating than some of the other options, however, with a couple of Youtube videos, you'll be making beats quickly.
Armed with 128 pads, the Fire comes with ultimate control when creating beats. There's a small screen on the top right that allows you to see what patch you're working with so you don't have to use your computer as much.
Image-Line worked with Akai to create this controller and to give it as many additional features as they possibly could.
Integration
You can take control of FL Studio directly from your Akai Fire. This allows you to get a lot more work done without ever even having to touch your mouse or laptop.
With the Fire, you can navigate the channel rack and other menus inside of FL Studio, including creating sequences or playing instruments.
The light-weight and portability are some of the main selling points with this controller. You can easily throw this into your backpack and because it is surprisingly durable, you won't have to really worry about it breaking it.
The one thing that I've never been a fan of for drum pad controllers is note mode. Essentially, this allows you to play the pads as if they were a keyboard. If you want to do this, just get a keyboard, it's much easier and more practical.
Overall
Overall, the Fire gets my top pick as it creates the ultimate workflow with FL Studio and it only comes in at 1.68 pounds.
Pros
Light-weight
128 RGB velocity-sensitive pads
Pre-mapped to FL Studio
Easy to use
Included software
Cons
Note-Mode isn't my favorite
Not great with other DAWS
Nektar Panorama T4
Alternative Pick
Nektar Panorama T4
The T4 is one of the most underrated controllers on the market. The key-bed is solid and the DAW integration is superb. Give the T4 a serious look before choosing a different option.
View Price At Sweetwater
View Price At Amazon
We earn a commission if you make a purchase, at no additional cost to you.
Full product review in great detail here.
The Nektar Panorama T4 is one of my personal favorite controllers currently available. With this controller, you are not only able to control FL Studio, but you also have the ability to control hardware synthesizers.
One of the big pluses with this controller is that it comes with a great VST, Nektarine. There are some really solid sounds with this VST and you will be able to add them to your arsenal immediately.
If you would like to read about the best plugins for FL Studio, you can do so above.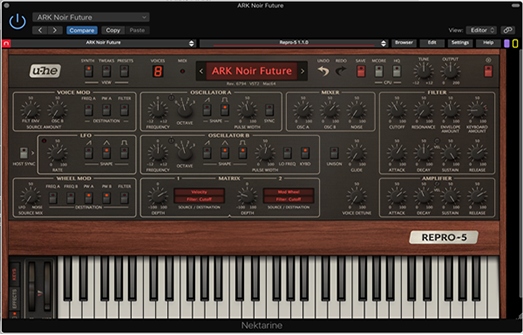 The key-bed and the pads on this controller are great. The pads feel nice on your fingers and they also are velocity-sensitive.
I have to say, I've had people tell me that they don't like the key-bed with this controller and I totally don't understand why?
When you breakdown the Panorama, you're getting a brand new controller that works well with FL Studio, works great with hardware synthesizers and has nice pads and a nice key-bed, all for a great price.
Overall
I believe this is a great option for FL Studio. This is the type of controller that professionals would use, yet it still works for beginners as well.
Pros
Great Pads
Second generation key-bed
Great VST software bundled
Awesome DAW Integration with FL Studio
Portable
Cons
Not a fan of the small LCD Screen
Arturia Keylab MKII 61
Amazing FL Studio option
Full product review that I wrote here.
The Arturia Keylab MKII 61 is a top-notch controller that comes with 16 pads, 9 faders, 9 encoders, and a great key-bed.
The screen on this controller is easy to read and I like the size of it. You're getting channel aftertouch as well as an adequate amount of transport controls that are located in a great spot.
One thing nice about the Keylab MKII is that it comes in 49 keys or 61 keys. Both of these options are some of the most durable controllers that you can find.
The first time I played on a Keylab was in 2016. I was blown away by how solid and durable the controller was and I have been a fan of Arturia since.
Overall
The Arturia Keylab MK II is a great controller to use with FL Studio and it is also one of the best options available.
Pros
Large & Responsive pads
Great Key-bed
Large LCD Screen
Tons of included software including Ableton Live Lite
Great Interface
Channel Aftertouch
Cons
A little pricey for beginners
Novation Launchkey Mini MK3 – Best Budget Keyboard For FL Studio
Best Mini MIDI Keyboard
Read my full review of this keyboard here.
The Novation Launchkey Mini MK3 is a great option for beginners & professionals. This is an extremely affordable controller and it is one of the best MIDI keyboards for beginners.
Portability & functionality are my two favorite things about this controller. Technically, this is a keyboard built for Ableton Live, but it also functions well with all major DAWs including FL Studio.
With 16 different pads and a MIDI out, you will be pleased to know that this is the first mini controller option that allows you to control a hardware synth.
The integration with FL Studio is nice as it works pretty much out of the box as well.
Up until about 6 months ago, I would've recommended the Akai MPK Mini MK2 controller as my budget pick. The reason why I think this is a better pick now is that it has the MIDI out and a lot more drum pads.
This makes it great for making beats as well as producing really any genre of music today.
Overall
Overall, if you're looking for a cheap and portable option for FL Studio, this is the pick that I would advise you to make.
Pros
Extremely light-weight
Portable
MIDI Out to control hardware synths
Great for studio use
Affordable
Cons
Akai Professional MPC Live Controller
The Akai Professional Studio MPC Live is one of the classic controllers that I personally think works great with FL Studio. This is the type of controller that works really well for lo-fi, hip-hop, and even EDM.
With a massive interface, you are able to easily navigate through different presets directly on your MPC.
Let's talk about the pads. The pads are somewhat iconic. I personally compare a lot of pads on controllers to the MPC Studio pads. They're very durable, they're large, they feel nice, and the sensitivity is spot-on.
When you hit a pad, you can get a different sound depending on your sample or plugin that you're playing. This leads to some really juicy and beautiful sounding beats.
If you are simply programming samples into your beats, you will sometimes have dry sounding beats. Everything will be of the same velocity unless you dive in on your DAW and change them.
Transport Controls
The MPC is a great pick for FL Studio and it also works with all major DAWs as well.
If you're looking for a versatile controller, this is a great pick.
Overall
This is one of the better controllers on the market near its price range. The MPC Studio is the perfect pick for those on the fence and stuck between choices. You really can't go wrong with this one.
Pros
Great Pads
Large Interface
Easy To Navigate
Bundled Software
Nice Transport Controls
Durable
Light-weight
Cons
Do You Need To Use A MIDI Keyboard With FL Studio?
Well, the simple answer is no. However, I believe that you are somewhat limiting your creativity when you're making beats or writing songs.
You don't need something extravagant, but having at least something to allow you to experiment, rather than just doing everything in your DAW really helps.
Personally, I feel like making beats for the same genre can be a little redundant if you're just doing everything inside of FL Studio. Having a controller allows you to break that cycle up nicely.
When songwriting, the thing that helps me the most is to switch up the process in which I'm writing as often as possible. If I continue to work the same way, I tend to produce the same style of songs/beats.
The good thing about FL Studio is that it is a pretty user-friendly DAW and it allows for you to experiment with basically as much as you possibly want to.
How To Pick The Right Controller For FL Studio
This is a commonly asked question and I believe that sometimes people tend to overthink this. If you're totally confused and just want to start making beats, go with something cheap like the Novation Launchkey Mini MK3.
The good thing is that a lot of controllers now work really well with FL Studio and they are also pretty easy to use. Back in the day, this was not the case at all. Controllers were confusing and really hard to use.
A good producer & musician is able to adapt to what they have and make some great tunes with it.
Most of my friends that are very accomplished don't have the most elaborate setups, they just work hard and get better every day.
Conclusion
I hope this guide helped you pick the right MIDI controller for FL Studio.
While these are only 5 options to pick from, I think that these are the best options. I didn't want to overwhelm you with decisions, especially if you're new.
There are a ton of different options that would also work for FL Studio, I just have experience with these and think they offer more than the other options I left out.
Are you using anything with FL Studio that I didn't mention? Let me know below!