Today we are going to be taking a complete look at the best mellotron VST plugins currently available on the market.
I've spent about a year playing with different mellotron VSTs over the years and below you will be presented with my honest thoughts.
I think they're nice for modern production just because they have a weird and unique sound.
My Favorite Mellotron VSTs – Quick Glance
The mellotron was created in 1963 and was used by countless famous bands after that. Some of the bands include: The Beach Boys, The Beatles, Genesis, Pink Floyd, ELO, and Orchestral Maneuvers In The Dark.
In my opinion, the mellotron VST is an underutilized instrument. I believe it has its place for many different genres and could be used more often if all producers knew about it.
The best VSTs sound just like the real instruments from the 1960s and you can't really tell the difference.
Personal Experience With Mellotron VSTs
In my band's second and third studio albums, we started to incorporate mellotron VST plugins more and more.
We did this because we really wanted to give our music an organic old school feel while at the same time trying to capture something new and the mellotron VSTs did just that.
Because these mellotron VSTs aren't used all over everything, we thought it would be a good idea and once we started to use them we started layering them throughout songs.
I personally love the sound of them and think that they bring something to the table that other plug-ins don't.
Enjoying this read? Check out some of my favorite electric piano VST plugins.
Best Mellotron VSTs
Below are some of my favorite options for music production. I've used all of them and I have purposely left a few options out.
Mellotron V By Arturia – Best Overall Mellotron VST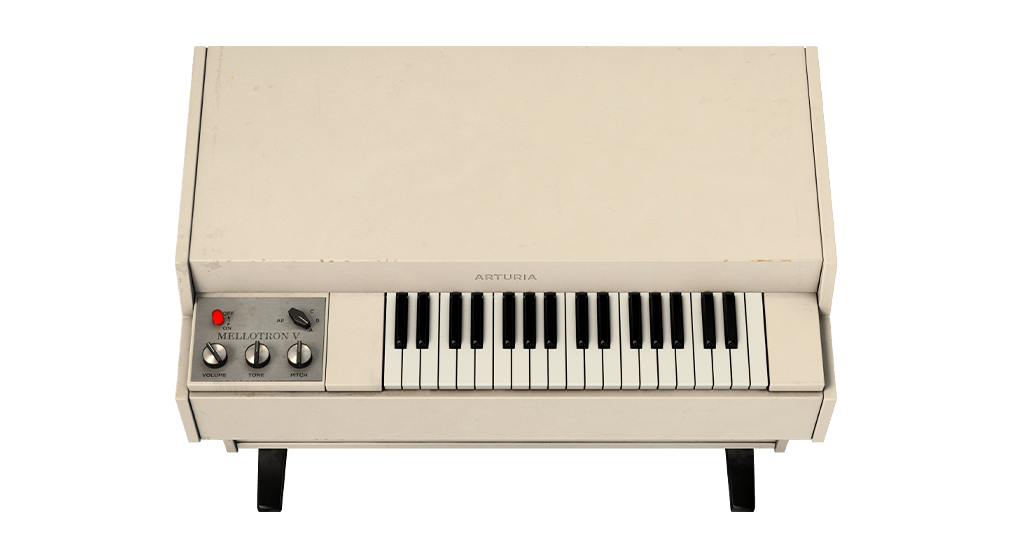 Arturia makes some of my favorite MIDI controllers as well as VSTs. I have to say that the interface with the Arturia V is about as simple and nostalgic as it gets. It resembles a mellotron that I actually was lucky enough to play while recording my last album.
When comparing this to the M-Tron Pro, you will find that it actually has a lot fewer sounds than the M-Tron. The reason why I still really enjoy the Arturia VST is that it is great for FX.
The M-Tron and Mellotron V are very different plugins and I don't think it's fair to rate which one is better.
Sounds
Arturia brings me right back to the 60s with this plugin. The one thing that people may desire from it would be more presets.
Overall
If you're looking to get into some cinematic music production, this is a great choice. I recently had the pleasure of putting this VST on a few tracks with my band I really love how it turned out.
M-Tron Pro V 3.0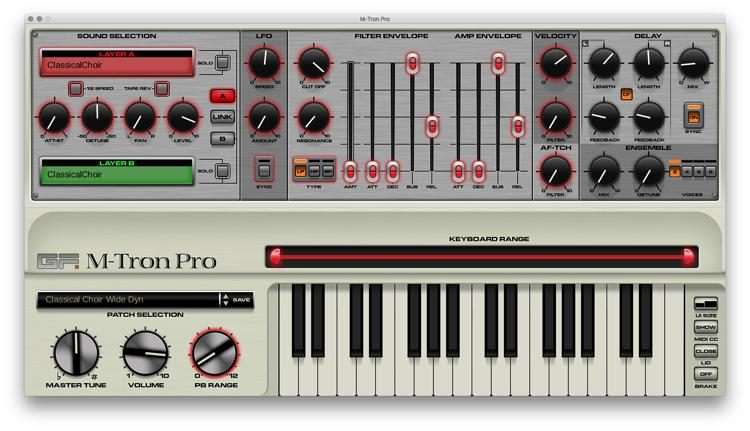 This plugin is brought to you by GForce and it is one of the most well-liked mellotron plugin options currently available. I recently checked it out after having it recommended to me and overall, I really enjoy it.
As far as the soundbank goes, it is absolutely massive. It is a 3.5 GB library that has over 160 tape banks.
There are also some awesome sample packs to go with the M-Tron Pro.
Note: M-Tron has some of the original tapes to the Mellotron in which the other plugins are not able to offer. This is a big reason why a lot of producers really enjoy it.
One thing that might be a problem for some who aren't very familiar with VSTs is when it comes to unzipping all of the files and getting it to work properly. It is a little confusing, but there are Youtube videos to help you with this.
Sounds
I've had the discussion with a few friends who use this plugin and they are obsessed with it. It's cheap & it sounds very close to the real thing.
Overall
This mellotron VST is for those desiring a massive library with very realistic sounds. I would also like to say that this is one of the best mellotron VSTs when it comes to sounds hands down.
Wavesfactory Newmello II – Budget Pick
Wavesfactory is a company that was founded in 2010 in Mallorca. The Newmello II is a nice plugin that is very simple to use. It is modeled after the mellotron M400. It looks just like it when you load it up on your computer screen.
Note: Require Kontakt 5.7.3 or above to work.
Something interesting about the original mellotron is that the sounds would only play for 8 seconds. With the Wavesfactory Newmello II you can go beyond that and loop them.
Key Features
Add up to 12 rack effects
25 patches
Easy to use the navigation
Noise and tape controls
Sounds
I think the sounds are pretty good. Personally, I prefer the UVI sounds more, but this is definitely worth a look.
Overall
Newmello II is worth your time as it packs a nice punch. Check out this video below to hear it more in action.
UVI Mello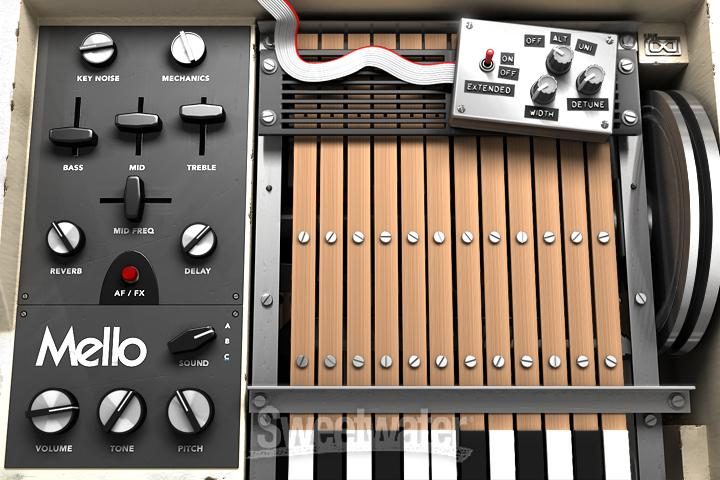 The UVI Mello plugin is a fantastic product. I have used this in many different songs because it is so versatile. There are a few things that I really like about it, but my favorite has to be the strings. They have this creepy realistic feel that the original mellotron did so well.
Key Features
Awesome sample library
Key noise and mechanical noise effects
Stereo mode
ADSR envelopes
Analog modeled tape delay
Switchable multi-mode filter
Flute, choir, organ, strings, piano, and many more sounds
Sounds
The sounds from the UVI Mello are top-notch. My favorite has to be the strings and choir since they sound so dark and ominous.
Overall
UVI Mello is a serious mellotron VST plugin that I highly recommend checking out. I think that it is a great option for producers of all levels as it is easy to use.
The Artifake Labs Redtron is modeled after the mellotron M400 as well. Something that's nice with this plugin is that it's free. I included it on my list because I truly believe it's better than a lot of plugins that cost money.
This is probably the most simple plugin to use once you have it installed. It's very straight forward, but it sounds quite nice.
Note: You can't use this with Mac's yet and it also is 32 bit. This means 64 bit can't run it without some sort of converter.
Sounds
The Redtron has a flute sound that sounds identical to The Beatles song, "Strawberry Fields Forever." I think it has some high-quality sounds that are definitely nice to have.
Overall
For a free product, this is a nice option to check out. The installing can be a little confusing, but once installed it's easy to use.
Additional Free Mellotron VSTs
Here's a list of a few more options for those producing on a tight budget.
What Makes A Good Mellotron VST?
This seems like a dumb question, but because it's such a different instrument, there are some things to keep in mind that are out of the ordinary.
Note: If you like mellotrons, you may also like to read about the best organ VSTs. I spent a ton of time on this article and I like laying chords down with them similar to a mellotron plugin.
The actual instrument generated its sound from audiotape. It has this classic almost lo-fi sound when you play it.
Fun fact, The Beach Boys used this in the mid-'60s in their hit "Good Vibrations."
To me, what makes a good mellotron VST is dynamics and mechanics. Some of the plug-ins give you the option to incorporate things such as key noise.
The more you can bend the VST to sounding like the real thing, the better obviously. This is why I look for a plug-in that has tons of different features and controls inside of it.
You can find some keyboard workstations that emulate mellotrons with patches. Check out my favorites at the link above.
Conclusion
These are the best mellotron VSTs that I like to use and have had the privilege to try out. There are some great options out there, you just have to give them a try and dive into them.
Do you have any experience when it comes to any of these? Let me know in the comment section below which ones you dig and which ones you didn't like.