The mandolin VST is an underutilized VST that can be used for various types of music. Modern music production has been notorious for using uncommon instruments in order to create sounds that aren't overdone.
This is the main reason that I wanted to dive in and show you some great options.
In this article, we are going to break down the best mandolin VST plugins currently available. Some options are free & some are paid.
My opinion is that mandolin VSTs have their purpose in both modern music production and film scores. While they might not be the most popular instruments to use, they definitely have their place.
Before taking a quick look at the best mandolin VSTs, here's a quick list of guides for other music production you may enjoy:
Quick Look At My Top Picks
Below are the best mandolin VSTs currently available in 2021.
IMAGE
PRODUCT
DETAILS

Editor's Pick

Acou6tics

The Most In-Depth String Instrument Plugin
Massive Library
Includes 6 Different Instruments
Between 4,000 & 8,000 Samples Per Instrument

Budget Pick

Mandolin By Cinematique

1 Complex Mandolin With 4 Articulations
Inexpensive
Great Sounding Mandolin
Best Mandolin VST Plugins
Below are my favorite picks with today's market. All picks are always updated as new products come out and are tested!
Mandolin By Cinamatique Instruments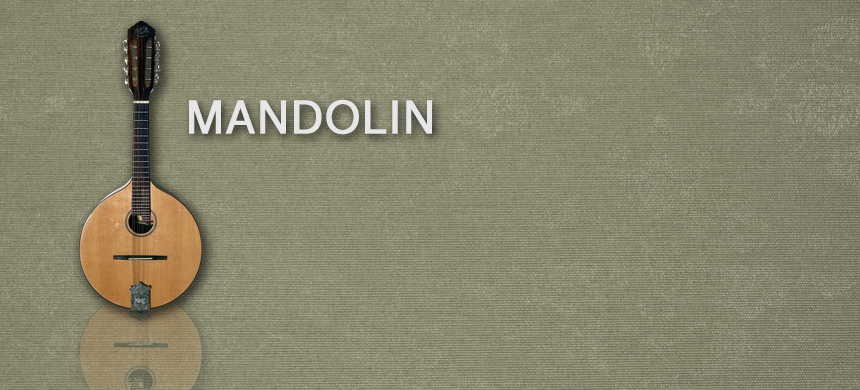 This mandolin plugin is simple to use, yet also very thorough. You access it through the Kontakt player. One thing to note is here is that you need to have Kontakt 4 in order to use it. With this, you need the full version, not just a trial version.
The main reason why I'm a fan of this plugin is that it sounds incredibly realistic and dynamic. You can also pick different strumming patterns and different articulations depending on what you're looking for.
Sounds
This is one of the richest and truest sounding mandolin VSTs that I have gotten my hands on so far. I've found myself experimenting and using this instead of acoustic guitars and electric guitars on certain songs and I'm having a blast.
Overall
This is currently my favorite mandolin plugin that I am using. It's simple to use, sounds great and it has some great playability.
Acou6tics – Big Fish Audio
You'll notice that I talk about Big Fish Audio quite often. This is because I truly do enjoy this company. If you have ever heard of electri6ity, then you will most likely like Acous6tics.
This sample pack is not just the mandolin. You will also get 5 other instruments including, twelve-string, steel guitar, nylon string, and the guitalele.
The good thing about this plugin is that you get a lot of bang for your buck and all of the sounds that you are getting are very high quality.
Sounds
Personally, I really enjoy the mandolin VST from this plugin. I think what really sets this apart from free VST's is the number of articulations you can do. You can do incredibly real dynamics with all of the stringed instruments.
From something like simply muting the strings to being able to hear the pick noises; this plugin lets you dive fully into your instruments.
Overall
I think this is a fantastic option if you can swing the money for it. It's definitely a little bit more expensive, but you are getting loads of great sounds that will heavily expand your library.
Evolution Mandolin – Orange Tree Samples
Evolution Mandolin just might be the best sounding mandolin. With this being said, it comes with a pretty hefty price tag and you're getting one instrument. Now, do I think this is crazy? No, I do not. I would say that I use almost all of the VSTS that I have purchased weekly.
With that being said, I get that this is a mandolin and maybe you won't be using it as often. However, there's a lot that goes into achieving the phenomenal sound that Orange Tree has with this Mandolin plugin.
Sounds
As mentioned above, I couldn't really be happier with the sounds here. The different articulations and strum patterns are extremely realistic to the point of which you will think you're really playing the mandolin.
Overall
From the interface to the sounds, Evolution Mandolin is easily one of the best mandolin VSTS currently available. The one downside is that it is expensive and pretty CPU intensive.
If you enjoy Orange Tree like myself, you may want to also check out their horn samples, which include some awesome trumpet VSTs.
Are Mandolins Used In Popular Music?
Of course. While the instrument is used heavily in Celtic music and bluegrass, it still has been featured in some massive hit songs. Some of the songs include:
Led Zeppelin – Goin To California
The Lumineers – Ho Hey
The Beatles – Norwegian Wood
R.E.M. – Losing My Religion
The one song that I totally didn't realize was a mandolin is " Losing My Religion." Now that I listen back, it totally makes sense. I personally have always loved this song and I think the use of the mandolin is super creative when I listen to it now.
Things To Look For In A Mandolin VST
Sound: How realistic does it sound and how does it do with the dynamics of the instrument? My opinion is that while I will always prefer the real instrument, you can't tell the difference in a mix with other instruments.
Effects: Does the VST allow you to dive deep into the effects and play with the tone? The more hands-on you can get with a VST, the better.
Price: While there are so many VST's that you can purchase, you want to end up choosing the most bang for your buck. If you can decide on a plugin that works for the mandolin, but also offers more options, that could be a great choice to expand your library.
Memory: Some VSTs can be pretty memory intensive. Keep an eye out on how much space each plugin takes up in order to not bog down your laptop or PC.
What Is A Mandolin VST?
To understand this, we need to understand what a mandolin is first. The mandolin is a small stringed instrument that is part of the lute family. It has four pairs of steel strings that are tuned by a machine head to a violins pitch.
Note: The mandolin is similar to the guitar and it is important to note that there are some great guitar VST packs that include some great mandolin options.
For those who also love everything about guitars, there are also some really awesome bass guitar plugin options as well.
I believe this instrument has a super unique sound and once you know what it is, you will be able to pick it out amongst a mix of instruments.
A mandolin VST is a virtual instrument that is built to emulate a mandolin as best as it possibly can. Sound engineers have been developing different techniques to get to the best results now for years. I believe that some VSTS are mind-blowing in the sense that you can't really tell a difference.
Conclusion
When it comes to mandolin VSTS there is definitely going to be a lot to consider. I hope that this shed some light and gave you a better idea for what you're looking for.
Are there any mandolin VSTS that you are currently using that aren't on this list? Let me know below.