The piano is arguably one of the most universal instruments in the world. With the steady growth of technology, we've seen a lot of changes in keyboards. In this article, we are going to look at the best keyboards for kids and also take a look at what is important when deciding.
Best Keyboard For Kids At A Glance
I recently just reviewed 10 different online piano platforms. My favorite is by far Pianote. You can check it out for 30 days free with the link below. It is extremely easy for kids and parents to use and is a go at your own pace type of platform.
Best Overall Piano App
Pianote
Pianote curently dominates the piano apps market. With access to real instructors and detailed lessons, Pianote is tough to top.
We earn a commission if you make a purchase, at no additional cost to you.
So, why do musicians always say you should start with learning to play the piano?
The reason why musicians recommend the piano first is because it's an instrument that teaches you music theory and builds your finger dexterity right off the bat.
This guide is broken into two parts with one being focused on options for kids over 6 years old and the other being options for toddlers under 3.
In order to come to a conclusion and decide on which keyboards/digital pianos are best for kids, I went out and tested each of these options.
I also even talked with my dad to see questions he had when he was first looking to get a keyboard 20 years ago.
The best keyboard for toddlers 3 years old is currently the Casio SA 76. It has incredible sounds to pick from and it has everything you need to start.
For kids a little bit older, I would recommend the Alesis Recital Pro. This digital piano is built for beginners and kids, yet it has weighted keys. For an entry-level option, Alesis really knocked it out of the park and has also included some great learning software.
Our Kids Keyboard/Digital Piano Reviews
Before we get started, I want to stress that there is a difference between digital pianos and keyboards. Digital pianos are going to oftentimes have 88 weighted keys, whereas keyboards are going to usually have fewer keys with more sounds.
If your child is serious about learning to play, you can start them on one of the digital pianos below. I would recommend these options below for ages 6 and up.
Alesis Recital Pro – Best Digital Piano For Kids
Incredible For Beginners
The Alesis Recital Pro the best choice for kids who are serious about learning to play. With quality speakers, weighted keys, and a decent amount of sounds to pick from, the Recital Pro is extremely tough to beat.
Should you want to read more about digital pianos, you can check out our complete guide to the best digital pianos here.
The Alesis Recital Pro comes with split and layer mode which allows you to split the keyboard up to have different sounds in different octaves. Layer mode allows you to layer multiple sounds at once.
You can read about some of my favorite Alesis keyboards here.
The educational purposes of this keyboard are really cool. It includes Skoove, which allows your child to practice online for 3 months with a live person. On top of this, Skoove also includes countless lesson videos that will aid in your child's understanding of the piano.
Key Features
12 different sounds to try out
Educational mode through Skoove3
Split, and layer mode
20-watt speakers
Headphone jack
88 weighted keys
Pros
88 Weighted Keys
Your Child Won't Outgrow It Immediately
20-watt speakers
Educational Mode
12 Preset Sounds
Gives You A Very Close Feeling To An Acoustic Piano
Cons
More Expensive Than Beginner Keyboards
The ONE Smart Keyboard

– Perfect For Kids To Learn WIth Their Tablets

Great Budget Option For Kids
One Smart Keyboard
The One Smart keyboard comes with 61 keys and a ton of learning software. It's built specifically for beginners and I think it's solid if you're not sure if piano is the right choice.
View Price At Guitar Center
View Price At Amazon
We earn a commission if you make a purchase, at no additional cost to you.
The ONE Smart is a really neat keyboard. It has 61 keys that light up when you start playing. It comes with over 4,000 different sheet music pieces, free games, and lessons that you can use on your I-pad or I-phone.
Lessons, Games, & Songs
This keyboard was specifically designed to connect to smartphones to help further your knowledge of the keyboard, which is really a great feature to have.
The One Smart Piano gives your child something fun to do with the games and lessons features. In addition, some of these games help teach your child how to write and play different melodies on the keyboard.
The One Smart keyboard delivers when it comes to providing an inexpensive, yet memorable learning experience for kids. The only drawback here would be if weighted keys were a make or break deal since the keys are not weighted.
Wrapping up, this a great option for kids who anywhere from ages 5-8 and enjoy using their tablets to learn with.
Pros
Light-up keys
4,000 songs to learn
Lesson mode
Fully compatible with iOS and android
Lightweight
Portable
Easy to use
Cons
Non-weighted keys
Not incredibly durable
Yamaha P-45
Best For Ages 7 Plus
Yamaha P-45
The Yamaha P-45 is one of the main keyboards I recommend for kids. It has 88 fully-weighted keys and a solid piano sound. This not only gets your foot in the door, but also gives you an option that you won't outgrow for years.
View Price At Sweetwater
View Price At Amazon
We earn a commission if you make a purchase, at no additional cost to you.
The Yamaha P-45 is an excellent choice again for students who are at the beginner to intermediate level and are looking to graduate from a smaller keyboard. I've had the pleasure of owning this and recording with it for over 3 years now and I really have a lot to say about it.
Starting with the keys, you are getting weighted graded hammer action keys for an extremely low price. In fact, Yamaha was actually one of the first companies to offer a key-bed like this for this price point.
While the keys aren't going to blow the mind of someone who has been playing for years on an acoustic piano, they are fantastic for meeting their purpose and giving your child a really close feel to an acoustic piano.
Should your child want more resistance in the keys or less, they can change up the key resistance by following the manual with the keyboard.
No Interface
One of the only complaints with this digital piano is that it is a little confusing when first learning to switch the sounds.
Pros
Graded hammer action keys
Portable
Great durable build
Great presets
64 note polyphony
MIDI/USB
Works as a MIDI controller quite well
Cons
Casio CT-X700 – Favorite Keyboard For Kids
Best Budget 61 Key Option
The Casio CT-X700 is currently the best keyboard for kids. The sounds on the Casio CT-X700 are quality and it is also extremely kid-friendly when it comes to navigating.
When you buy a newer keyboard it's always good because they typically have new features that older keyboards don't have.
As technology in the music world continues to grow, pianos are also starting to get more advanced. The plastic on the exterior of the instrument is very durable compared to other ones around this price range.
The Casio CT-X700 comes with 600 pre-set sounds and 195 different rhythms to play with. This feature is fun because they can literally just hit play and play along to a beat.
If you like Casio keyboards, I would recommend checking out the Casio CA-77. It's smaller and more so for younger kids, but it's solid.
Yamaha PRSEW310
76 Keys
Yamaha PSR-EW310
The EW 310 is a solid keyboard that is euqipped with 76 keys and is perfect for beginners.
View Price At Sweetwater
We earn a commission if you make a purchase, at no additional cost to you.
The Yamaha PRSEW310 is a newer product for Yamaha and it definitely an instrument that will grow with your child. This could be used easily for 4-5 years until your child is ready to graduate to a digital piano or real piano.
It might be a little more on the expensive side, but it comes with a stand and a power adapter.
This comes with Yamaha Education Suite so your child can begin learning immediately with their piano. A cool feature about this is Touch Tutor, which tracks the velocity of the keys being hit in order to teach you or child dynamics.
Yamaha DGX230
Hamzer 61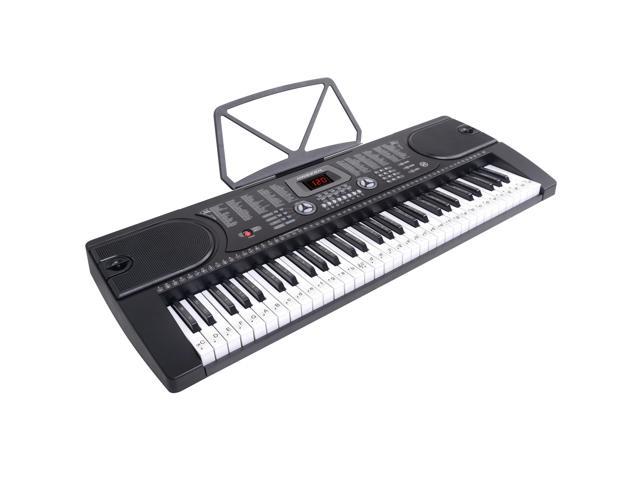 The Hamzer 61 key portable electronic keyboard is an entry-level product that works well for kids. This option is going to be cheaper and the quality isn't going to be as good as the Yamaha or Casio keyboards, but it is more so meant to get your child into music.
The keys on the Hamzer 61 are slightly smaller and they are closer together than a normal keyboard would be. The plastic on it feels a little flimsy as well.
The volume is something that is pretty weird. It is surprisingly loud and it defaults to max volume. Headphones aren't very good with the Hamzer 61 because the volume is really loud even when on the lower volume setting.
While, the speakers aren't the best on this keyboard, it does come with a nice keyboard stand.
Alesis Harmony 61
Alesis Harmony 61
The Alesis Harmony is a great look for those in search of a lightweight keyboard for beginners. It comes equipped with over 300 preset sounds ready for exploration as you take on your musical journey.
View Price At Sweetwater
We earn a commission if you make a purchase, at no additional cost to you.
The Alesis Harmony is good for beginner's piano lessons and for parents who don't want to spend a fortune.
Something to keep in mind for parents is that some of these options are not going to be high-quality.
This beginner's product comes with a headphone jack for parents who want to keep the noise down a little bit. You get the functions like dual and split mode on this keyboard which is also a plus for a beginner. This allows you to split the keyboard to have more than one sound at a time.
RockJam 61
Rockjam 61
The Rockjam 61 is as entry-level as it gets. It's equipped with a stand and a bench and I would recommend this only for beginners.
View Price At Amazon
We earn a commission if you make a purchase, at no additional cost to you.
09/24/2023 03:51 am GMT
The RockJam 61 is very entry-level. This comes with an LCD screen so your child can see what sound they're on and what program they're using. Something nice is that it comes with a stand and a bench. Keep in mind that this is entry-level, so do not expect an incredible keyboard here.
This comes with 2 months of face to face lessons. This helps as lessons are quite expensive. The keyboard itself isn't going to blow you away and it feels rather cheap. This is our least favorite and it doesn't compare to some of the others on this list.
Overall Quality
The overall quality of a keyboard for kids is not going to be as good as one made for adults. The big difference will be in the way the keys feel. This isn't a huge deal, but over time you will want to have weighted keys. The speakers on the will definitely be loud enough, but they're not going to sound like a grand piano.
Remember that if you're spending less money on an instrument, there is going to be a quality difference. This isn't a bad thing though.
Best Toddler Keyboards Reviewed
It is often said that exposing your toddlers to music early is great for their development. I really agree with this statement and wish I had started even earlier.
I started playing the piano when I was 9 and I learned so much from the experience of it. I think that a toddler piano is a smart gift for kids as it gets them used to the instrument early on.
Below is our roundup of the best keyboards you can get for your little ones under the age of 3.
Casio SA76 – Best Toddler Keyboard
Best Toddler's Keyboard
The Casio SA76 is affordable and it also gives you better sounds than some of cheaper kids keyboards listed above. The reason why this is cheaper is that it only has 44 keys and they're smaller keys. Having mini keys is good for a toddler because their fingers are much smaller than kids are.
This comes with 5 drum pads that make noise when you hit them. The noises are different drum sounds such as the snare, kick drum, tom, and hi-hat. There are pictures above the drum pads to help your child decipher which sound they're playing.
The LCD screen on this keyboard is nice because it is big and easy to read. This keyboard has 100 different sounds to pick from and the speakers are surprisingly loud. There is 8-note polyphony on this keyboard meaning your child can hit 8 notes at once and hear them all.
The Casio Sa76 is powered by batteries, but it can also be powered by a power adapter you would purchase on the side. You need 6 AA batteries for this keyboard so I would recommend buying a big pack of batteries to save money in the long run.
Schoenhut 30 Baby Grand
The Schoenhut 30 is a piano for babies and it can be used until about 6-7 years of age. These look really cool in the fact that they resemble a baby grand, yet they're really made for babies and toddlers. The sound of this is very metallic, but not in a bad way. Obviously, since it's meant for toddler's it's not going to sound like a real piano.
This keyboard comes in different colors, so be sure to check out what colors are available for it before buying. The manual makes it rather easy to assemble as long as there are no faults in the product that was shipped.
If you are having a hard time assembling it could be a faulty product and you should just contact customer support and have them resend a new one. Below is a video of this keyboard in action.
Korg tinyPiano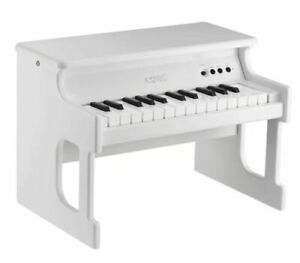 The Korg tinyPiano is listed as a toy piano, but it's definitely not a toy. When you compare the sound of this with the Schoenhut baby grandkids piano, they're not comparable.
This sounds like a real piano whereas the Schoenhut sounds like a xylophone. Korg makes some very high-end digital pianos so when it comes to making a quality product, they're no stranger.
What I will say is, how important to you is it that the keyboard for toddlers you buy sounds real?
Most of the time you use these instruments as a transition into a better more expensive keyboard for your kid. However, if you have the budget, then this is your top option as far as sounding like an actual piano. I would recommend this for anyone under 6-7 years of age.
The Korg tinyPiano comes with 25 built-in sounds and 50 built-in demo songs. A nice thing about this keyboard is that it is powered by AA batteries so you don't have to plug it in. The battery life will get you around 6 hours depending on how much you're using it. Let's take a look at a video below.
Melissa & Doug 25 Key Piano
The Melissa & Doug 25 key piano gives you a cool look, but it is still a toy. The price on this keyboard is on the cheaper side for having an instrument that looks like an upright piano. Keep in mind that the sound isn't going to be incredible since it's a kids keyboard.
It comes with an illustrated color book with 9 different songs in it for your child. The songs are definitely kid-friendly as they are classics like, " Twinkle Little Star", and "Row Your Boat." The notes are color-coded above the keys to help your child with remembering where the notes are in the beginning. This keyboard is constructed of sturdy wood and it feels pretty durable.
You can use this keyboard for toddlers at your own discretion, one thing I will mention is that there are screws on this keyboard. It shouldn't be a problem as long as you are watching your child and making sure the screws don't come loose as you don't want them to choke on a screw.
VTech Record & Learn KidiStudio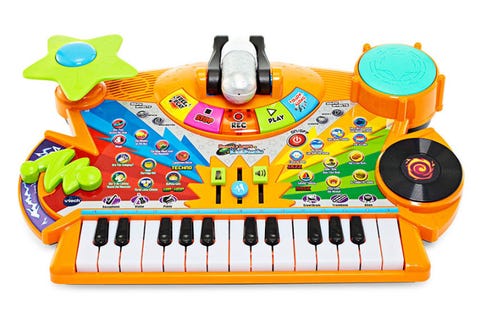 The Vtech KidiStudio is a toddler's toy piano that I really like. Keep in mind again, this is a toy, this is not a professional piano or keyboard.
The VTech KidiStudio is meant for kids who are 3-6 years of age so they can take advantage of all of the features. This is a fun instrument to sit with your child and learn with them. The sounds again aren't going to be spectacular, but they're really not supposed to be for a toy piano.
It comes with drum tracks so your child can play along and keep the beat. This instrument is powered by AA batteries which makes it very portable as well. This toy is a little bit more expensive, but I would take this over many of the other toy pianos.
Little Tikes PopTunes Keyboard
The Little Tikes PopTunes keyboard is good for babies. This is a toy and it is also very cheap. The sound isn't anything crazy, but at 1 year old, the sound needs to do enough just for your child to hear it and enjoy it.
These aren't crazy loud, which can be a plus if you're worried about your child driving you crazy with noise.
All of the keys are functional which is nice since a lot of pianos for toddlers are more so for show and don't work properly. The keys light up with LED lights that are located inside the toy.
This is a toy that is meant to keep your child's attention and get them interested in the piano as an instrument. I'm a firm believer that exposing kids to musical instruments early is a wise choice.
The recommended age on this keyboard is ages 1-5 and I think this is smart. I wouldn't purchase this for a kid over the age of three personally as there are other more suitable options. It requires 3 AA batteries and it gives you a pretty long battery life as well.
What If I live In An Apartment Or Have To Keep The Noise Down?
These instruments have volume control and that is extremely important. An instrument like a guitar or drums will typically be much louder. They are often times very portable and light, making them easy to carry up or downstairs.
If you're worried about your child making too much noise and the noise just being too much, they can use headphones.
The headphone technology has come so far and having a digital piano with a headphone port is really useful. I recently talked about the best electric pianos in the world today. You can check it out at the link above.
Sometimes your child won't want people to hear them when they're first starting because they're embarrassed. Headphones are a simple, affordable solution.
What Size Keyboard Should My Child Have?
This is an important question. You can buy a full 88 size keyboard for your kid if they are 8 and older and are serious about music.
Don't spend too much money before you know how serious they are about music. Having a keyboard as your kids' first instrument is a good thing because when they graduate to a digital piano, they will start to develop more finger dexterity.
The keyboard obviously won't have weighted keys, but don't focus on this too much unless your kid is close to becoming a teenager.
Have you ever heard of the melodica? This is a great instrument for kids and you might find it really interesting. Read more at the link above.
This is an important question. You can buy a full 88 size keyboard for your kid if they are 8 and older and are serious about music.
Don't spend too much money before you know how serious they are about music. Having a keyboard as your kids' first instrument is a good thing because when they graduate to a digital piano, they will start to develop more finger dexterity.
The keyboard obviously won't have weighted keys, but don't focus on this too much unless your kid is close to becoming a teenager.
Have you ever heard of the melodica? This is a great instrument for kids and you might find it really interesting. Read more at the link above.
Things To Consider When Looking For Kids Keyboards/Digital Pianos
Digital Piano, Or Keyboard?
A digital piano for your kid is a really good choice if your child is really interested in learning to play the piano. Digital pianos typically are going to be more expensive than a piano meant for toddlers. Keyboards are good if you're not quite sure how interested your child is in music and piano. I recommend them for kids 8 years or younger.
Number Of Keys:
How many keys do you want your instrument to have? A full-size digital piano has 88 keys. Some of the children's instruments have fewer keys.
Weighted Keys:
Having keys that are weighted is definitely recommended as your child gets older, however, they don't need weighted keys when they're first beginning to play. The right age for your child to start playing on weighted keys can vary. Your instructor will definitely tell you when they think your child is ready for weighted keys.
If your child is learning on their own, I would say if they have been playing for a couple of years and are 10 or over, they should upgrade to a digital piano. The big thing this helps with is finger dexterity. I found that when I switched to a real piano, my left-hand fingers became more powerful as they were pressing down heavier keys.
Price:
If you are buying your child their first instrument, it is wise to test the waters on a cheaper keyboard. Parents should be spending a fortune until they know their child is serious about playing.
Quality Of The Sound:
You don't need something that is going to blow your ears out. The speakers are important, however, they shouldn't be the reason you're buying the instrument. When buying an instrument you want to focus on something that is quality, yet meant to get them to the next level
Does My Kids Piano Need A Keyboard Stand?
This answer varies. You can get away with placing it on top of a kitchen table or a desktop and be fine. However, eventually, you will want to get a stand for it. The posture is important for building proper technique as a pianist moves forward in their journey.
Stands sometimes come with beginner's keyboards as packages. If they don't, you can still find them for pretty cheap since you won't need anything special.
What Kind Of Music Should My Child Focus On?
I think it is important to let your child guide you to what kind of music they are interested in. The more interest you get out of them, the more motivated they will be to learn. It is smart to mix in popular songs with classical or jazz, depending on the route they go.
Starting with classical and then going to jazz as they get older is always a really smooth transition. With classical music, you learn a lot of the basic fundamentals and music theory to be able to go into jazz.
It is possible to just start up and want to learn jazz, however it is more difficult because you need to typically have some knowledge before you make the switch. If you start with a jazz instructor they will most likely have you learning the standard kids' repertoire in the beginning so it's totally fine.
When you first begin lessons you start with about a year of basic lessons before you really have to choose what path you want to go down as a pianist.
I recently wrote an in-depth review of digital pianos for beginners. You can read about it at the link above.
What Are Ways To Improve My Kids Interest In Piano?
With piano or really any instrument, you never want to force it with your kids. When you are having to force them into playing and practicing for an extended period of time, they can lose interest along with focus. Many years ago, my father had me begin lessons when I was about 8 years old.
I ended up quitting after a couple of weeks. It was about a year later that I was listening to music and realized that I wanted to learn how to play.
Introducing your kids to good music, whether it's classic rock or even classical is a good thing. If they naturally decide that they want to learn, they will be able to retain more knowledge and want to stay driven.
Music lessons are very challenging for kids at an early age so it's smart to think of ways to pique their interest. Talking to them about their favorite bands is always a great way to get them hooked into an instrument. The inspiration they can find from their favorite artists is the greatest motivation they can find.
Do I Need An Amp For My Keyboard?
No, you most likely don't need an amp. Almost all keyboards come with built-in speakers that will be plenty loud. Most also come with a headphone jack so you can easily plug in to keep the noise down. If you do want to use an amp because you're playing a concert or doing a special performance, you will need one that has a line/out and an instrument cable.
It is very simple to plug your instrument into the amp so you won't have to worry about trying to figure that out. You will just plug the instrument cable into the amp and then plug the other end into the keyboard. Typically, the line will be on the back of your instrument.
How Important Is It To Have My Child Use A Metronome?
Using a metronome at an early age definitely is a wise move, however, you also want to make sure your child is ready to be playing with a metronome. There isn't really an age for them to start using one, it's more about when they're able to.
In the very beginning when they're just learning the notes and getting used to pressing keys, they won't be ready for a metronome yet. You want to wait until they are able to read and play through beginning-level pieces. As soon as they're ready for it, a metronome will definitely improve their playing abilities.
The metronome is one of the most important things a musician can use to improve their rhythm.
A piano metronome is the most important tool when it comes to learning to develop a sense of rhythm early on.
They are typically very cheap and they are also easy to use. You can adjust the tempo to whatever the tempo of the piece is you are playing. This will make it so you don't rush and you stay in time. If your child desires to someday play in a band, this is something that is really good to use at a young age.
Ever wondered how long your child should practice piano scales? Find out in this article I wrote here.
Do I Need A Sustain Pedal?
You don't need to purchase a sustain pedal, but I really would recommend buying one. Sustain pedals for keyboards are inexpensive and they are instrumental in your child's growth as a pianist.
If your child is just beginning they can play without one, but as they progress they will be playing pieces where they need it. A sustain pedal allows you to hold out notes with your feet and without one the instrument can sound very choppy.
The Importance Of Reading Notes At An Early Age
This is important, but the age is going to vary. Not all kids are going to learn the piano at the same rate and this needs to be accepted by parents.
If your toddler is learning at an exceptional pace, you might want to begin lessons as early as 3 years old. However, you don't want to force lessons on your child as you can burn them out early as well as make them lose interest.
According to a study by B. Rael Cahn of USC, "children with music training were more accurate in processing sounds." It is often said learning to read music and play an instrument at an early age will be beneficial to your child's development.
Learning how to count notes and learning time signatures will give your child an advantage over kids who are starting with no musical knowledge.
I wouldn't recommend going crazy with learning how to read music, but when you feel they're ready and they are interested, it can only help further their knowledge.
Conclusion
Did I miss any of the kids or toddler pianos that you have used and had success with? Let me know below in the comments section!
---