Instrument cables are one of those things that we as keyboardists & musicians don't usually think about until we need them.
With this being said, I wanted to write this article to just break down a few different great options for keyboards as well as give you an idea of what you want in a cable.
The one thing that I definitely advise against is buying short & extremely cheap cables as they can oftentimes be pretty useless and cost you more in the long run.
As someone who has toured the country over 14 times, I have to say that instrument cables are usually pretty durable. They can take a beating if not properly taken care of, but the good ones will last you.
Another thing I want to point out is that I own all of these cables mentioned below.
Below are my top picks for the best instrument cables for keyboards. They come in different sizes, and the price often reflects the length.
Quick Look At My Top Picks
What To Look For
Length: The length of your cables is extremely important. For this reason, I actually own a few different options, just because it depends on what exactly you're needing one for.
The lengths can range from 3 ft to 50 ft and it's important to note that the longer you go in length, the more money you're going to be spending.
Brands: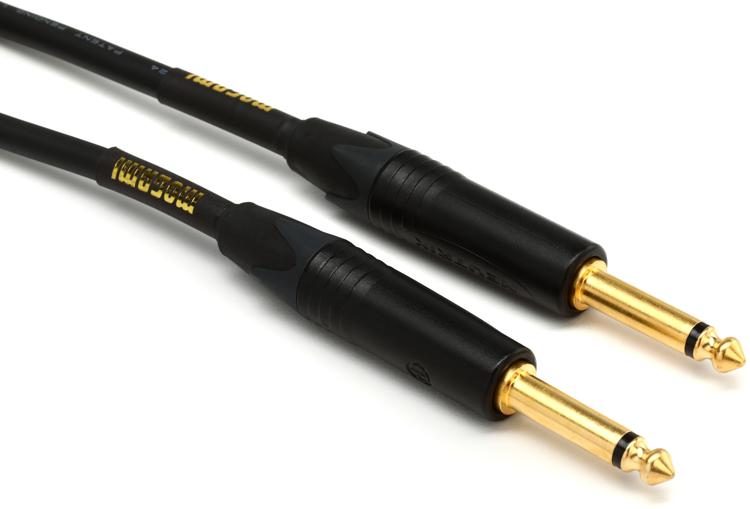 Currently, the best name in instrument cables is Mogami.
This goes for keyboards, guitars, bass guitars, it doesn't matter what instrument.
With this being said, Mogami cables are extremely expensive compared to the others.
I would recommend getting a cable made by a company that is known for audio. I've seen some cheap cables over the years from places to like Best Buy & other non-music stores.
My favorited brands are below:
Mogami(Expensive)
Pro Co(Moderately inexpensive)
Hosa(Cheap)
Price: What you spend can greatly vary and it's important to know exactly what you need the cables for.
Since Mogami instrument cables are expensive, I have also listed some great options that are cheaper and will work great for your keyboards.
Angle: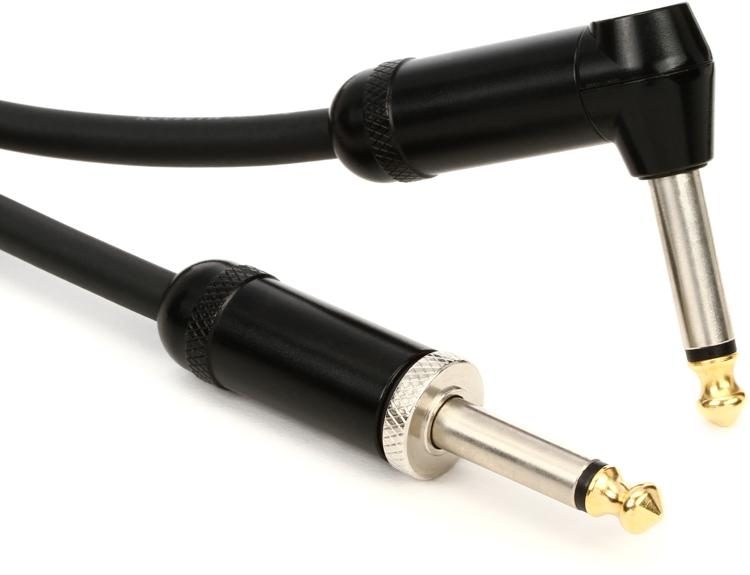 Right angle on one side and straight on the other or both sides straight is the question?
Some cables have right angles on one side and the big plus of using them is that they can sometimes take less damage.
For example, on my last tour, I noticed that my right angle instrument cable took far less damage when plugging it into my keyboard. With this being said, I had really long instrument cables and I also plugged them into my synthesizers which were elevated about 4 ft in the air.
I noticed with my straight cables that one side to rip from holding its own weight in the air.
Best Instrument Cables For Keyboards
Here are my top picks for instrument cables geared towards keyboardists. These picks come from 6 years touring experience as well as many years playing as a pianist and keyboardist.
I've used these cables with digital pianos, synthesizers & keyboard workstations over the years.
1) Mogami Gold Right Angle/Straight Cable – 25 FT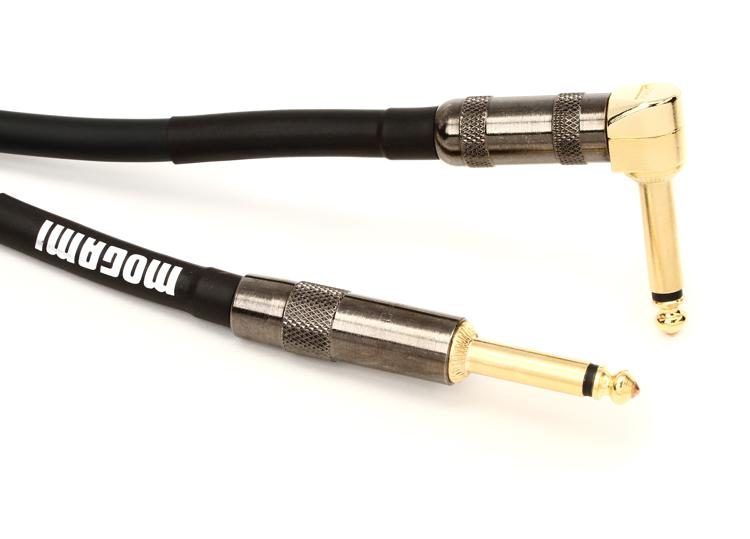 The Mogami Gold right angle/straight is my personal go-to for basically all occasions. I use these when touring and I also use it for rehearsing.
My personal opinion is that these are the most professional cables you can purchase. There are more expensive Mogami cables, but for 99% of the musicians, I don't think you need to make the upgrade since they're very expensive.
Mogami does a great job of making cables that are really good in tropical conditions. I've had instrument cables get wrecked from really moist and humid weather.
Why do I like this for my keyboard set up? I love the right angle and I love Mogami cables.
Durability
The durability of the Mogami Gold is second to none in my opinion. These cables just feel heavier and put together better than most other instrument cables.
Overall
The Mogami Gold 25 ft is a great option for those who need a high-quality cable for their keyboards that will last.
2) Mogami Gold Straight/Straight – 18 FT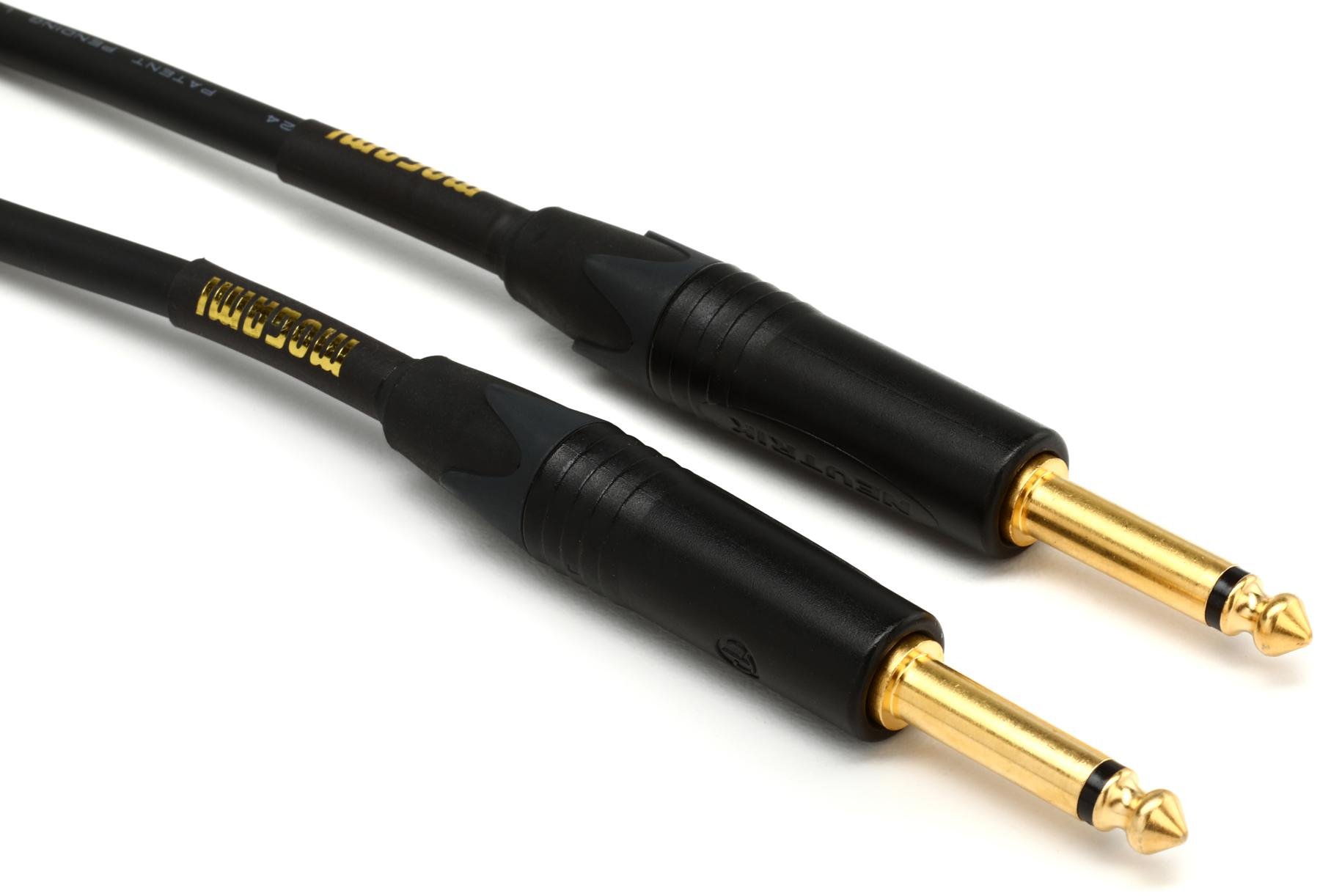 The Mogami Gold straight/straight is a quality cable for those who don't have their keyboards super high up in the air. The ends of these are a very hard plastic that feels really durable and you can instantly tell when you compare it to others.
This cable is 18 ft, but it is available in smaller sizes. I think that if you're going to get a nice cable like this, you want to at least go for a decent length since they're expensive.
There's no sense in getting the 3 ft cables, unless you're never going to need more length. The 3 ft cables are usually only used for pedalboards.
Overall
Overall, you're getting a solid product that will last the test of time. The question is, how much length do you actually need? You can get the same cable and just go lower in price.
3) Pro Co EGSS – 15 FT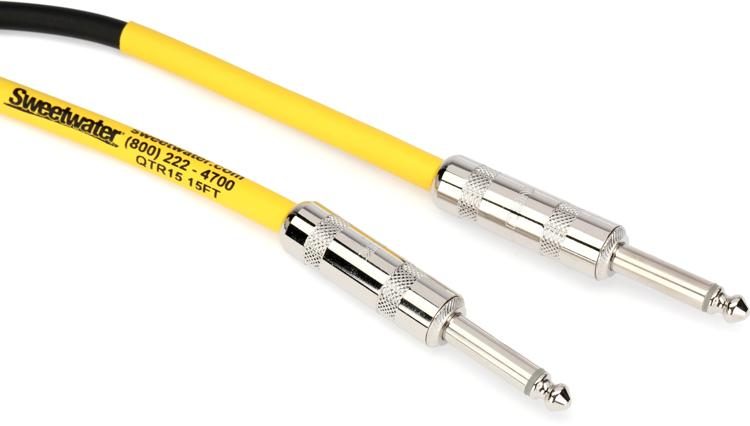 The Pro Co EGSS is an extremely cheap 1/4 cable that I've had the pleasure of using for years. Keep in mind, these cables feel cheaper than Mogami and they aren't going to have the same heat resistance.
With this being said, I would 100% recommend this to musicians who aren't touring month in and month out. This cable is everything that you need in an instrument cable for your synths/keyboards.
As you can see, this cable is straight on both ends and one thing to note is that it will feel significantly lighter than some super high-quality options.
Overall
I, love this 15 ft cable from Pro Co. I discovered them a few years back and I have been going back to them for specific purposes, such as using them in the studio for certain keyboards.
They save you a lot of money and work pretty flawlessly overall.
4) Pro CO EGSS – 10 FT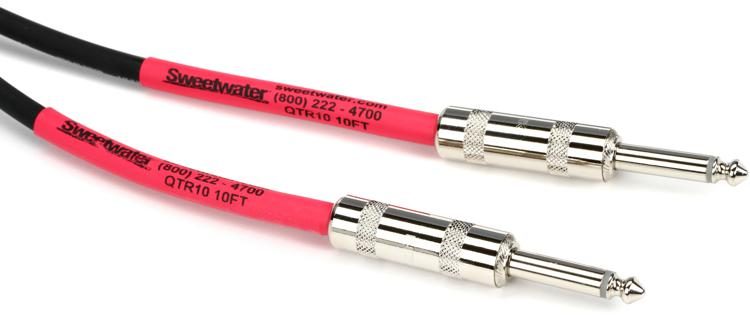 The Pro Co EGSS is the same cable is the 15 ft, just 10 ft. This also has red in it rather than yellow. I would recommend this cable if you're not in need of anything super long.
10 ft cables aren't the best for keyboards if you're gigging live. I've had a lot of shows in which 10 ft cables simply wouldn't cut it. If you're just playing smaller type shows and using it for the studio, 10 ft should be plenty.
A big pro with this option is that it is extremely cost-effective.
Overall
I think this makes a great option for keyboardists who don't need a very long instrument cable.