With the rise of hip hop, it's wise to start expanding your virtual library. While the harpsichord VST may not be the most popular of the variety, I still think it has plenty of use.
In this article, we are going to highlight a few of the best harpsichord VST plugins currently available. We have tested and tried these out and have reported back with our results.
Quick Glance At My Favorite Harpsichord Plugins
IMAGE
PRODUCT
DETAILS

Editor's Pick

Harpsichord Sonivox

Sampled & Sounds Like The Real Thing
Can Hear The Sound Of The Notes Being Played
Big Library
Inexpensive

Runner Up

Vienna Harpsichord

32 & 64 bit
Incredible Sound
Works Well With Mac & PC
Made by Vienna

Alternative

Harpsichord Organic Loops

Over 300 Harpsichord Loops
Loops between 90 BPM & 128
Easy To Use
Inexpensive
It is my opinion that harpsichord VST plugins are great for music producers and film scorers. One of the most famous hip hop producers, Dr. Dre is known for using harpsichord plugins. This just goes to show that with some creativity, you can make a lot of different instruments work in places that you wouldn't expect them to.
The main reason why musicians are starting to venture into VSTS is essentially that they're far more convenient. While I believe there will always be a place for real instruments, VSTS definitely have an amazing purpose. After all, how many people do you know that have a harpsichord?
Pros of Harpsichord Plugins
Inexpensive compared to a real harpsichord
Zero weight
Easy to use
Quick results and ability to tweak their sounds
Get an idea of what your song is going to sound like
Cons
There aren't a ton of options yet
Some can be CPU Intensive
What To Look For In A Harpsichord VST
Compatibility: Be sure that your VST works with whatever DAW and version of Kontakt Player you are using. If you are using a free version, sometimes your DAW won't work, to avoid this, read the requirements for each VST.
CPU Usage: Is it very intensive? If so, you may want to find a library that has other instruments, as you won't want to bog your computer down with one instrument.
Price: These options that I have presented are affordable and high-quality. The main reason why I recommend Pluginboutique is because they are affordable options that I truly enjoy.
Presets: I like to have a VST that has a lot of different options to use. The more quality presets, the better chance you have at finding something you dig.
Best Harpsichord VST Plugins
Below are my favorite picks for producers and songwriters. I've personally used these and that is the reason why I'm recommending them.
Harpsichord By Sonivox
Harpsichord by Sonivox is a VST that is solely made for the harpsichord itself. The sound is on point for a lot of the presets and it works flawlessly with my Akai MPK Mini MK2.
An easy to navigate interface is at the forefront of this VST and you are then met with some nice and easy effects like EQ, chorus, and delay.
Overall
This is a pretty straight-forward VST that you will get a lot of usage out of, depending on the style of music you're composing. It is inexpensive and Sonivox delivers with another impressive plugin.
Vienna Symphonic Library Harpsichord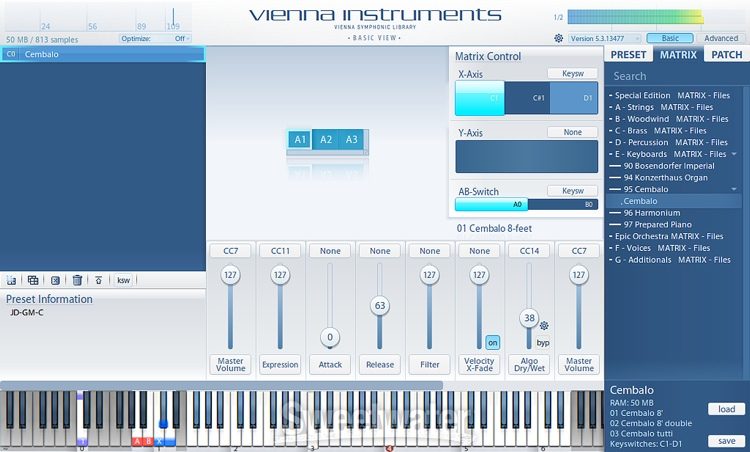 While the harpsichord plays a smaller role in classical music, it still is a very popular instrument with baroque & renaissance music. The Vienna Symphonic Library has some great options, although it is a little expensive.
It works well with PC and Mac and it also is 32 or 64 bit. If you don't have a DAW, you can run it as standalone.
Overall
This harpsichord plugin is deep & intuitive as like most of Vienna's products. If you're a fan of Vienna software, I would highly recommend this.
Harpsichord By Organic Loops
I want to start this off by saying that I am a huge fan of Organic Loops. If you're looking to produce modern music, this company is fantastic, and the harpsichord loops are great.
You are presented with over 300 different melodic loops that you can seamlessly insert into your tracks. Most of the sounds are useable and even great.
Overall
If you're a fan of loops, this will leave you with a big smile. If you're looking for more of a VST that you can play and write with, go with the above option. I believe that there's a use for both in the production world.
Modeled after a 1697 harpsichord, this VST packs a punch that will have you reminiscing of your days studying classical music. For a free option, I believe this is is a great choice.
Note: You need to now have a license with Modartt in order to get this plugin for free.
This is really easy to download and extremely easy to use. Visit the page above and you will be able to get a free download.
Overall
If you're just looking for a harpsichord plugin to use for a few songs, this is a great choice. It's not often that you'll find yourself wanting to use a harpsichord, so in that case, this is perfect for you.
DSK Overture Harpsichord
This plugin is completely free and has a few different instruments to pick from.
If you're looking for something to test the waters with, you will find that this is plenty to do so.
With this harpsichord VST, you can also pick between some cool free piano plugins and accordion plugins.
If you would like to read more about accordion plugins, you can view my guide to the best accordion VSTs that are currently available today.
What Types Of Music Do Harpsichord VST Plugins Work For?
Whenever I hear harpsichords, I immediately think of a king or queen. It sounds very "kingly" to me. The funny thing here is that it can be used in classical music obviously, but it also works really well when used for hip hop.
It plays similar to a piano, so if you have a background in piano, you may love incorporating them to spice things up. While I mentioned above, I'm not sure how much use you'll be getting out of them, they definitely can serve a great purpose.
My Experience Playing The Harpsichord
While I have been playing the piano for over 20 years, I have only played a real harpsichord a few times. All of the times I was at university and I couldn't refrain from playing. They have a very classical and beautiful sound.
Conclusion
I have presented you with two paid options and one free option. These are all solid choices and I would recommend just checking out plugin boutique as well as also downloading the free option mentioned above.
If you enjoyed this read, here are a few more options that you may find interesting. I've written all of these guides and compiled them in the most easily digestible forms that I could!
Harpsichord VSTS are a fun and unique instrument that modern composers and producers can dive into. Spend some time and get comfortable with your DAWS.
What options are you currently using? Have you tried any of these mentioned and what are your thoughts? Let me know below!