Today we are going to be taking a look at the best free DAWs for producers on a budget. These are all great options and they all will allow you to wet your feet and learn the ins and outs.
Music production has changed drastically over the years. We are now in a time where hit songs are being recorded in people's bedrooms and basements. A DAW or digital audio workstation is what makes this possible.
Quick to the point, the best free daw is currently Cakewalk by Bandlab in my opinion. You can read more about it below.
While this list below focuses on all of the best free DAWs, here is a great look at one of my favorite paid DAWs. I suggest checking it out!
It is my opinion that you shouldn't spend a ton of money in this department until you test the waters. Make sure you're serious about producing music and then try out different free DAWs before you jump in.
For a quick list, here are the best free DAWs available for download in 2020:
To read more about these free DAWs, continue down for full reviews.
Are Free DAWs Even Worth It?
I believe the answer is yes. If you start to really get into music production, you will probably want to eventually upgrade to the full version though.
However, I don't frown upon trying out different DAWs when you're first starting out, as there are a lot of different choices now.
I would recommend trying out a couple of different ones before you end up purchasing a full version.
A DAW is an electronic device or software that is used for recording, editing, and producing audio files. These are essential for producers of all levels.
Comparison Of The Best Free DAWS
Below is a detailed table that shows the main specs of the best free DAWs on this list.
As you can see, almost of these options support VSTs, which will be the most important aspect when it comes to diving into music production.
For this table, see the following:
| | | | | | |
| --- | --- | --- | --- | --- | --- |
| DAW | VST | OS | Effects | Tracks Record | Tracks Playback |
| Cakewalk | Yes | Win | 33 | U | U |
| LMMS | Yes | Win/Mac/Lin | 100+ | U | U |
| Garageband | Yes | Mac | 100+ | U | U |
| Stagelight | Yes | Win/Mac | 100+ | 12 | 12 |
| Pro Tools First | Yes | Win/Mac | 23 | 4 | 16 |
| Audacity | No | Win/Mac/Lin | 21 | U | 16 |
Best Free DAWs For Producers On A Budget
Below are the best free DAWs ranked best to worst. Cakewalk is currently our favorite.
This free DAW used to come with a moderate price tag and it used to be named "Sonar." Recently Bandlab bought out Cakewalk and came in with a whole new mindset.
Cakewalk has gained a ton of popularity in the last year as it is now fully free. With this being said, it is for Windows only, so this means that producers using Apple will not be able to use it.
If you are on a PC, I suggest checking it out as it has a 64-bit audio engine, full VST3 support, allowing you to go crazy with different VSTs, resampling, and even a touch enable feature.
While I would prefer to just use my mouse, some might be inclined to give the touch feature a whirl. You will also find ARA support for editing vocals with different plugins such as Melodyne.
Overall Thoughts
Cakewalk is a great option for Windows users and you should definitely download and give it a spin. It can sometimes feel a little bit cluttered, but after a couple of weeks, you should get the hang of it.
Overall thoughts, Cakewalk is the best free DAW for Windows hands down.
LMMS is eerily similar to FL Studio and this is a good thing. One look at the UI and you will get what I'm talking about.
With this being said, it functions pretty similar to FL Studio as well. As far as functionality, it does a lot for a free option and it is highly underrated in my opinion.
It works with Windows or Apple products and it also comes with some bundled content.
One thing that can be frustrating is that it will crash occasionally when loading up new VSTs. This can be a problem with the DAW, but it can also be a problem with your computer or Macbook.
Overall Thoughts
Overall, LMMS is one of the best fully-featured free DAWs currently available. If you have any experience with FL Studio, this is also a bonus as it's similar.
3) Stagelight By Open Labs
You can use this DAW with even your cellphone. Accessibility is the main appeal here. This is a DAW that you will find a lot of people in EDM or hip-hop using as it allows for extreme accessibility when working.
If you view their website you can find some great examples of people who created songs using Stagelight. I was impressed with the quality of some of these, but keep in mind, those are professionals.
Overall Thoughts
I think that this is a good look for a free DAW. If you are looking to purchase it, it is $149, which isn't too expensive. I think you will outgrow this DAW if you really get serious, but for learning, it is quite simple.
Pro Tools First is the free version of an extremely popular DAW: Pro Tools.
This is a great look at a DAW for beginners as it allows you to do enough to wet your feet before buying.
It supports playback for 16 different audio tracks and allows you to record up to 4 different tracks simultaneously.
Pro Tools came out in 1989 from the company Avid.
Does It Offer Anything Free?
Yes, it comes with 20 different plugins and effects along with the VST Xpand2!
Overall Thoughts
Pro Tools First is fairly difficult to use at first. It does offer you plugins right out of the gates, so that is a plus.
Ah yes, the old faithful GarageBand. This DAW was released all the way back in 2004 and it has come a long way since then.
This free DAW comes with any Apple device, so you own one, you will automatically have it. Apple is constantly updating this with new patches that improve users experience.
There are a couple of MIDI keyboards that can be used with Garageband that I think would help you out if you pick this DAW. These are options that are known to work properly with Garageband.
You can quantize with GarageBand and this is definitely a plus. However, it doesn't have a sequencer for drum tracks that is different from the normal piano one.
There are also some weird MIDI bugs that Apple is slowly fixing such as; MIDI sequences edited in GarageBand can't be exported to other DAWs unless you previously convert it to audio.
This is frustrating, but Apple keeps fixing these types of things as time goes on with new updates.
If you are looking to start a music studio, check out my guide on studio headphones. These are my favorite picks for all musicians.
Overall Thoughts
I think GarageBand is a great look for a free DAW. I wouldn't say it's on the level of a paid version of Cubase 10 by any means, but it gets the job done in the beginning.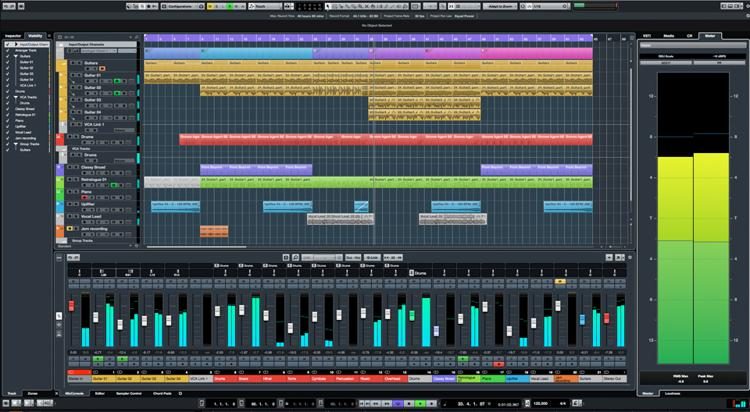 Okay, so before I get into this DAW, it is important to note that Cubase LE is free, but you have to get it with another software you purchase. For example, it comes in bundles with certain software that you purchase.
I really like this software and I think that the paid version of Cubase 10 is amazing. It is simple and extremely powerful with little to no bug problems typically. I will note that if you buy this, it is extremely expensive.
Supports
24 MIDI, 8 instruments, 16 audio tracks and 8 physical inputs with up to 24-bit/192 kHz. This is used by a lot of famous producers and bands all over the music industry.
Overall Thoughts
If you have an access code to Cubase LE, I highly recommend using it. I think this is one of the best free DAWs that you can get.
7) Ableton Live Lite – Included With Hardware Purchases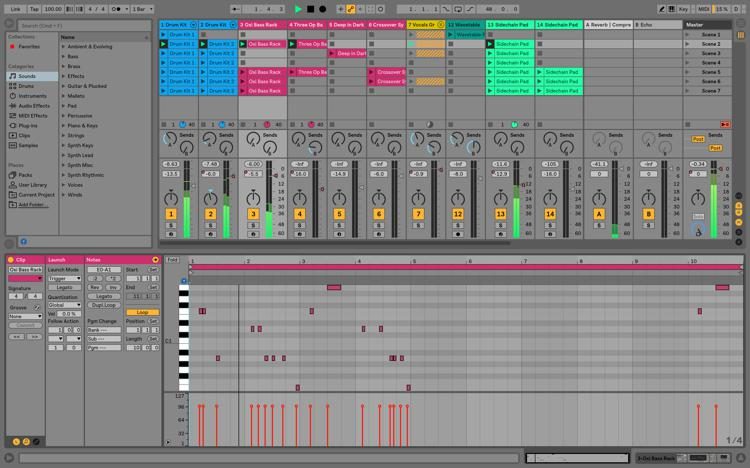 While this is technically a free DAW, you have to get a code from an item that you purchase. If you have to purchase something to get the code, I would recommend a cheap mini MIDI controller. Just be sure to check if Ableton Lite is included in the purchase.
A lot of people are going to say, "this isn't a free DAW," but I wanted to include it as it does work for free with the right purchase.
This DAW is one of the easier ones to use right out of the gates. It is extremely popular; so you can find a ton of great information on Youtube.
You can immediately start making songs with the Lite version of this and it is free. You will find that a lot of equipment you can purchase will come with the free version of Ableton.
Popularity
This is definitely one of the more popular DAWs as it is the number one used DAW currently in live music.
Just because it's used to the live setting, doesn't mean it's also not used in studios either. Many producers use Ableton at a very high level.
Overall Thoughts
I would recommend checking this out and getting familiar with it. If you start to get familiar with it, you can start recording and writing songs quite easily with it.
There is a learning curve, but there's going to be one with any great DAW.
8) Ardour – Unique Option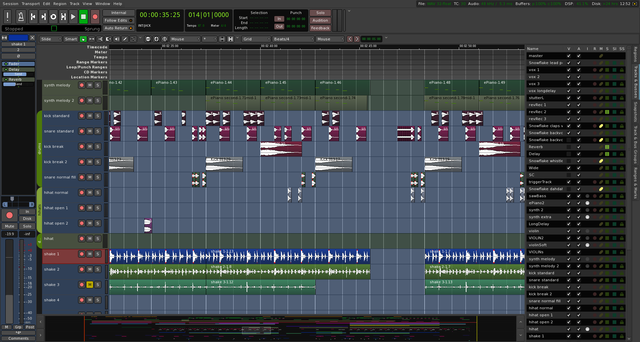 Ardour is a great free DAW that allows you to edit, mix and record. I believe this is a major step up from something like Audacity.
There is a learning curve with Ardour as it has more features and is just a bit more complicated in general.
This DAW is technically free, however, you would have to do code it yourself, which is super difficult.
With this being said, you have the option to pay whatever you want for it per month.
You can pay as low as $1 a month. Yes, that's technically not free, but it's a solid option as you're getting a great DAW for $12 a year.
I recommend checking out videos on Youtube on this if you want to give it a try.
Overall Thoughts
I believe Ardour is great as it really tries to compete with Pro Tools and Cubase. Now just because it tries to compete doesn't mean it actually does, however, it's not bad by any means.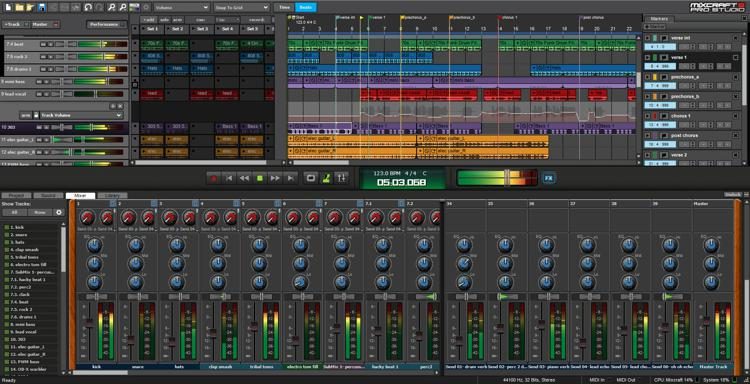 This is a relatively simple DAW to use and it gives you a free 14-day trial when you download it. You have to pay if you wish to continue using it, but it allows you to test it out before charging you.
Overall Thoughts
Mixcraft is by no means my favorite DAW, but it's not a bad free one to mention.
I think it's okay and it will allow you to wet your feet and get into the thick of things for a period of time. I recommend checking out videos on Youtube for this one as there are a lot of videos to watch.
This is easily my least favorite DAW on this list. Some people like it, but I don't think people really love this.
There are a lot of claims that people have done entire albums on this and I'm sure they have, however, this isn't going to be able to things the major DAWs can.
Is Audacity Technically A DAW?
Technically, I guess it's not. However, it can do things that DAWs do. Audacity is a waveform editor or audio editor.
Overall Thoughts
Audacity lacks some major components in a DAW. For example, it doesn't support VST plugins. This is a huge deal-breaker for me as I swear by software synths. Audacity also lacks dynamic equalizer controls.
Free DAWs Often Have Limited Functionality
I guess this is a bit of a con, but this is something you have to expect. Not all free versions are limited, but you will find that some will limit the number of tracks you can have and VST's.
The reason for this is simple: they want you to buy their full version.
My opinion on this is to use the free DAW and get super familiar with it, then purchase it. At a certain point, if you're becoming serious, you will want to own the full version.
Stay Away From Cracked Software
Cracked VSTs have been popular for a long time now. The only thing is, hackers also have caught onto this and then you can end up with malware from downloading cracked software.
The functionality from cracked software is often buggy as well and doesn't work with most plugins. My advice is, save up and purchase the DAW of your choice.
Do Professionals Use Free DAWs?
I would say, most likely not. Because there is often limited functionality, professional producers typically just purchase whichever DAW they are used to and like the most.
This shouldn't discourage you though. I think that if you're on a budget and just looking to test the waters free DAWs definitely have their purpose.
Advice For Beginner Producers
The best advice that I can give is to just completely submerge yourself into music production. Watch tutorial after tutorial on Youtube, take courses, do whatever you feel takes your game to the next level.
There's a serious need for producers and all producers start at the beginner level. A free DAW could be just what you need to get into the music production business.
I've seen people start producing music for less than a year start to get really good at it. This is something that is extremely rewarding as you can definitely measure how far you're progressing.
When it comes to producing, it's not only being savvy with the VSTs but also knowing which ones to pick. Once you find your DAW, start to explore a bunch of different VSTs and experimenting.
It's a long journey, but there's so many different things you can work on to keep it fun and interesting.
Don't Give Up
You will most likely get frustrated eventually with your progress. This is normal for you to experience and you will get to where you want to be in due time. Youtube should be your friend as you can literally watch a video on pretty much any question that you might have with production.
Join Forums
You can find some amazing music forums and communities that will be more than happy to help you out. Try to be active within those as there are some incredible people on forums who are knowledgable.
The more active you are and engaging on forums, the more knowledge you will be able to acquire. The best part about this is that there are a ton of people at all different levels for producing music. Everyone helps each other out.
Become Familiar With MIDI Controllers
When it comes to writing and creating music, I simply refuse to write without a controller. I don't like hitting buttons on my keyboard in order to hear the sounds of synths.
A controller works perfectly on free DAWs and it will get you familiar with everything from writing beats to recording melodic parts. You don't need anything special, just something that allows you play and hear what you're coming up with.
I find writing on my computer to be boring and it just doesn't inspire the ideas I would like it to always.
Why Can't I Download A Free DAW?
Make sure that your PC or Mac can handle the requirements for each DAW. Some can be CPU intensive, but for the most part, you should be able to run the free versions pretty easily, unless you're on a Dell from 1999.
DAWs can require codes. If this is the case, this means that the DAW does offer a free version, however, they want a code from a piece of software that you purchase.
You can look up what the products are and purchase them, however, at that point, you're probably better off just purchasing the DAW and get the real version.
I don't recommend trying to use free codes to access programs. These oftentimes are loaded with malware and they have the capability to destroy your computer and cause some serious functionality problems.
How Far Can Free DAWs Take You?
I would say, surprisingly, pretty far. If you're working on the right one, you should be able to grasp how to record, loop and add instruments into your DAW.
These are some basic functions that you will be doing pretty much every day as a music producer.
It's just like anything else in life, you just have to not overthink it and just jump right into it.
It will be a lot thrown at you at first, but over time, everything will start to make more sense. When things start to click, you will find yourself addicted to working on music. That's when the journey truly starts in my opinion.
Conclusion
There are a ton of new options coming out, but I tried to stick to the ones I was familiar with and liked to some degree.
I recommend just getting after it with one of these and then possibly upgrading to the paid versions over time.
Are there any free DAWs I left out that you think I should've added? What are you using to record with? Let me know in the comment section!