Quality organ sounds are tough to come by in 2022. If you're a musician who utilizes the organ often, you are going to want the best possible sounds that you can find. This is exactly why I put this list together to show you the best electric organs or keyboards that focus on the organ.
There are a few really solid options, in my opinion, and one thing I want to make sure we do is to break down options at different price points.
Not everyone can afford a Nord or Hammond organ, so it's important that we address this.
I'm someone who loves organ sounds whether they are natural or simply organ VST plugins. Read my full review here on organ plugins.
Quick Breakdown Of My Top Picks
What Types Of Music Do People Use Organs For?
Organs are used in basically every genre of music ranging from jazz, pop, gospel, rock, R&B, hip hop, country, and even classical. The reason is that they work as an instrument that can simply lay down beautiful chords while also shredding gnarly leads.
How I Graded Each Organ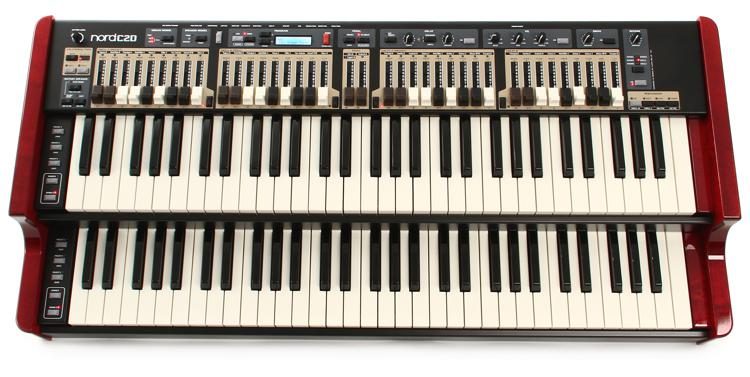 Experience: I was fortunate enough to play on numerous amounts of organs and keyboards that emulated organs over the years. I recently recorded an album in which I was able to use a Hammond B-3 organ and I couldn't have enjoyed it more.
Emulation: How well the keyboards emulate organs is a big grading factor. From the sliders to the way that the action is on the keys.
Sound: The authenticity of the sound is greatly taken into consideration. I really wanted to make sure that these organs do their best at sounding realistic and dynamic.
Price: Price is taken into consideration lightly as I wanted to put down my honest opinions of each organ regardless of how expensive or inexpensive it is.
Best Digital Organs
Hammond SK1-73 – Combo Organ
Best Overall Organ
The Hammond SK1-73 was created to basically be the Hammond B3 that you can literally carry. This thing absolutely blew my mind when I got to sit down with it.
If you're an organ purist, you probably will swear by the real thing. With this being said, this organ emulates a real organ in every possible way, from the sound to the drawbars.
One of thing Hammond really nailed with this keyboard is the real mechanical drawbars. These play exactly how I would expect them to and I was very surprised.
Pros
73 note polyphony
Incredible mechanical drawbars
6 different effects
Sounds like a Hammond B3
Great sound engine
Cons
Yamaha YC61
Amazing For Gigging
Yamaha YC61
The YC61 is a sound designers dream. It is equipped with amazing organs as well as beautiful piano sounds. The keys have been created so that they also don't cut your fingers, which is nice.
View Price At Sweetwater
View Price At Guitar Center
We earn a commission if you make a purchase, at no additional cost to you.
The Yamaha YC61 is a sound designer's dream instrument. This is a brand new stage piano and its organ sounds are out of this world in my opinion.
When it comes to touring and using organs, this is going to be the winner. It is so similar to the Nord Electro, but I feel like a breath of fresh air as it is a bit different.
One of the things I really enjoy with the YC61 is the customization abilities. You are able to fully customize the sounds from the ground up in a very intuitive way.
Note: The YC61 allows you to slam some amazing effects that the Nord keyboards simply do not near this price range.
This has been compared a lot to the Nord Electro series keyboards and I have to agree. With this being said, I think there is a good chance that you like it even more.
The keys on the YC61 are rounded making it so you don't have to worry about cutting your fingers. I've played on a Hammond B-3 and I actually cut my fingers up pretty good.
While This is a very expensive option, it definitely is for good reason. I wouldn't recommend this to beginners as this is more of an advanced players instrument.
Pros
Incredible organ sounds
Beautiful piano sounds
Super gig-friendly
Virtual Circuit Modeling
128 note polyphony
9 FX processors
80 User presets
Great drawbars
Cons
Roland V-Combo – Best Organ Under $1000
Best Budget Electric Organ Under $1,000
Roland V Combo
The Roland V combo is a great option for keyboardists on a budget who need a little bit more than just organ sounds. In terms of organs, I believe they sound great and match-up well vs the competition.
View Price At Sweetwater
View Price At Guitar Center
We earn a commission if you make a purchase, at no additional cost to you.
This keyboard is on the lower end for the price on this list. With this being said, there are things to absolutely love about it.
The V-Combo is very lightweight, weighing only 12 lbs and it is basically 3 instruments into one.
Roland has built an acclaimed tonewheel organ engine that comes with 9 drawbars and these actually nail the touch and feel pretty well.
I recently included this option in my article that highlights the best keyboards for worship and church as works perfectly for this.
Touring and gigging is what this keyboard was built for. If you're a little bit older and you frequently use the organ, this is a great option that is light and simple to use. The sounds are pretty dang good as well.
Pros
Inexpensive
3 onboard rotary effects
Vintage organ and electric piano sounds
Rolands virtual tonewheel organ
7 different effects
Extremely lightweight
iPad editor app(works with tablets for music production)
Drawbars
128 note polyphony
Cons
Piano sounds are a little weak
Nord Electro 6D
Most Popular
The Nord Electro 6D is one of the more popular keyboards for organ sounds. For a while, Nords were the industry standard when it came to touring keyboards.
They are still incredible, but they are also very expensive. The use of MIDI controllers and piano VSTs have really hurt the expensive keyboard market in my opinion.
The physical drawbars on the 6D are very realistic and they feel quality. You don't feel as if you're going to break these when you're playing intensely.
While the organ sounds are incredible on the keyboard, the piano sounds are also very nice. This is one of the reasons why it has been so popular for so many years.
Pros
Greats organs
Easy to use
Great for touring
Amazing piano sounds
Additional synth sounds for layering
Split 3 different zones
Cons
Conclusion
There are currently a ton of really good keyboards out there for organ emulation. I tried my best to make this list as informative as I could while showing pros and cons to each.
If you're a hardcore organ fan, I would suggest the Yamaha YC61 as gives you so much value for the money. If you compare it to the Nords near its price, I believe the YC61 wins.