Effects pedals for synths & keyboards are often times guitar pedals that synth enthusiasts use to spice up their sounds.
In this article, we are going to be taking an in-depth look at the best effects pedals for keyboards currently available. I have used all of these options and can highly recommend them after years of use.
While I own a bunch of different synths, one thing that I always notice when switching between them is that certain keyboards are better at doing certain things.
Effects pedals can come in handy when you want to dial in some experimental sounds, create some beautiful reverb, throw down some delay, or to just approach writing songs a little bit differently.
If you've ever been to a show and noticed a keyboardist frequently bending over to a pedalboard, they are most likely dialing in or changing parameters for their next song or part.
Note: You can use these pedals with most synths and keyboards built nowadays. Sometimes cheaper synthesizers will not have as many FX to tweak, this is where FX pedals would be great for your keyboards.
Common Types Of FX For Your Keyboards
There are several common types of FX that you may want to dive deeper into with your keyboard setup. There are even more types of FX pedals, but I want to highlight the ones that I think work especially well on synths.
Note: You will need some instrument cables when using pedals. I recommend grabbing one from the list above.
Reverb Pedals: Piano sounds can greatly benefit from reverb pedals. Not all digital pianos or synths will have reverb built-in. Reverb pedals also typically allow you to dial in some beautiful and organic sounds.
Delay Pedals: If you've ever listened to Pink Floyd, you have for sure heard tons of delay on their keyboards. Experimental music really takes advantages of delays in order to dive into crazy chords and intervals.
Distortion Pedals: Distortion pedals are some of my favorites for when it comes to making a gritty bass sound or a ripping lead. I've recently been experimenting with putting it on some of my bass guitar VST plugins and it creates a super full sound when done right.
Harmonizer: While typically used with guitars, harmonizers can make for some incredible contrast. Say you have a really cool keyboard lick, you can turn this pedal on and instantly have it harmonize with your part.
Wah Wah: Wah wah pedals are actually pretty cool when used on keyboards. I would recommend using these on lead sounds to create a guitar like wah.
Best FX Pedals For Synths & Keyboards
The following are the current top pedals for your keyboards on the market. These were determined over years of personal use and knowledge.
1) Strymon Bigsky Reverberator Pedal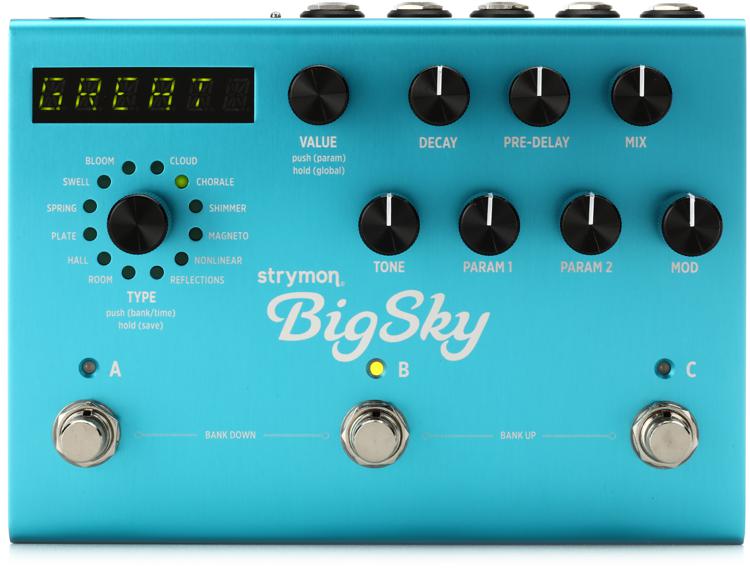 Who doesn't love a good reverb pedal? The Strymon blueSky Reverberator pedal is one of the most popular pedals used for reverb. I was fortunate enough to use this in the studio about 3 years ago and it is fantastic.
There are 12 different reverb settings to pick from with each one bringing a little something different to the table.
You can throw this on a piano sound in order to add some natural reverb to your tracks as well as experiment with it on pads or leads.
This pedal is digital and full stereo. You can really get to some crazy sounds with the blueSky reverb pedal.
2) Strymon Brigadier Delay Pedal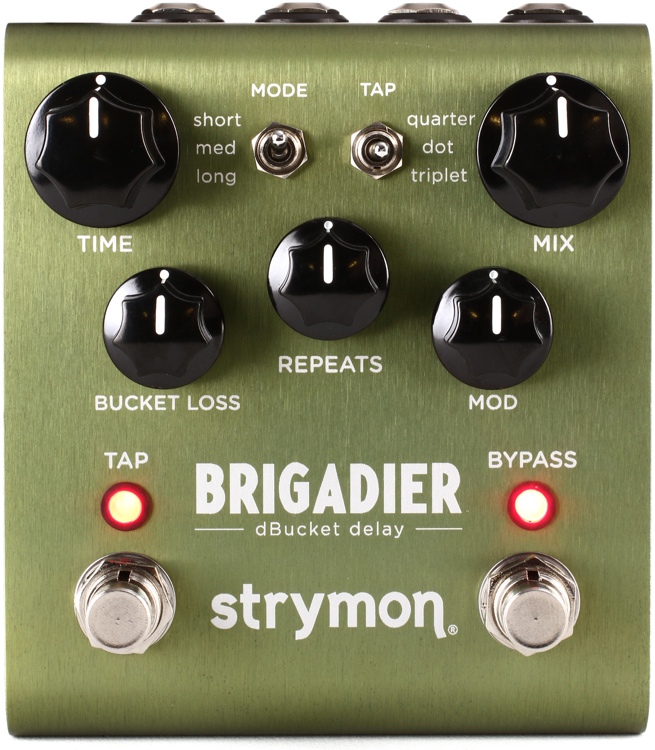 The Strymon Brigadier delay pedal is one of the most popular options currently available. Delay can create amazing soundscapes for your songs and I was fortunate enough to see this thing in action on one of our records.
This is for the synth enthusiast who is into experimental music and loves making things get weird.
Watch this video below to see an example of using this FX pedal with your keyboards.
3) Earthquaker Distortion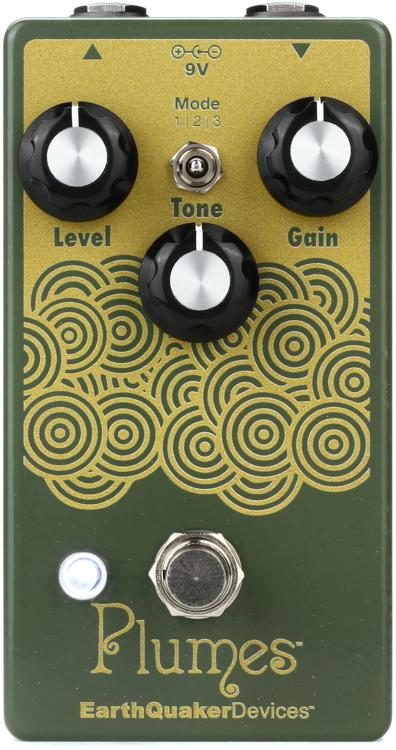 This is a very simple distortion pedal to use. Throw this on some bass sounds or some gripping synth leads and find happiness. I feel like a distortion pedal is always something great to have.
Distortion pedals are heavily used with guitar, but I feel like they aren't heavily used yet with synths or pianos. When done right, these can make even the cheaper digital pianos sound fantastic.
I was able to use this pedal for the lead piano sound in this track below. The piano overall has this amazing distortion to it that pulls at your heartstrings.
What To Look For In Pedal For Your Keyboards
Stereo VS Mono: The most useful types of pedals will have stereo in and stereo out. The reason why is that they can be used as mono too if desired.
Analog VS Digital: I personally think people get hung up too much on this. If a pedal sounds good, it sounds good. There are so many keyboards today that are more digital than analog, yet sound incredible. Go with what you like because of the sound, not because of the idea.
Price: Typically with audio, you get what you paid for. The good thing with pedals is that you're going to be usually paying a decent amount, meaning you will get a lot of use out of it.
Where To Place Keyboard Pedals?
I have placed FX pedals everywhere. Certain pedals are good to have on the ground in which you can trigger with your foot, while others are important to have elevated near your hands so that you can change parameters.
If you watch Pink Floyd videos, you will notice Richard Wright constantly changing settings on his pedals with his hands. He would place his FX pedals often on top of his keyboard setup. To sum this up, you should place your synth pedals in the following places:
On the ground
On a pedal board
On your keyboards
On a stand
Wrapping Up
These are the best effects pedals for keyboards in 2020. Let me know which of these you have used below!