When it comes to learning the piano on a budget, one of the most important things that you can purchase is a digital piano. Over the last few months, I've seen a lot of misinformed opinions on websites when it comes to the best digital piano under $500.
This is exactly why I wanted to create a guide that truly shows what you need in a digital piano and what might make it sound better than others.
With this being said, $500 is just enough to get into that range of digital pianos that will last you quite some time.
This is because most of the options are going to have weighted keys and decent speakers with a headphone jack if needed.
In this article, we will break down the best digital pianos under $500 that are still quality picks that I have also tested out over the years.
If you're looking to spend less then $500, you can also check out the best digital pianos for beginners. While this list is similar in my top recommendations, there are some cheaper options in there as well.
When shopping near this price range, some of the options will come with piano accessories such as keyboard stands, headphones or dust covers. You will notice that I will note if anything is included with the digital pianos below.
Note: I got my first Yamaha 88 key keyboard 20 years ago. It was about $1000 and that was quite the investment at the time. What amazes me is that for $500, you can get an actual digital piano that has weighted keys and sounds like an acoustic piano.
Quick Glance At My Top Picks For Under $500
As you can see from the table below, the best digital piano under $500 is currently the Alesis Prestige. Keep reading to see the rest of our favorites under $500.
The Importance Of Weighted Keys
Before I list the criteria that I used to put this list together, I wanted to give a quick rundown of why your digital piano should have weighted keys.
Weighted keys are not the end all be all, however, they are something that will greatly improve your piano playing and technique over time.
For this price range, there aren't a ton of weighted keys options, however, non-weighted key keyboards are in a similar price range.
This is ultimately what makes me urge pianists to look for weighted keys, as you will outgrow non-weighted keys.
---
How I Compiled This List
Here are the grading factors I used to determine my favorite digital pianos under $500.
Weighted Keys: All of these options have weighted keys. While you don't absolutely need weighted keys, I believe that there are currently some great inexpensive options with weighted keys.
Action: The key-action is going to be very different from brand to brand on digital pianos. With this being said, most pianists will have different preferences. Key-action is how the keys play and feel when you press them.
Quality Of Sound: All of the major brands have some really great sounding pianos for around this price range. I focused more on the quality of the piano samples as opposed to the number of presets.
Polyphony: Depending on what you're doing, the more notes of polyphony, the better. With this being said, 64 is usually plenty. This means that through stereo speakers, you could be playing 32 notes at once.
Brands: While I scouted out some brands that aren't as well known, I found that my list consists of major brands such as Roland, Casio, Yamaha, etc.
Experience: I have over 20 years experience of playing piano and I have spent the last 7 years playing and touring in a major label band. I believe that my experience of playing on so many different keyboards over the years really helps give me an edge when giving guidance to others.
With all of this in mind, let's get into my top picks.
Best Digital Pianos Under $500
Below is a list of the current best digital pianos under $500. All of these options are solid picks and have their own purpose.
Alesis Prestige – Editors Choice Under $500
Best Overall
Alesis Prestige
The Alesis Prestige is a fantastic digital piano for under $500. From the key-action to the actual sound of the piano, I am beyond impressed. I currently own this model and the Prestige Pro and have nothing but positive things to say.
View Price At Sweetwater
View Price At Guitar Center
We earn a commission if you make a purchase, at no additional cost to you.
The Alesis Prestige is my current top pick for beginners on the market. I personally own this and the Prestige Artist and I believe the only thing that beats them right now is $200 more money.
The key-action of the Prestige is the first thing that made me a believer in the Prestige. In terms of the sound, it's solid as well.
Pros
Hammer-action keys
Impressive speakers
Under $500
Great learning software
Cons
Roland FP 10 – All-Around Favorite – Slightly over $500
Incredible Option For Beginners
The Roland FP 10 is currently the best option for digital pianos under $500. I've always really enjoyed Roland's key-beds and I was surprised when I sat down to play this keyboard.
It feels like it should be a lot more than it is. The sounds are also top-notch, although there aren't a ton. To me, the sound and feel of the keyboard is the most important thing. I would rather have fewer sounds that are quality, rather than a bunch of bad sounds.
Roland excels with their key-action and their sleek design with the FP 10.
While this doesn't have the highest polyphony of the digital pianos on this list, it still has 96, which is far more than enough for pretty much anything you would want to do on a digital piano.
The FP 10 works great as an option for touring as it only weighs 27.1 pounds. You could also use it as a MIDI controller if need be.
Pros
Hammer action keys
96 notes of polyphony
Built-in metronome
Bluetooth capability
Included software
Lightweight (27.1 pounds)
Headphones jack
Cons
Right at the $500 price point
Speakers aren't the biggest, however still completely suitable
Yamaha P45
Best Yamaha Option For Price
Yamaha P-45
The Yamaha P-45 is one of the main keyboards I recommend for kids. It has 88 fully-weighted keys and a solid piano sound. This not only gets your foot in the door, but also gives you an option that you won't outgrow for years.
View Price At Sweetwater
View Price At Amazon
We earn a commission if you make a purchase, at no additional cost to you.
The Yamaha P45 was up until recently, the king of digital pianos under $500. With this being said, it's still a very good option and you can now find them used for pretty cheap as well.
A few years ago, there weren't a ton of digital pianos that you could find under $500 that had weighted keys. This is what made the P45 such a powerhouse when it first came out.
We have recently finished a guide that covers every single price point of digital pianos. You can read about the best digital pianos for all prices here.
I actually own the P45 and have tracked a lot of songs with it. It plays nice and the keys also feel great for this price. With this being said, I would take the FP 10 and the Korg B2 over it.
Pros
Lightweight (25.5 lbs)
Weighted Graded Hammer Action keys
Effects: Reverb
Headphones Jack
USB type B
MIDI VIA USB
Cons
Korg B2 Digital Piano – Best Speakers
Great Choice Near $500
The Korg B2 is a rather new option from Korg and it is the successor to the Korg B2. There are a lot of things that I like about the B2.
One of the things that is really nice about the B2 is its key-bed. I like the way it feels far more than the Yamaha P-45. I think it also plays much better than most options below $500.
If you're looking for an option that is lightweight, the B2 only weighs 25.13 pounds, which is rather light for a digital piano.
While this is not Korg's best key-bed, it definitely beats out all other options that don't have weighted keys. I think this is personally why finding an option for under $500 is so difficult.
The B2 has 120 notes of polyphony, meaning it has 24 more notes of polyphony than the FP 10.
As far as sounds go, there 12 total sounds that include pianos and organs.
Software is a place where a lot of Korg keyboards have greatly been winning. The B2 offers you Skoove, KORG Module Le, & KORG Gadget 2 Le.
The speakers on this digital piano are the best speakers for digital pianos under $500 currently.
Pros
120 notes of polyphony
Great bundled software
Naturally weighted hammer-action key-bed
Quality speakers
MIDI capability
Headphones jack
Great speakers
Cons
Could have more pre-set sounds
Casio PX160

The Casio PX-160 is the most expensive option that I am going to mention. With this being said, it is definitely one of the top options for the price range.
Casio has completely stepped their game up on digital pianos in the last few years in my opinion. The PX-160 is a great example of this, especially with its action.
One of the reasons why I think Casio has gotten better is that their lower price-point keyboards have improved. Casio beginner keyboards are cheap, yet now have some high-quality sounds.
Pros
Weighs on 24.5 lbs
USB type B
3 effects: Reverb, brilliance, chorus
128 note polyphony
Great key-action
Included sustain pedal
Cons
Most expensive on this list
Casio CDP-S100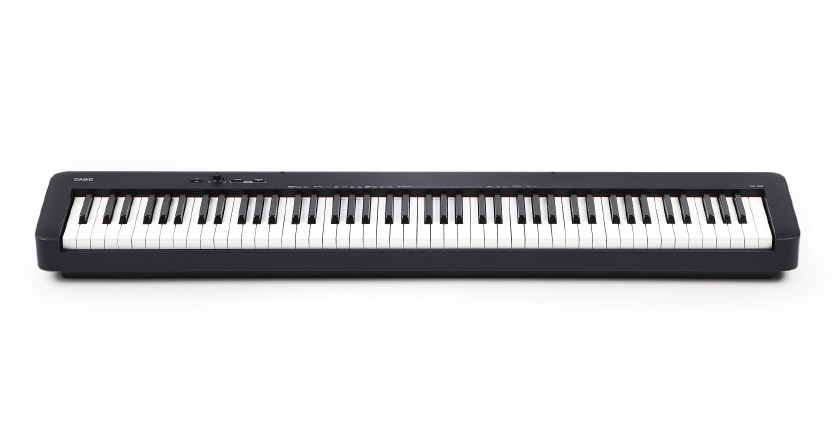 The Casio CDP-S100 is a brand new option that has gained a ton of popularity rather fast. Casio's mission with this digital piano was to make an option under $500 that has weighted keys, good action, and lightweight.
They succeeded at all of the above and I believe that this is a solid option currently available on the market.
The key-bed is graded hammer action with precise weighting on each key. You will notice that the keys get lighter the higher up you go in range.
When you purchase this keyboard, you also get the software, Chordana. Another big win for Casio is the fact that the keys have aftertouch. When this feature is left out on newer keyboards, it is mind-boggling since so many people want that feature.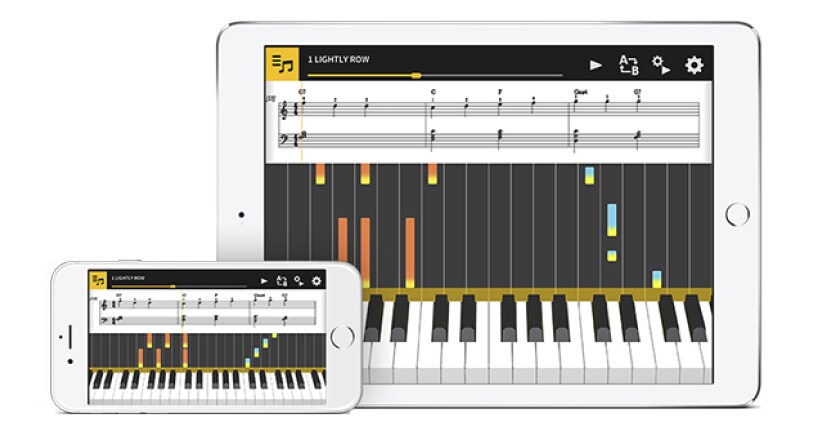 Pros
Lightweight: 24lbs
Aftertouch
MIDI capability
64 notes of polyphony
Backlit LCD display
Headphones jack
Free software
Cons
Piano sounds aren't my favorite
Conclusion
These are my top 5 picks and I believe that all of these would be good options. With this being said, the one that really stands out to me is the FP 10.
I've played this side by side with the Yamaha P45 and you can feel a big step up in quality from the sounds to key-action with the FP 10.
When it comes to the best digital pianos under $500, these are definitely the top picks currently available.
Have you tried any of these options? What are your favorites currently available?