Digital piano headphones are one of the best accessories that you can have for your instrument. If you live in a smaller space, have roommates or family members you don't want to annoy, or you simply want to just mix it up, headphones will come in handy.
In this article, we are going to highlight the best headphones for digital pianos.
I personally live in an apartment and like to use headphones on the daily to keep the noise down. Having a nice pair can help you when it comes to playing with dynamics as some headphones allow for this better than others.
Best Headphones For Digital Piano Quick Glance
A nice pair of headphones for digital piano players will allow for the dynamics to come through. The bass end should be a little bit louder, whereas the high end a little bit brighter. I also want to note that basically every digital piano on the market today has a headphone jack.
Earbuds are not going to be recommended for these as I don't believe they capture the dynamics of a digital piano the way they need to.
Open Back VS Closed-Back Headphones
These are the two main types of digital piano headphones on the market. Some people prefer open, where others prefer closed-back. The main difference here is that open back has openings by your ears to let sound in.
Closed-back has all of the sound isolated and blocked off over your ears. These are more commonly found in the studio and these are the type that I prefer.
Closed Back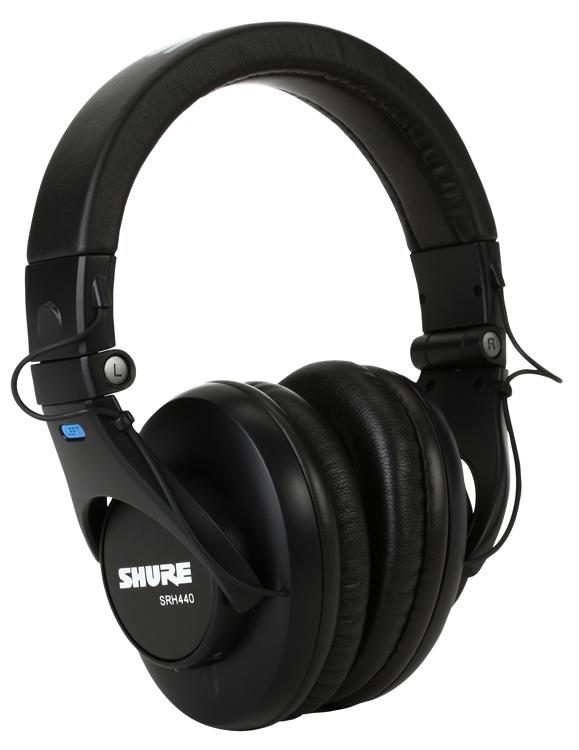 These are going to be used in the studios for vocalists or musicians tracking. This is because the vocalists can hear their pitch much better and have everything else blocked out. The click track is easier to lock into with closed-back as everything else gets blocked out nicely. Here is a solid source for more on closed back over the ear headphones.
When listening to music or playing the piano, I like to be completely surrounded by what I'm doing. This is totally your personal preference as there are a lot of people who prefer open.
Open Back
Open is going to give you sometimes a more realistic feel as they allow sound to come in more so than closed do. Open-back headphones artificially emphasize the bass sounds, whereas closed do.
When mixing or mastering, producers typically use open back so they don't mix the bass too hot. However, I don't recommend using headphones for mixing. Using a nice set of monitors will take your mix game much further.
Things To Look For With Headphones
Sound: The right pair of headphones is going to capture all of the subtle nuances of a piano. You want something that's going to capture all of the dynamics of the piano.
Price: I always say that audio is the one place that you don't want to go the cheap route. Sometimes spending a little bit more ends up saving you in the long run as an additional $30 can make a big difference at times.
I recently did a review on my favorite toddler pianos and for most of these options, you can use headphones with them.
Comfortability: Some of the headphones will definitely be more comfortable than others. Finding a pair that's comfortable is key as you will find yourself wearing these for hours at times. Most of them are pretty comfortable nowadays, but the ones that aren't we made note of.
Sound Isolation: If you're looking for sound isolation, you will want to look at closed-back headphones. These won't be completely sound isolated, but they have much more isolation than open-back.
Best Digital Piano Headphones
Below you will find our favorite headphones to use with your keyboards.
1)
Sennheiser HD280PRO

– Best Overall

Best Overall
The Sennheiser HD280Pro series headphones are the best digital piano headphones for the money. These headphones claim up to 32 DB of noise reduction and I tested these to the max. These do as they say, as long as you fit them on your ears properly.
The Sound
These are closed-back headphones, so you can expect high-quality in the sound department. These are also noise cancellers, so you get a real crisp, clean sound, while at the same time, blocking out sounds in your environment.
You get a neutral sound with these headphones and you will notice the bass won't drown out your ears. Because closed-back headphones can trap bass frequencies, this can be a problem, but it's not with the Sennheiser's.
The decibel reduction is just as advertised as it will block ut 32 DB from your environment.
Overall Thoughts
I believe the Sennheiser HD280Pro's are a great product overall. One thing that I like is that they are coiled. This means the cable won't rip or break as easily as others will. With headphones, this is frustrating as you can spend hundreds only to then rip the wire.
2)
Audio-Technica ATH-M50x
I have used the Audio-Technica ATH-M50X many of times as my band has a pair of these at our studio. These are great for tracking, recording vocals and listening back to songs. They are closed-back and they are one of the more comfortable pairs of headphones I've worn. You get quality with this pick, without spending hundreds.
Previous models had complaints about the earpads, however, Audio-Technica made major improvements on this model.
The Sound
The lows are very precise on these headphones and this is a good reason why this is a popular choice. I know of a lot of DJ's who use these live and swear by them.
You get a nice and precise bass tone that is going to dump on the rest of your mix in your ears. This is important when playing classical pieces that are heavy in the bass parts.
When I wear these I really feel like I'm in a concert hall playing the piano. You can feel the lows without them completely dominating your ears.
Overall Thoughts
I agree with the masses on the Audio-Technica ATH-M50x. These are easily one of the more popular studio headphones and I totally understand why.
3)
Status Audio CB-1
Status Audio CB-1
The Statu Audio CB-1 are a great budget pick that have an extremely neutral sound. You're not going to have too heavy of bass while playing with these.
View Price At Sweetwater
We earn a commission if you make a purchase, at no additional cost to you.
09/24/2023 02:21 am GMT
The Status Audio CB-1 digital piano headphones are relatively a new name to the headphone world. Ash Tailor is a YouTuber who broke down these headphones and explained what makes these great.
These are super cheap and still compete with the Audio Technica's mentioned above. Up until a couple of years ago, it was hard to find things that truly competed.
You get a coiled cable for maximum protection and I personally love this.
The Sound
Surprisingly, the sound is great. You get a very neutral sound with these closed-back headphones. In the audio world, I believe these are the best sounding for the price or near the price range. You get high-quality sound and a nice warm bass tone.
A lot of people mention that these are the most neutral sounding headphones on the market, with no added bass.
Something to note with these is they are all plastic. Some people don't like this as there can be sound leakage. To me, this is to be expected for the price range though.
Overall Thoughts
Overall, I think the CB-1 is a great product, especially for the price. Expect a little sound leakage, but also expect the sound to be pretty great as well.
4)
Roland RH-5

– Best Budget Digital Piano Headphones
Roland RH-5
Roland RH-5 headphones are solid, but extremely budget. I used these for years before upgrading to the HD 280 Pros. All in all, I would recommend these if you're on a tight budget.
View Price At Sweetwater
We earn a commission if you make a purchase, at no additional cost to you.
09/24/2023 03:36 am GMT
This set of headphones is specifically made to be paired with digital pianos and electronic drums. Roland set out to make a product that works for their instruments, but these also work for all brands of instruments. The price on these is surprisingly low for the quality that you get.
The one big downside to this set of headphones is that the cable is quite horrible. I've seen a lot of people in the music forum's complaining about the cable, but the actual sound saves them.
The Sound
You get a really neutral sound from the Roland RH-5 headphones. There will be a little bit of sound leakage, but it shouldn't be too bad with these.
Overall Thoughts
I believe these are good for a budget look. They are on the cheaper end and I wouldn't put them up against the Audio-Technicha's, but they're good for the price.
5)
Sony MDR7506
Sony MDR7506
The Sony MDR 7506 are a great pick for overall sound. With this being said, there is very little noise reduction if you're playing in a loud environment.
View Price At Sweetwater
We earn a commission if you make a purchase, at no additional cost to you.
09/24/2023 03:41 am GMT
Sony is a huge name in the headphones department and for good reason. The Sony MDR7506 is a popular choice due to its dynamic closed-back design. The cable isn't coiled, so it can wear pretty easy on you.
The Sound
The noise reduction is fair on these. It's not the best, but definitely not the worst. Sound leakage isn't a major problem with these as you can have the sound fairly loud without it bleeding out into the room. You will experience very neutral sounds in the lows and highs on the MD7506.
Overall
I think these are a good choice for people looking to play the piano with headphones. They're not terribly expensive and you get a high-quality product for the price. The one thing I wish is that the noise reduction was a little bit better.