Cheap keyboard bags are essential to those who are looking to protect their investments, yet don't have hundreds of dollars for a hard case. With this being said, a bag is sometimes more convenient as not every occasion calls for a hard case.
Keyboard bags come in all different sizes with some of them having wheels and with some of them having more space than others. The best thing about them as that they are typically much more affordable than hard cases.
It is my opinion that certain touring musicians should really invest in hard cases and not keyboard bags. For those who are only going to be using their bag for commutes or for occasional gigs, a keyboard bag would be best.
The only time where a hard keyboard case is essential would be for bands with a ton of heavy gear in a trailer. You don't want something falling on a keyboard and breaking it.
Sizes
Keyboard bags range in size from 25 keys, 49 keys, 61 keys, 76 keys, and 88 keys. You can put smaller keyboards in bigger bags, however, I wouldn't recommend this as it won't be protected very well.
Grading Criteria
These keyboard bags have been graded based off of my own personal experience with them and other keyboardists' experiences with them. I have spent a great amount of time touring and looking into all sorts of options for my keyboards and I am glad I get to share it.
I take into consideration the price, size, space, protection, and features with each option.
Note: Not all bags can fit your keyboard, even if they're designed to fit the same amount of keys. It's important to look at the dimensions I have listed next to each bag. Compare these with yours and make sure that the bag is slightly bigger than your keyboard.
Best Cheap Keyboard Bags
Below I have laid out a list that shows the best bag for every sized keyboard. If you are in need of a hard case for an 88 key keyboard, then check the link above.
Gator GK-2110 Gig Bag – 25 Key Keyboard Bag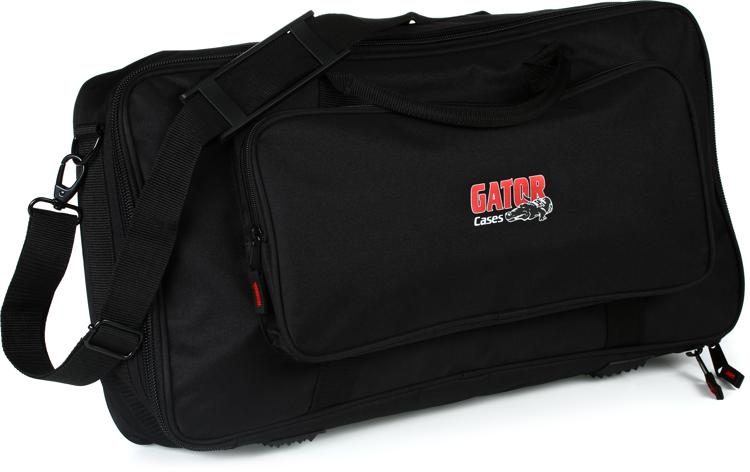 Dimensions:
Internal Length: 22.5″
Internal Width: 11.5″
Internal Height: 4″
The Gator GK-2110 bag is a solid option that I still own to this day. It works well for cheaper synthesizers such as a Micro Korg. That's exactly what I use mine for.
The protection it offers is fine as long as I'm not throwing it in the trailer with other heavy gear. This is perfect for your car or even the inside of a van or bus.
This bag fits most 25 key MIDI keyboards as that is what is designed to do.
This bag would also fit most kids keyboards as well.
Overall
I've used this case for 5 years now with a couple of my keyboards. It's a solid case that provides some decent protection for your keyboards. It's not incredible for protection, but it's great for light travels.
Novation Black Series 49 – 49 Key Keyboard Bag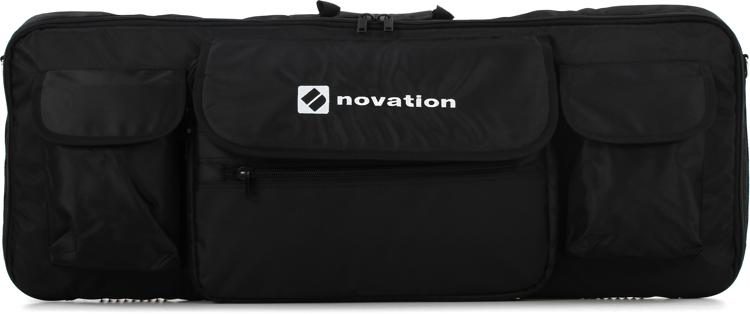 Dimensions:
Internal Length: 34″
Internal Width: 14″
Internal Height 4″
The Novation Black Series 49 key keyboard bag is designed for the Novation MIDI controllers. With this being said, it fits most 49 key keyboards.
If you look at the above photo, you can see the front pouch which fits up to a 15″ laptop.
This is nice if you're bringing your laptop with you when you travel.
Overall
I recommend this bag since it is cheap, yet still worth it. I purposely haven't linked some extremely cheap bags, just because I really don't see the value in them.
Korg Kross 2 61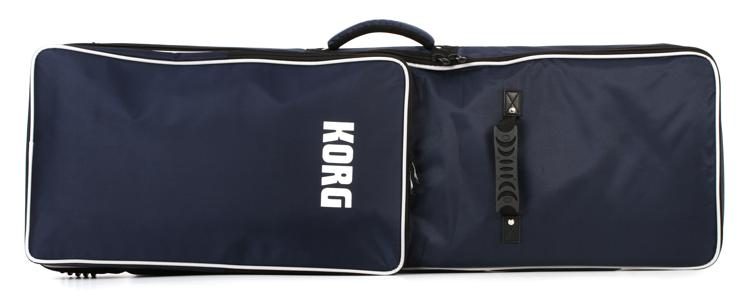 This Korg Korg Kross 61 is built for the Korg Kross 2, however, it fits a lot of 61 key keyboards. The reason I recommend this is it is under $100 and it has a ton of thick padding.
This case comes with a shoulder strap and a hand strap for your convenience. I would trust this case with the synthesizers I use for live performance 100%.
Dimensions:
Internal Length: 38.65″
Internal Width: 13.85
External Height: 5.01″
Overall
This is actually one of my favorite bags for 61 key keyboards. I wouldn't recommend going too much cheaper than this bag as you're still spending money and not getting much protection.
On-Stage Stands KB40488
Dimensions:
Internal Length: 58.5″
Internal Width: 15″
Internal Height 5.1
The On-Stage KB40488 bag is the cheapest bag I would recommend for an 88 key digital piano. This is built to withstand rain and I believe it can to a certain extent. I wouldn't trust it with my expensive keyboards in the rain for too long.
The wheels are small, but they still work pretty well. You would most likely be able to get a year or two out of them when I compare it to other cases I own.
There's a pocket that will fit most of your keyboard accessories and it's of decent size.
Overall
For under $100, I believe this bag is a great choice. I would recommend this to your occasional gigger who isn't looking for crazy protection.
Conclusion
These are the best inexpensive keyboard piano bags that I would recommend. If you go any cheaper, you're not going to really get much protection at all.