It is an exciting time in the MIDI world as we are starting to see companies making the Bluetooth MIDI controller. It is a bit surprising that MIDI hasn't gone completely wireless yet, but as time goes on, look for it to continue to aim towards going completely wireless.
My opinion is that the best Bluetooth MIDI Keyboard is the Akai Professional LPK25. Continue reading to find out why.
With the introduction of wireless MIDI controllers, we are going to see a huge spike in accessibility for controllers.
Bluetooth keyboard controllers are going to push the limits of the keyboard world for studios as well as for live performers.
Right now when musicians use these live they have to run long USB or MIDI cables to their laptops, wireless products eliminate the hassle of doing this.
In this article, we are going to breakdown the best Bluetooth MIDI keyboards currently available. We have come to these picks after a year of testing the following options.
My Favorite Bluetooth MIDI Keyboard Controllers – A Quick Glance
What Is A Bluetooth Wireless MIDI Controller?
A Bluetooth controller is a keyboard that is completely wireless and they allow you to control sounds from a laptop, PC, iPhone or Ipad. These are definitely the way of the future and there will be a spike in Bluetooth controllers.
MIDI stands for Musical Instrument Digital Interface, and it is a technology that enables musicians to launch and play sounds from their computers or laptops.
The technology for MIDI has been around for 30 years and it is becoming more and more popular with the advancements in technology.
Things To Consider With Bluetooth MIDI Controllers
What Are You Going To Be Using Your Instrument For?
There are different types of Bluetooth instruments and it is important that you know what type of controller you're looking for.
Bluetooth MIDI keyboards:
The wireless controllers that pianists and producers use to control their DAW. These are extremely popular and are good for musicians on the go.
Bluetooth MIDI foot controllers:
The instruments that allow the musician to trigger sounds and control effects seamlessly with their feet.
Wireless MIDI drum pads:
For drummers or producers who are looking to create and manipulate beats.
Wireless MIDI multi-instrument controllers:
MIDI controllers that allow you to play on the go without having to plug into an amp. There is currently only one of these on the market, but it is pretty crazy. The musician can play bass sounds, violin sounds and guitar sounds on it.
Weight:
Chances are if you're looking at a Bluetooth controller, you want something that is lightweight. All of the options we are looking at will be light, but some will be lighter than others.
Durability:
Since your instrument is wireless, you want to make sure that it is durable so you're not having to troubleshoot something that is wireless constantly.
Best Bluetooth Wireless MIDI Controllers
Below are my favorite picks for producers and musicians. I've had the pleasure of using all of the following options.
Akai Professional LPK25 – Best Bluetooth MIDI Keyboard
The Akai Professional LPK25 Wireless is the first wireless MIDI keyboard controller and it is also the best. It is powered by 3 AA batteries for up to 12 hours or by a USB cable. The keys are velocity-sensitive and are synth-action, which is a plus.
This comes with Bluetooth 4.0 connectivity and has a pairing button on its base. The Akai Professional LPK25 comes with octave, and sustain buttons and it also has an arpeggiator.
If you're a fan of the portability of these types of controllers, check out the link above in which I break down all portable options.
There aren't any pads or knobs on this keyboard, but if you're not looking to make beats or get crazy transport controls, you will be fine. Another plus is it is extremely light coming in at .08 pounds.
2)
Korg microKEY Air
The Korg mircoKEY comes in four different sizes. It comes with either 25, 37, 49 or 61 keys. All of these sizes still have the same features and connectivity, they just have more or fewer keys.
It takes two AA batteries and has a life of 30 straight hours, giving it a longer battery life than the Akai. This instrument definitely competes with the AKAI, but has fewer features and is a little more expensive.
3)
Korg nanoKEY Studio & USB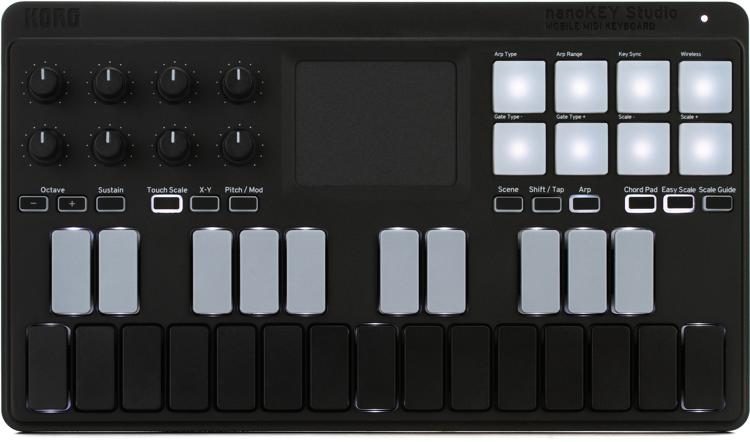 The Korg nanoKEY is designed for a beginner musician who may not be the most skilled player and I find it rather cool looking.
It is extremely lightweight and it can be used by studio producers as well as by DJ's performing gigs.
This is a MIDI keyboard, but it can also be connected to USB if you run out of batteries.
For those of you wanting to dive deep into a complete guide of MIDI controllers, you can do so at the link above. This guide will answer any questions you may have.
4)
CME Xkey Air 37-key

The CME Xkey is powered by a lithium battery which allows for maximum battery life. It is compatible with hundreds of different free mobile apps. It comes with octave, pitch bend, modulation, and sustain function buttons. This is available in 25 keys and in 37 keys. Currently, this is the only one with 37 keys.
The CME Xkey is made of aluminum and it is the most unique Bluetooth instrument. It looks really cool next to MacBooks as it looks very similar to them.
This is also one of the lighter keyboards we are looking at. The Xkey can be used with iPhones and Ipads and it is widely liked amongst musicians connecting them to their phones.
Let's take a look at the specs of this keyboard below:
Thinner than an Ipad
Provides you with 37 full-sized keys
5) Bluetooth MIDI Drum Pads
Akai Professional LPD8 Wireless – Best Bluetooth MIDI Controller For Drummers
Akai is at the frontline for Bluetooth MIDI controllers and the LPD8 is a great drum pad controller. It is powered by (3) AA batteries or by USB connection if needed.
The Akai LPD8 comes with 8 back-lit drum pads as well as with 8 assignable knobs.
This is the worlds first Bluetooth MIDI pad controller and currently the only one. I recommend this drum pad for musicians who are on the go but can still record to their laptops.
This fits in a backpack and extremely light in weight. This is a good product for producers in the hip-hop or EDM world because it has really nice pads.
Let's take a look at the specs below:
8 pads
8 Q-link knobs
4 memory banks
Editing software included
6)
IK Multimedia iRig Blueboard Wireless Floor Controller
The IK Multimedia iRig Blueboard is an extremely portable Bluetooth MIDI foot controller that is perfect for live music.
If you have an interest in foot controllers, check out this post where I talk about the very best MIDI foot controller products in detail.
DJ's, guitarists, and keyboardists can use these on stage to trigger tracks or launch scenes that might even control lights.
Be gentle when using this as since it is so portable, it also isn't as durable and you can break the pads by stomping too hard.
Let's take a look at the specs below:
4 back-lit assignable footswitches
Integration with Ipad and iPhone
Battery life of 6 hours
7) Bluetooth MIDI Multi-Instrument Controllers
Artiphon INSTRUMENT 1
The Artiphon instrument is the first of its kind and it is extremely powerful. I remember seeing one of these in person and immediately looking up what it was because it sounded so cool.
This comes with 6-hour battery life and gives you the ability to play it like a guitar, violin or bass.
The 6-hour battery life is a little underwhelming, but it still will work for performance you would need it for. You will just want to change the batteries every so often.
This resembles a guitar, but it allows you to play any sound you want. The Artiphon comes with 2 stereo speakers and also a headphone jack in case you need to play quietly. Check out this video below to see the Artiphon instrument in action.
Let's look at some key features:
Play guitar, bass, synth, violin, drum pads, and more

TIME Magazine "Best Invention of the Year,"

Very portable, 6-hour battery life
2 stereo speakers with a headphone jack
Wireless MIDI Keyboards Vs MIDI Keyboards
The difference between wireless MIDI controllers and MIDI controllers is just that wireless doesn't need a USB cable.
Wireless MIDI controllers use Bluetooth to connect and it has become more reliable over the years as it continues to get better.
---
What Is MIDI?
MIDI stands for musical instrument digital interface. MIDI is the language that allows laptops, musical instruments, and other hardware to communicate. It was created in the 1980s and was immediately used by Rush.
Rush was ahead of their time in the music world and using MIDI was definitely advanced. Over the years, technology has gotten better and better.
---
What Kind Of Software Comes With Them?
Bluetooth keyboards always vary with what kind of software they come with. Typically Akai and Alesis keyboards come with software.
Most of the instruments mentioned come with software and if they don't it is mentioned. The software is important for your keyboard because you will be using the software to access sound libraries.
Buying a product that comes with the software is wise for this reason. If your instrument comes with software out of the box, you won't have to worry about buying or downloading VSTs right away.
I do recommend exploring as many VST's as you can though because they all are different and known for different sounds. The most fun part of using these is that you get to use so many different VST's with it for new exciting sounds.
---
Conclusion
I have provided you with the 7 best Bluetooth MIDI keyboards. I believe that all of these options have their uses and it's up to you to decide which you need.
If you need something simple, I would go with the top pick, the Akai LPK 25.