There's nothing more frustrating than purchasing a keyboard stand that can't hold your 88 key keyboard due to the weight. If you are a musician who owns an 88 key keyboard, having the correct stand will go a long ways.
I've been playing in a touring band now for the last 5 years and I have seen some disasters on-stage and in studios. Most of these are from cheap stands that just shouldn't be trying to hold 88 key keyboards.
The durability of keyboard stands vary and not every stand is strong enough to hold your keyboard. We spent some time analyzing the best keyboard stands for 88 key keyboards based on durability and how much weight they can hold.
---
Quick Glance At My Top Picks
IMAGE
PRODUCT
DETAILS

Editor's Pick

K&M Table Top

Steel Construction
Easily Adjustable
Best For Heavy Keyboards

Runner Up

Ultimate Support AX

Aluminum Construction
Holds 2 Keyboards
Easy To transport

Budget Pick

Hercules KS 120

Steel Construction
Inexpensive
Easy To Adjust
Things To Consider When Buying A Keyboard Stand For 88 Key Keyboards
Weight:
How much weight can your stand hold? This varies in every stand and some of the stands are only meant to hold light-weight keyboards. If your keyboard is on a stand that you feel comfortable with it being on, it will greatly help your performance.
I've played shows where I was worried the whole time my keyboard was going to fall over and it was not very fun.
Pro Tip: I frequently use gaff tape when touring and using keyboard stands. I highly recommend looking into it for when you start doing gigs, it's a lifesaver.
Durability:
How durable is your stand? If you are gigging or using it every day for studio use, you're going to want a stand that is durable. Some of the cheaper stands have very low durability and you will end up spending more money in the long run.
How Many Keyboards Do You Want On Your Stand?
There are some stands that can hold multiple keyboards. This means you could have a double or triple tier stand that can support your main keyboard on the bottom as well as a couple more on top.
These are nice if you are a keyboardist with multiple keyboards, as you don't want to buy multiple stands.
Price:
Price varies and the entry-level stands are not very great options. This comes down to how much your keyboard weighs too, but your entry-level can just break so easily and aren't very reliable.
---
Best Keyboard Stand For 88 Key Keyboards
K&M Table-Style 88 Key Stand
This is our favorite stand available right now. The velcro straps are a huge plus as they secure your keyboard and allow you to focus on playing, rather than it falling over on you. The durability is really solid on this stand and it is also very adjustable for different sized keyboards.
This is a table-style stand and these are becoming far more popular than the X-stands. I have always found that the durability on X-stands poor. They also would always wobble on me, no matter how much money I spent on one.
Ultimate Support APEX AX-48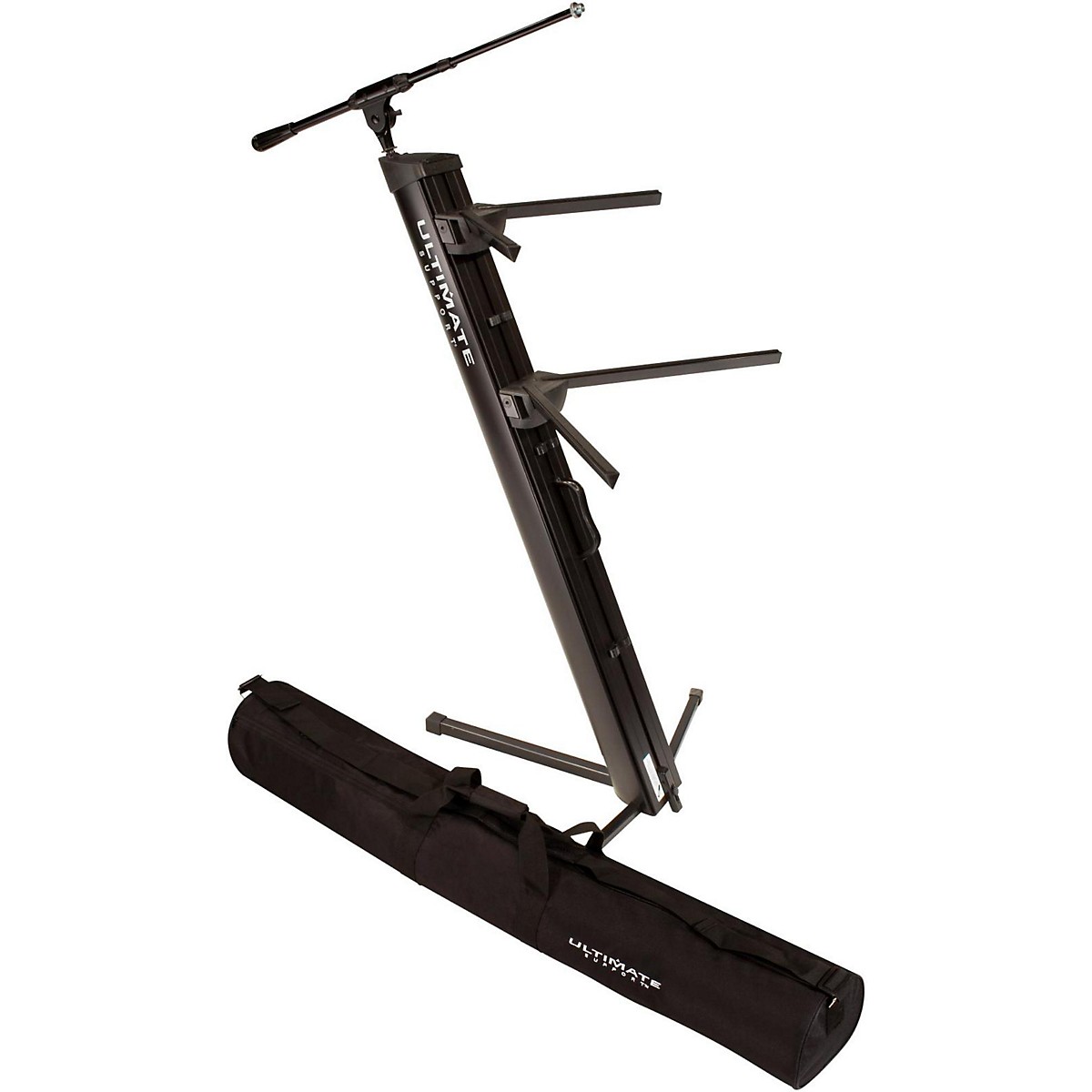 The Ultimate Support Apex is a stand that I have used many times. I like this stand over the X-stands as it is far more durable. This stand will get you a lot of usage out of it, you just have to be careful with it.
Like many stands, if you start throwing it in your trailer, the legs will start to warp on you. Every stand that is good will still have this problem unless you just use drum hardware.
Make sure when you break this stand-down that you take your time. The arms on it can break if you're trying to go fast and just disassembling it in chaos after a show. This stand can hold a ton of weight and that is one of the reasons why we like it.
The Ultimate Support can hold multiple keyboards at once and it comes with a carrying handle. One thing about this stand for heavy-duty keyboards is that it is pretty heavy. This isn't a huge deal, but having a heavy stand gets annoying over time.
Hercules KS120B EZ LOK Double KEY Stand
The Hercules KS 120B is our favorite X-style stand as it just feels like it is higher quality than some of the others. I've tried this stand and it doesn't feel like it's going to tip over from the weight of my keyboard. Keep in mind that when you're on stage, the vibrations can shake your keyboard, I like this stand because I haven't had that problem with it.
The double-braces on this stand provide for weight stability. Something important with X-stands, in general, is to tighten the screws often. If you don't tighten the screws then over time the stand will start to fall apart. When transporting this stand be careful and make sure you don't let heavy equipment smash into it or lay on top of it.
---
Conclusion
We have provided you with the keyboard stands that we feel are the best at a reasonable price. We didn't list other brands and stands because there are certain stands that just aren't worth your money.