The Alesis Vortex 2 is the successor of the extremely popular Alesis Vortex. The original Vortex keytar was the first of its kind as it was a keytar that had no internal sounds and was essentially a MIDI controller.
The Alesis Vortex 2 aimed to improve from its already impressive model and I believe it succeeded in doing so.
Since the Vortex 2 is a MIDI controller, I'm assuming most people interested in buying it are going to have some sort of background with DAWs and or VST software.
Should you not, I would recommend checking out our roundup on the best keytars that also have internal sounds.
Pros
Bluetooth capabilities
MIDI controller functionalities
Cheaper than other keytars
Great bundled software
Light-weight
Easy to use
Aftertouch
8 RGB backlit pads perfect for the stage
Cons
Alesis Vortex 2 Overview
One thing that excited me about doing this review is the fact that I was able to tour with the original Vortex for over 2 years in venues throughout the country.
There were many things that I loved above the original Vortex, so I was excited to see if Alesis could make a couple of improvements.
The Alesis Vortex 2 brings a lot of similarities to the table as it provides musicians with a way to move about the stage.
I've personally always loved when keyboardists can pull out a keytar, even if it's for brief moments during a show, but it can definitely bring some energy to the table.
There are no internal sounds with the Vortex 2. It is strictly a controller that requires VST software.
Design
The design of the Vortex 2 is very similar to its predecessor in the sense that it provides you with a lightweight build, coming in at 6.5 lbs.
Having a light-weight build is a must when it comes to those looking to frequently gig with their keytar.
While the Vortex 2 is lightweight, it still feels and is durable. I toured relentlessly with the original model and I never had a problem with its durability.
One of the main selling points of the Vortex 2 is the fact that it is very portable and also a Bluetooth MIDI controller. You simply plug in a dongle to your laptop and turn on the Vortex and you are set.
As far as the layout of the Alesis Vortex 2 goes, everything is exactly where you would expect it to be. One of the things that the Vortex 2 changes is that it made it so the 8 MIDI drum pads were RGB backlit.
This is a major improvement for those who are using those pads during a live performance.
On top of this, Alesis has replaced the 3 assignable knobs with a total of 8 faders that are RGB backlit.
Keys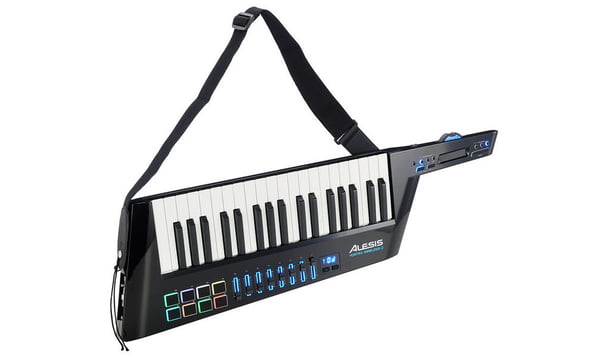 The keys are pretty decent for a MIDI controller. Most controllers won't have weighted keys and can tend to feel on the cheaper end.
There are 37 full-size keys that feel slightly better than the original model. I've also spoken with a couple other keyboardists and they agreed with me on this.
I'm not sure if it's the same key-bed, but they do feel slightly better in the action department.
Software
The Vortex 2 is loaded with some great software to get you started. If you're not familiar with VSTs or DAWs, I would recommend checking out our roundup on some great bass guitar VSTs.
The Vortex 2 comes with the following software:
Hybrid 3
Loom 2
Vacuum Pro
Xpand2!
TimewARP 2600
Ableton Live Lite
Vortex Preset editor
Ableton Live Lite gives you everything you need from a DAW to start with. You can easily set up your Vortex 2 with Ableton Live and then start to access plugins.
When I turned on my Vortex, I was fully functional with Ableton Live immediately. It even picked up the signal and allowed me to instantly start accessing some of my VSTs and diving into some fun.
Aftertouch
Aftertouch is one of the most important things when it comes to controller keyboards. One of the nice things about the Vortex 2 is that it has aftertouch.
You will notice that a wide variety of MIDI keyboards still do not have aftertouch somehow.
Reliable Bluetooth Functionality
Alesis has stated several times that they have improved Bluetooth functionality on the Vortex 2.
After playing over 150 shows with the original Vortex, I can tell you that I usually never had problems with the Bluetooth functionality.
One of the major selling points for the Vortex 2 is the fact that it has Bluetooth capabilities. The only times that I've run into problems with Bluetooth is when the building has a lot of barriers on stage.
I've played the Vortex in tons of different crowds, and it's usually never a problem.
Drum Pads
The drum pads are very functional and are also RGB backlit. One of the ways you can use the pads is to just lay the Vortex II down and to use it like a normal controller.
The pads are going to be a little on the stiffer end first, but that shouldn't be a problem as they are functional.
Being backlit can be a big deal for those playing on dark stages. You can't always see that you're hitting the right pads and you can tell on the Vortex 2 what you're hitting.
How Does It Work?
In case you're curious as to how you power or work this instrument, it's simple: You will need 4 XX AA batteries to power the Vortex 2.
You will then simply just plug the dongle that comes with it into your laptop. Once connected, your laptop will immediately be able to receive a signal from your keytar.
You should be able to go about 400 feet away from where your laptop is. This can depend on the room at times though.
Vortex 2 Vs Roland Ax-Edge
The Vortex 2 competes with the Ax-Edge, however, which you choose depends on your needs overall.
If you're someone who loves music software like me then the Vortex 2 makes a ton of sense.
For those who like internal sounds and are really into keytars, you might want to go to the Ax-Edge.
The Ax-Edge has another octave of keys and also has better key-action.
This being said, the Vortex 2 beats it in terms of using it as a MIDI controller and portability since it has awesome Bluetooth capabilities.
Wrapping Up
The Vortex 2 slightly improves from its predecessor in most ways. With a bit of a more sleek design and some added functionalities, you can tell why it's been doing so well.
Another thing to point out is the price-point. The Vortex 2 comes in roughly $600 cheaper than the Ax-Edge, which is one of its main competitors.
While The Vortex 2 doesn't have internal sounds, it has the same functionalities and more on the MIDI end than the Ax-Edge.